An Open Letter to Amy Farrah-Fowler, Ph. D.
An Open Letter to Amy Farrah-Fowler, Ph. D.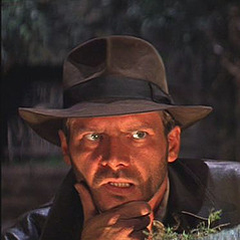 Dear Dr. Farrah-Fowler,
Regarding your erroneous conclusion that Indiana Jones played no role in the outcome of Raiders of the Lost Ark, I can only express disappointment that your usual disciplined reason failed you in this instance.
Let us explore your thesis and remove Indiana Jones entirely from the equation. The year is 1936 and the Nazis are exploring a sand-covered ruin of a largish ancient Egyptian city (Tannis, a major religious center, was comparable to Thebes) in search of the Ark of the Covenant. Without the headpiece to the staff of Ra, brute manpower would not have been equal to the task before them in the short time available to the Nazis. The only similar ancient city destroyed by catastrophe and quickly preserved in such a manner is that of Pompeii. As you are no doubt aware, Pompeii has been excavated and explored off and on since 1748, and intensively between 1924-1961, yet we still have not progressed much outside the main streets or into second floors and basements. The Nazis, in theory, would have until the outbreak of war in September 1939 at the very latest to carry out their dig, a span of 3 years. Unless you posit the British Army would have been willing to let a detachment of Afrika Korps poke around Egypt within spitting distance of the Nile in wartime. If you believe that, I have a piece of the True Cross made out of Georgia Sweetgum you may be interested in buying.
I think we can dispense with the idea that the Nazis would have found the Ark without the headpiece to the Staff of Ra.
The Nazis knew Abner Ravenwood had collected the headpiece. They were seeking Abner (not his daughter Marion), not in Tibet where he perished in an avalanche, but in the United States, as the intercepted cable shows. The Nazis were following a cold trail in the wrong part of the world. I will even go so far as to grant that the Nazis knew of the connection between Indiana Jones and Ravenwood's teenage daughter Marion, which no doubt was a minor scandal at the time (let he who has never noticed a Catholic school teenage girl, in her plaid skirt and white kneesocks, cast the first stone). The connection would have come up in their investigation into Ravenwood. Only by following Dr. Jones from his departure on the Pan Am Pacific Clipper were they able to discover Marion's bar in Tibet. No Dr. Jones boarding the Clipper, no Marion's bar and the headpiece.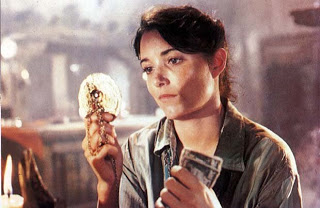 To think the Nazis would have found Marion on their own is to fall victim to a common cultural trait here in the USA: the tendency to believe Nazi propaganda about their superiority and efficiency. To put it in the vernacular, the Nazis sucked at just about everything, especially when chasing their master-race phantoms around the globe. While they did carry out a number of curious archeological expeditions of various scales, what they were seeking was proof of a superior Germanic-Aryan bloodline going back into the dawn of time. As this was a deranged myth dreamed up by some second-rate intellects of the latter part of the 19th and first third of the 20th century, the Nazis were, as Harry Callahan memorably put it, "shit out of luck." I could claim that my family forebears sat on a throne equal in power and influence to the Holy Roman Emperor of Charlemagne's time and put money and resources toward digging up evidence of that throne and title, but it wouldn't gain me anything because no such evidence would be found. Many a Nazi expedition foundered similarly. Major Toht's search for the headpiece would have been crippled by the inability to gain or trust Jewish sources and he would have been regarded with suspicion or hostility by the learned men of the time (I commend you to Oxford's Professor JRR Tolkien and his response to Nazi authorities on a minor matter for some idea of how Toht would have been rebuffed by highly educated men and women).
So, no Indiana, no Marion, no Marion, no headpiece and all that follows from it. Your conclusion, Ms. Farrah-Fowler, is in shambles. But allow me to give the rubble of your logic a few more kicks, imitating the Mongol treatment of Baghdad in 1258.
Let's take the movie from the imperfect copy the Nazis acquired from Toht's scarred hand, and, improbably, remove Indiana Jones from that point on in the story. All the half-headpiece gained them was a redoubling of efforts in "the wrong place." Clearly, there were tensions between the Nazis and their single talent on site, Rene Emil Belloq. Belloq, who certainly wanted the Ark for his own purposes, was advocating, if anything, slowing down the shambolic Nazi efforts — "using a bulldozer to find a china cup" as he put it. Gaining the bad copy of the headpiece turned a massive, diffuse expedition accomplishing little ("The Fuhrer expects progress!") to a massive, concentrated effort in the wrong spot. Hitler was more pragmatic before the outbreak of the Second World War and may have decided to cut his expenses in Egypt (another Nazi myth was that the German economy had worked some kind of miracle; in fact it was on greased rails to catastrophe had the war not saved it) and recalled the expedition. In the daggers-out world of 30s Nazi party politics, Colonel Dietrich would have been privately complaining to Himmler (who ran these odd little schemes) about Major Toht and Belloc, Toht would have been putting together a paper trail against Colonel Dietrich saying that a drunken, whore-chasing Frenchman was leading him by the nose, and so on. I'm sure you're familiar with the nature of bureaucrats, when matters go amiss, to shift over from rectifying the situation to making sure that blame falls on a political enemy. With infighting and blame-shifting among the principals, Himmler and Hitler would be all too ready to abandon Tannis as a fiasco. So that brings us, inevitably, to this conclusion: no Ark without Jones getting to the map room in the Well of Souls with a staff of the correct length and the original headpiece.
I'm sorry to reduce you to your flesh-toned granny panties in this intellectual game of strip poker, Ms. Farrah-Fowler, but you started it. I am afraid it's time to remove this last bit of control-panel modesty remaining to your argument, but mess with the fedora and you're going to get licked by the bullwhip, lady. Go ahead and blush as reason strips you right down to your pink little blossom.
Let's dispense with Jones keeping the Ark off of the Flying Wing — bound for Berlin, I might add, not a secret sub-pen isle in the Aegean. Do I need to argue that this makes it a good deal easier for our G-2 men to recover the Ark after its opening, thanks to the actions of Dr. Jones and Marion in the tail-gunner cupola? Or the truck chase where Dr. Jones recovers the Ark, a sequence that you must have slept through, I might add (I can't believe you missed it because you were making out with Dr. Cooper) and take it from the Germans finding the crate on Captain Katanga's steamer, The Bantu Wind.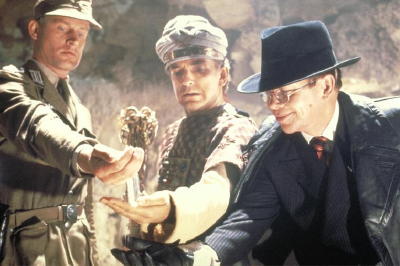 I'll grant you everything else you were wrong about in the whole damn movie if you seriously consider the film's climax. If you're unfamiliar or inexperienced with the nature and Aristotelean resonance of a "climax," look it up. Over the years, I've helped some small number of women with issues in understanding the concept, and was warmly thanked for it, I might add.
As you are a woman, I'm rather shocked and surprised at your indifference to Marion's fate. I have to say, you are one titanium-titted bitch if by this point in the movie you don't give a poisoned date for her outcome. Yes, Indiana Jones is unable to do much about the Ark, lacking the nerve to blow it up with an anti-tank weapon that hadn't been invented in 1936 (an admitted flaw in the film, but then "only Allah makes a perfect rug," as they say in the Levant). He does, however, save Marion's life by urging her to keep her eyes closed as the Ark is opened. Only some misogynistic lump of unflushed excrement responsible for shows like Two-And-A-Half Men would want to see the resourceful, independent, comfortable-with-herself Marion Ravenwood dead.
QED.
Your disappointed friend,
Eric
Postscript: I suggest a serious self-reassessement, or maybe a cat scan of your processing lobes, and then a rewatch of Raiders of the Lost Ark before you compose your apology, not to me, but to the fans of Indiana Jones. It needn't be very long. You could probably do it in a paragraph that would fit on a title-card.