Fierce and Fey: An Interview with Artist Lauren K. Cannon
Fierce and Fey: An Interview with Artist Lauren K. Cannon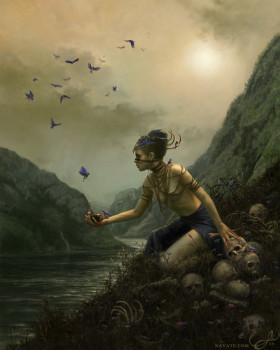 I think I first saw Lauren K. Cannon's art at the World Fantasy Convention in San Diego, 2011. John O'Neill and I were brainstorming about cover art for Mike Allen's book and the moment I saw Cannon's work, I was riveted.
I took home one of her postcards. It's still pinned up by my writing desk, where I can watch the woman in her bird-skull headdress, kneeling by a bone-embedded riverbed and feeding her creepy little bird friends from bowls of blood.
I love that bird woman. I'd love to write about her, this Baalhu of the Ancients. But even when I didn't know her name, I adored the bones of her. That's what Cannon's art does to me: catapults me from the quotidian into INSTANT STORYBRAIN.
By and by, John bought "Black Bride" to be the cover art for Mike Allen's Black Fire Concerto. You should have heard the squeals of ecstatic (and perhaps mildly terrified) joy coming from my corner of Rhode Island. John didn't even need a cell phone, probably. He could've just stepped out into his driveway somewhere in Suburbia, Illinois and heard the echoes. I couldn't have been happier.
And then, as I began this series of Fantasy and the Arts Interviews (1 and 2 here and here), I knew immediately I wanted to interview her.
Cannon very graciously agreed to answer my questions in an email, and here I have them for you, dear Black Gate readers.
BLACK GATE: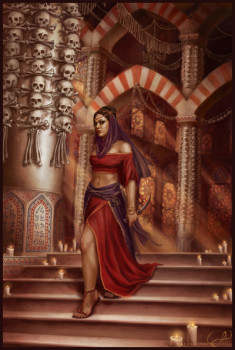 You say on your website that you are fascinated by the beautiful and strange, and the brutal elegance of the universe, and dead things.
May I ask, whence springs these grim and wonderful fixations? Do you have a dead-body-on-the-railroad-when-I-was-a-child story, like Stephen King?
Can you pinpoint a moment in your existence when you saw a dark thing and thought, "That is what I find beautiful"?
Was it more like a taste you acquired through maturation? Please talk about this!
No traumatic stories, thankfully!

I think I've always had a fascination with spooky, dark, and morbid things. As a kid I pored over Alvin Schwartz's Scary Stories to Tell in the Dark and was captivated with the bizarre illustrations inside. I collected ghost stories and was into occult and supernatural stuff. Halloween was better than Christmas.

Perhaps part of it is because I've grown up in the woods, on the edge of New Jersey's Pine Barrens where the Jersey Devil is said to live. It's eerie out here at night and my over-active imagination has always fed on that.

As I got older and learned more about nature, ecology, astronomy, and psychology, I started to appreciate the grim stuff on a different level. It goes well beyond art and aesthetics—it ties into my whole world view in a way. I think you can't fully appreciate the world if you reject the parts of it that are upsetting or ugly. I try to find beauty in everything.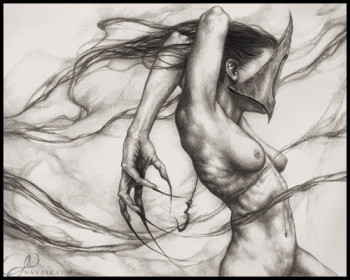 When you are painting, do you dream about what you paint? Alternately, do you wake up from any dream and think, I want to paint this?
I rarely remember my dreams and I kind of prefer it that way. My dreams are surreal, teetering between absurdist and disturbing. Mostly I just feel weirded out when I wake up. I suppose the moods and emotions from my dreams get injected into my work—at least, people often describe my stuff as unsettling—but I don't actively insert dream imagery.
Your website says you sometimes draw your own characters, as well as illustrate for others. Are you a writer as well? Is it more or less difficult to manifest art for another person's vision than for your own? Why?
As a teenager I wanted to be a writer.

Art was a quicker outlet and eventually, once I realized that books are really hard to write, I shifted my focus entirely to illustration. I haven't written anything in years. But I've still got a lot of world building happening upstairs. It's what drove me to become a competent artist in the first place: to finally put what I see in my head into the real world. Maybe one day I'll write it all down, but it's a pipe dream rather than a goal. Right now I'm just focused on the art.

The work that is founded off my own personal world will always be the hardest. My imagination is pretty vivid, and I've been carrying around the world I draw from for over a decade, so my mental image of different characters is precise. I feel pressure to do them justice. There is a different kind of stress when working with a client—you want to please them, obviously, but in a way I'm much freer to explore because the client is trusting my own interpretation of their vision.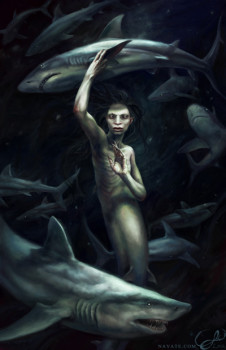 Talk a little, if you will, about how you got into illustration and design. What were some of the opportunities that opened doors? What are some of the pitfalls? What do you find most fulfilling in this line of work?
It's been a winding road: I discovered online art galleries and digital art at the same time, when I was 14 back in 2001. I was fortunate enough to fall in with a great little art forum where I was first exposed to the idea that some people could actually do this stuff for a living. That's when I started taking art more seriously and considering it as something I could go to college for.

Ironically, I'd count my choice to enter an Art program one of my biggest mistakes. It was a waste of money and time for the most part; I still consider myself self-taught and didn't learn jack about illustration or the business side of things in school.

But during my time at college, I was contacted by then-unpublished author Peter V. Brett, who tagged me to do some work for his website. A few months later his debut novel came out and was an international bestseller. Peter has continued to keep me on board all these years as his artist and ward designer, and through him I have had many doors opened for me. The other major opportunities were attending illustration-centric conventions like IlluXCon and Spectrum Live.

I had a whole year of pitfalls after graduation due to know knowing any business skills. Took a lot of shit-paying jobs I hated; I burned out and I had nothing good enough for my portfolio to show for it. As for the fulfilling aspects of illustrations — it's pretty great to be able to paint and draw for a living.

I help people create worlds. That's awesome.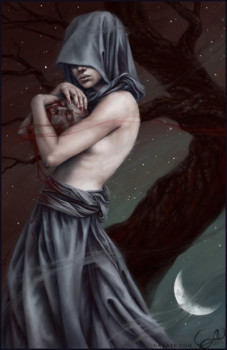 Do you listen to music while you paint? If so, what kind? If not, why not? Does music ever inspire you to draw or sketch? If you could draw album art for one band or songwriter, who would it be? Which album? What would you draw, and would it be based on a particular song, or the greater arch of the album?
Always!

Music helps me get into the zone, though my taste is a bit eclectic. A lot of Japanese rock bands, mostly Nagoya-kei and visual rock bands from the 90's like Buck-Tick, MUCC, Merry, Kuroyume and Deathgaze; western bands like Queen, Depeche Mode, Fleetwood Mac, Sopor Aeternus, Ozzy, Daft Punk, The Protomen, Tori Amos, and lots of soundtracks. Some music is just there to enjoy, some of it I have very strong emotional attachments to and use for inspiration.

If I had to illustrate for a band it would be Sopor Aeternus. The songs are beautiful, painful, visceral and frightening; each one has a fascinating narrative behind it. It's basically everything I love and want to convey in my own work. I'd probably choose the album 'Songs from the Inverted Womb'; it's particularly weird and steeped in mythology.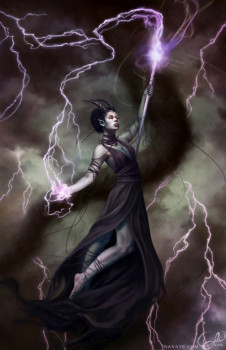 Who would be your dream author to illustrate for? Any particular series or character? Why? How would you go about deciding what to draw, what to evoke? Do you have a series of steps you always take?
Garth Nix's Abhorsen series. These were my favorite books growing up and the original cover art of the first novel, Sabriel, had a huge impact on me. It was the first time I saw a character portrayed on the cover the same way she existed in my head, and Sabriel the character has had a big influence (retrospectively) on my own ideal of a strong female character. The world of the books is really interesting and unique as well.

When working with a client, they give the directions to head in. The general process is doing a series of thumbnail sketches exploring themes and compositions. These are for the artist's eyes only; the strongest thumbnails are reworked into more finished sketches to show to client. The client picks one or gives feedback on different things to try, then the final image starts from there. It's always about capturing a moment that tells a story of some sort.
Do you have a long-standing project of your own (or several) you are working to illustrate? If so, what is it, if I may ask?
Finishing my skin tutorials. I created the first two parts when I was in college as a thank-you for my fans and never anticipated how much time they'd take, or how popular they'd become. Since then real life has taken over; I really want to finish the series but I also can't afford to invest so much time into something I don't get paid for.
I am hoping to organize some kind of Kickstarter eventually. This would allow me to finish the tutorials without losing income, keep the core portions available for free, and also give extra material to people kind enough to support me. Good vibes all around.
Who are your influences? Where did you train? What did you have to unlearn? What are some of the best lessons you learned along the way?
I never really trained anywhere; I'm self-taught through books and unofficial mentorships from art forums and my peers. I'm always unlearning things. You get better at painting by learning to see things differently, which always means a little bit of your previous knowledge has to be rejected. The best lessons? Stay true to yourself and always paint what you love. Never be satisfied with yourself. Implying instead of spelling things out is powerful — this applies to rendering details and telling stories through composition alike.

Always find new way to look at things. Look, look, look.

My artistic influences are a mix of contemporaries, peers, and old masters: Brom, John Singer Sargent, Beksinski, Greg Manchess, John William Waterhouse, Min Yum, Jaime Jones, David Palumbo, John Jude Palencar, Donato Giancola, John Collier are the big ones. I'd count Guillermo del Toro in there as well. Besides that: lots of movies, myths, fairy tales, and dead things.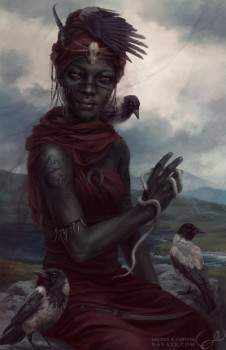 You paint many powerful, fierce images of women, and many of them women of color. This is gorgeous and particularly notable because it seems so unusual. Was this a conscious choice, or just preference? Both?
It's a mix of a lot of things. I started to gravitate towards non-Western cultures as a young teenager, mostly out of boredom with the fantasy scene at the time. It was all drawn from medieval European cultures and aesthetics. A lot of it started with the struggle to paint my own characters, many of whom were not white simply because my world's geography.

Then the more I researched different cultures the more inspired I was, and at the same time on an artistic level I loved the color theory involved in tackling non-white skin tones. Sometimes it's a purely artistic choice about value, contrast, or a palette I want to try.

I'm also really into rendering facial structure so exploring different ethnicities is enjoyable for me. Other times it was just what the character looked like. I wasn't thinking about it.

But as time has passed I've become conscious of how rare it is for people of color to be portrayed in fantasy, and that it's something I'm associated with. Which is strange for me, to be honest — I shouldn't have people thanking me for portraying black characters that actually look black. I'm just painting what I find beautiful.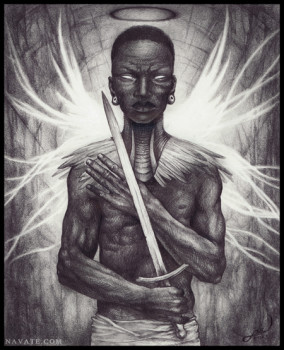 I noticed you have some tutorials on your page. Do you teach lessons or workshops? Do you get many budding artists writing to you and asking you for advice? What would you tell them? What would you tell yourself, if you could talk to yourself 10 years ago? What do you hope to be telling yourself of right now in ten years?
I taught at the Academy of Art University online for a little while, but I had to step away due to health issues so I could focus on my illustration career. People do come to me for advice but I don't do in-depth critiques except in person at illustration conventions. So I mostly give out general (but important) advice about studying color theory, anatomy, and foundational drawing.

I've never done any workshops but I'd be open to it. But teaching classes is very draining for me; I get so irritated at students who are not taking it seriously!

If I could talk to myself 10 years ago… I'd say skip art school and go to an atelier, or hook up with some of the great illustration programs run by people within the industry that I had no idea about back then. Ten years from now, I hope I can tell myself it was all worth it. Freelancing isn't easy.