Welcome to the Digital Age, Before the Golden Age
Welcome to the Digital Age, Before the Golden Age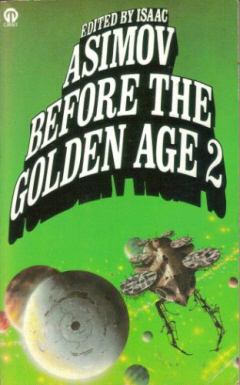 One of my favorite books — among a host of many favorites, of course, many many favorites, collected over decades of careful reading in a wide variety of genres, it's hard to choose, depends on the time of day, naturally, and what we're talking about, whether you want to include non-fiction, and it's difficult to judge pleasure reading against, you know, literature like The Sound and the Fury, which was great until the part where I quit reading and pretty much gave up. That Quentin character though, man, what a dick.  Anyway. Where was I.
Aww, screw it.  My favorite book of all time, bar none, is Isaac Asimov's Before the Golden Age.
Why is it so great?  Dude, it's totally undiluted science fiction awesomeness. Asimov collected the early pulp stories that first hooked him on science fiction, from magazines such as Amazing Stories, Astounding Stories of Super Science, and Science Wonder Stories, in a 900-page omnibus that captured the heart and soul of early American SF.
Published between 1931 and 1938 — the year that John W. Campbell took over Astounding and ushered in what's now generally referred to as the "Golden Age of Science Fiction" — the stories in Before the Golden Age feature brain stealers from Mars, two-fisted scientists battling monster hoards, amateur time travel  ("Kiss 1935 good-bye!"), shrink rays, civilizations in grains of sand, humans in rags taking on entrenched alien conquerors, killer robots, giant brain monsters,  and much more.
The authors Asimov selected include Edmond Hamilton, Clifford D. Simak, Charles Tanner, Jack Williamson, Murray Leinster, Raymond Z. Gallon, Stanley G. Weinbaum, John W. Campbell, Donald Wandrei, and many others.
Typical for Asimov, the stories were bracketed with lengthy autobiographical pieces that put the stories in context, describe the pre-war optimism of early science fiction, and serve as a mini-history of the pulp magazines that collectively birthed the genre.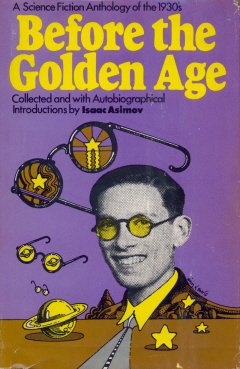 The book was a great success when it appeared in hardcover in 1974, and eventually in three volumes in paperback (four in the UK). However, it's now long out of print and, as you might expect, getting harder to find.
Enter Johnny Pez, who has started a project to compile a virtual version of Before the Golden Age.
He's already made a decent start of it, with links to online versions of seven of the twenty-five stories — including "Tumithak of the Corridors" by Charles R. Tanner, "The Man Who Evolved" by Edmond Hamilton, "The Parasite Planet" by Stanley G. Weinbaum, and "The Brain Stealers of Mars" by John W. Campbell — and a commitment to expand the list as more become available.
Now you can sample much of the greatness of Before the Golden Age from the comfort of your iPad. When I was your age, I had to get up from my chair and walk over to the bookshelf, damnit.  Kids today!  Don't get me started.
And if you like what you see, you can join in the effort to complete the book. All except for the editor's notes.  As Pez says, "If you want Asimov's commentary on the stories, you'll have to find yourself a dead-tree copy."
Me, I think I'll curl up in my big green chair and read John W. Cambell's "Other Eyes Watching." At least until I fall asleep, and my kids wake me up with all that dang racket.