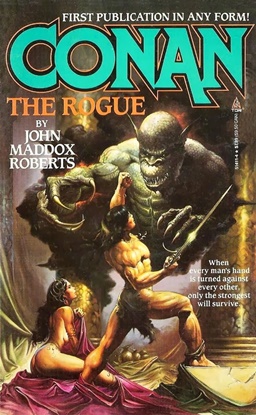 Every so often, I get the hankering to read a tale of Conan the Cimmerian (better known as 'The Barbarian' thanks to Ah-nuld Schwarzenmuscles).
I usually grab one of the three excellent Del Rey volumes (which Howard Andrew Jones and Bill Ward entertainingly went through – here's the first installment) and get a quick fix. For a little more reading, I snag one of the Ace/Lancer series edited by L Sprague De Camp (with some help from Lin Carter). And less often, I find one of the Tor paperbacks that I haven't gotten around to yet and try one of them.
As I mentioned in this post on what qualifies as Conan Canon (say that five times fast!) back in 2015:
'From 1982 through 2003, eight authors (though primarily four) cranked out 43 new Conan novels for Tor. At two per year, the quality varied wildly, as you can imagine. John M. Roberts' Conan the Rogue is an homage to Dashiell Hammett's Red Harvest and one of my favorite Conan books. Steve Perry's Conan the Indomitable is one of the worst fantasy books I've ever read (even though it is a direct sequel to Perry's Conan the Defiant, which I liked).'
I have maybe two-thirds of the Tor books and have read two-thirds of those (What: I'm channeling Yogi Berra now?). Some of the Tor titles give you at least a bit of an idea what the story is about, such as John M. Roberts' Conan and the Treasure of the Python and Leonard Carpenter's Conan of the Red Brotherhood.
But the majority are all titled Conan the (insert vague word here). It's a litany of titles like Conan the Valorous, Conan the Defiant, Conan the Great, Conan the Formidable: you get the idea. You've got to read the back cover to get some clue what the story is about.
The Tor books, pushed out at a punishing pace, are very much a mixed bag. And my experience so far is that more often than not, they fall into the "meh" or worse category.
---