And it's the final installment in our three-part adaptation of "The Careworn Cuff," from the old Nero Wolfe radio show staring Sidney Greenstreet. It's not going to make much sense of you don't read Part One, and Part Two, first.
The Careworn Cuff – Part Three (of Three)
Chapter Five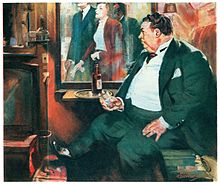 I was back at my desk as Wolfe related what I had missed. It seemed that the brownstone had been pretty busy while I was taking Miss Spencer to her temporary lodgings. Wolfe was nearly as good as me at reporting, though, not surprisingly, he tended towards lazy. I had told him to give it all to me.
"So, I awoke to a noise. It was not the front door."
Wolfe – "Archie?"
Intruder – "No, not Archie."
"A man moved to the office doorway. I cannot say that I was surprised at who it was."
Wolfe – "Ah, our impatient and nonmusical friend. I did not hear the bell. You must have come in through a window. I hope you didn't break anything."
Wolfe – "How are you Mister…not Porter, of course."
Intruder – Where's the girl?"
Wolfe – "That question is beginning to bore me. I don't know."
---