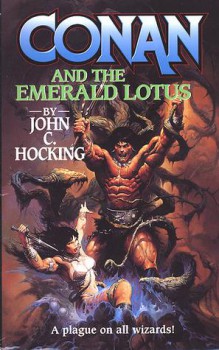 I've been in a bit of a Robert. E. Howard mood lately, so I re-read some of his Solomon Kane stories (fine stuff). But, as always, I gravitated back to Conan. And that inevitably led me to the pastiches. A quick count of the shelves produced 42 non-Howard Conan tales, excluding the de Camp/Carter books, of which I'm missing two or three, I think.
I've read at least a third of those pastiches, I'd say, maybe close to half. Except for a few, they are part of the Tor line I wrote about here. And as I mentioned, they're a mixed bag. I also wrote a post regarding how official those pastiches are considered, which generated a lot of good commentary.
The Tor line came to a halt in 1997, with one additional book in 2003 (I wouldn't have minded if they'd skipped that last one). There have been no official Conan pastiches in fifteen years, though that's going to change shortly.
Howard Andrew Jones, fantasy author and Black Gate's Managing Editor, had some thoughts similar to mine over at his blog a few years ago. Ryan Harvey's Pastiches R Us looked at about a dozen of the Tor books: you can search Black Gate for them, but here's one and here's another. He also had Charles Saunders do a guest post for him.
A multitude of writers have penned a plethora of words about the Conan pastiches, but I'm keeping this post 'in-house' and will focus on musings from Howard, Ryan and myself.
---