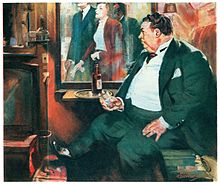 The New Adventures of Nero Wolfe radio show aired in 1950 and 1951, starring Sidney Greenstreet. I mentioned it in a prior post. I've taken one of the episodes, Stamped for Murder, and turned it into an 11,000 word story. I kept most of the dialogue and the original scenes, since I wanted to adapt the show. I've tried to make it more Stout-like, as I don't think that the series was very true to the original stories. So, some liberties here and there. But hopefully you'll enjoy a "new" Wolfe pastiche!
CHAPTER ONE
Nero Wolfe had just settled his seventh of a ton into the only chair that really fit him. Made of Brazilian Mauro wood, it was in this room, the office: as opposed to the dining room, kitchen or the front room because he spent about nine hours a day here. You read that right: nine hours. More on that later.
Down from his two hours in the plant rooms on the roof, he had greeted me with the standard "Good morning" and placed a spray of Miltonia Charlesworthi in the vase on his desk. After going through the usual ritual, which includes drinking beer, brought by our chef, housekeeper and doorman, Fritz, going through the morning mail and checking his pen (which I've already done), he looked up at me.
"Your notebook please, Archie."
It was there on my desk, ready for use. I took a pen from the middle drawer and swiveled my chair, not made of Mauro wood but under much less pressure, to face him.
"Inform Mister Salzenzbach that the recent Long Island pea fowl he provided was most unsatisfactory. Pea fowl's breast flesh is not sweet and tender unless it is well protected from all alarms. Especially from the air, to prevent nervousness. Long island is full of airplanes."
---