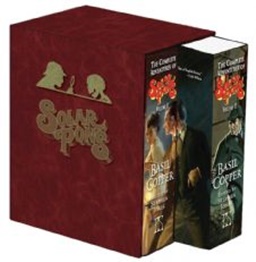 If you want to read my thoughts on the season four (and hopefully series) finale of BBC's Sherlock, click on over and read it at my blog. Because today The Public Life of Sherlock Holmes is going to talk about Solar Pons.
August Derleth, the creator of Solar Pons, passed away in 1971. Derleth's final collection, The Chronicles of Solar Pons, a mix of previously released stories and ones never published, came out in 1973. Surprisingly, Pons would be back within a decade! In 1979, Basil Copper would release three collections of tales: The Dossier of Solar Pons, The Further Adventures of Solar Pons and The Secret Files of Solar Pons. There would be three more collections, as well as a novella. Copper had written horror books for Derleth's Arkham House imprint and he seemed like a good choice for continuing the stories.
Unfortunately, Copper's Pons connection did not have a happy ending. He helped Arkham House editor Don Turner compile an omnibus edition of all of Derleth's released Pons stories. However, Copper chose to do some 'corrective editing' of the originals, which caused a furor among the Pontine faithful. You can read Jon Lellenberg's essay on this topic in The Solar Pons Gazette (page 45). Peter Ruber also wrote an excellent account, but I don't have permission to reprint that.
---