Vintage Treasures: Legacy by James H. Schmitz
Vintage Treasures: Legacy by James H. Schmitz
Legacy by James H. Schmitz (Ace Books, 1979). Cover by Bob Adragna
Although I purchased several of his paperbacks in my teens, I didn't really learn to appreciate the work of James H. Schmitz until I read and reviewed Gardner Dozois' terrific 1998 anthology The Good Old Stuff: Adventure SF in the Grand Tradition, which contained Schmitz's story "The Second Night of Summer." In his intro for that tale Gardner wrote:
Although he lacked van Vogt's paranoid tension and ornately Byzantine plots, the late James H. Schmitz was considerably better at people than van Vogt was, crafting even his villains as complicated, psychologically complex, and non-stereotypical characters, full of surprising quirks and behaviors that you didn't see in a lot of other Space Adventure stuff… And his universes, although they come with their own share of monsters and sinister menaces, seem as if they would be more pleasant places to live than most Space Opera universes, places where you could have a viable, ordinary, and decent life once the plot was through requiring you to battle for existence against some Dread Implacable Monster; Schmitz even has sympathy for the monsters, who are often seen in the end not to be monsters at all, but rather creatures with agendas and priorities and points-of-view of their own, from which perspectives their actions are justified and sometimes admirable — a tolerant attitude almost unique amidst the Space Adventure tales of the day, most of which were frothingly xenophobic.
"The Second Night of Summer" is a superb tale of an attack on the planet Noorhut by mysterious and deadly inter-dimensional invaders — an attack thwarted single-handedly by the coolly competent Granny Wannattel and her friendly alien companion. That single story sparked an enduring interest in Schmitz, and I've read and enjoyed a lot of his short fiction in the past few decades.
That in turn stirred an interest in those 70s novels that have been gathering dust on my shelves. I recently picked up the 1979 Ace Books edition of Legacy, set in Schmitz's richly-imagined galactic federation of The Hub, and find myself much more interested in reading it than any of this month's new SF releases.
[Click the images for Hub-sized versions.]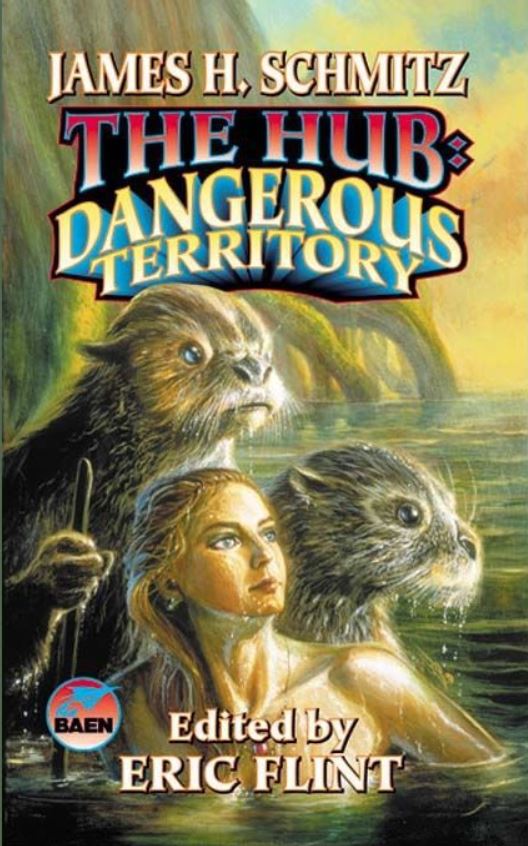 The fourth volume of Schmitz's collected tales of the Hub,
The Hub: Dangerous Territory (Baen, 2001). Cover by Bob Eggleton
Much of Schmitz's most popular fiction is set in The Hub. The back cover of the fourth volume of Eric Flint's delightful Complete Federation of the Hub series, The Hub: Dangerous Territory, describes the setting well.
THE HUB IS A VERY DANGEROUS PLACE — BUT SO ARE ITS CITIZENS.

The Federation of the Hub: thousands of rough, ornery and tough-minded human worlds with only the subtlest of interstellar governments holding them all together. Stable at last after centuries of war, the Hub is now prime real estate… making it a merciless arena for the conflicting schemes of criminals, unscrupulous corporations, and invaders from beyond the edges of Federation space.

But the Hub is well-defended, and not only by professional heroes such as Telzey Amberdon and Trigger Argee. In Hub Space a citizen is expected to stand up for herself, blaster in hand, as needs must; so when Trouble comes Hubward in large doses, there are an awful lot of armed citizens waiting for it….
In James H. Schmitz Resurrected from Resurrected Press, Greg Fowlkes nicely summarized Schmitz's place in 50s and 50s SF.
During the 50s and 60s "Space Opera" and James H. Schmitz were almost synonymous. He was famous for his tales of interstellar secret agents and galactic criminals, and particularly for heroines such as Telzey Amberdon and Trigger Argee. Many of these characters had enhanced "psionic" powers that let them use their minds as well as their weapons to foil their enemies. All of them were resourceful in the best heroic tradition."
Legacy features one of Schmitz's two most popular characters, Trigger Argee. The 1979 Ace edition is a reprint (and re-titling) of Schmitz's 1962 novel A Tale of Two Clocks.
A Tale of Two Clocks by James H. Schmitz (Belmont Books paperback edition, 1965). Cover artist uncredited.
Legacy remains available to modern readers in multiple formats, including print (from both Wildside Press and Resurrected Press) and digital audio download (from LibriVox). It has a 3.86 average rating at Goodreads, where it also enjoys warm reviews from modern readers. Here's an excerpt from Roddy Williams' 2020 4-star review.
The novel is set in Schmitz' Hub universe where Humanity has settled on many new worlds. On some, artefacts of a vanished elder race were discovered by Holati Tate. These are plasmoids, biological machines which have remained inert until now, and plasmoid research is part of Trigger's responsibilities.

Trigger becomes suspicious of Holati's sudden disappearance and, unable to get hold of him, believes there are things she is not being told. Being a bit hot headed, she determines to sneak off to see her boyfriend.

It seems however that Trigger is a target for the Grabbers, professional thieves and kidnappers, and her life becomes suddenly very adventurous.

As the truth unravels Trigger is forced to go undercover as various factions attempt to kidnap or kill her.

It's refreshing to read an SF novel from this time with a feisty female lead character who can stand her own ground. On the other hand she is objectively sexualised to a certain degree but one has to give Schmitz credit for putting women on an equal footing with men.

It's on a Young Adult level, but the writing and characterisation is top quality.

Schmitz is very underrated.
I definitely agree that Schmitz is underrated, especially by modern readers.
Some other books set in The Hub: the collection A Pride of Monsters (Collier Books, 1973, cover by Richard Jones), The Demon Breed
(Ace Books, 1979, cover by Bob Adragna), and the collection Trigger & Friends, edited by Eric Flint (Baen, 2001, cover by Bob Eggleton)
Legacy was one of two Hub novels reprinted by Ace Books in 1979, the other was The Demon Breed. Both had fairly similar covers by Bob Adragna.
Our recent coverage of James H. Schmitz includes:
Back to the Future: Modern Reprints of Classic Fantasy by Rich Horton (2010)
A Review of The Witches of Karres by Isabel Pelech (2010)
James Schmitz's The Demon Breed: SF as a Test-bed for Living (With Women who Kick Alien Butt) by Mark Tiedemann (2011)
Vintage Treasures: The Witches of Karres (2014))
The Omnibus Volumes of James H. Schmitz (2015)
Vintage Treasures: The Demon Breed (2016)
Birthday Reviews: James H. Schmitz's "The Vampirate" by Steven H Silver (2018)
Legacy was published by Ace Books in May 1979. It is 346 pages, priced at $1.95. The cover is by Bob Adragna.
See all of our recent Vintage Treasures here.