Birthday Reviews: James H. Schmitz's "The Vampirate"
Birthday Reviews: James H. Schmitz's "The Vampirate"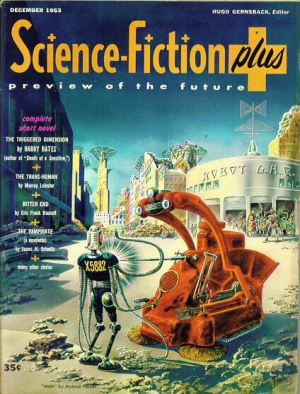 James H. Schmitz was born on October 15, 1911 and died on April 18, 1981.
Schmitz was nominated for the Hugo Award in 1962 for Best Short Fiction for his story "Lion Loose" and in 1967 for the novel The Witches of Karres. In 1966, he had four Nebula nominations for his short story "Balanced Ecology," the Novelettes "Planet of Forgetting" and "Goblin Night," and for the novella "Research Alpha," co-written with A.E. van Vogt.
"Vampirate" was first published in Science-Fiction Plus in December 1953. It was the magazine's final issue and the last science fiction magazine edited by Hugo Gernsback. When Eric Flint and Guy Gordon included it in their collection of Schmitz's stories, Telzey Amberdon in 2000, they changed the story's title to "Blood of Nalakia."
Lane Rawlings is a slave who learned a secret about her master, the Nachief of Frome, and made the mistake of sharing that secret with two other slaves. The three of them find themselves on a ship with the Nachief heading for an unnamed planet, where he intends to kill all three of them. Before they can land, however, their ship comes under attack. While Lane and the Nachief survive, the other two slaves are killed. Lane escapes her master and manages to convince Frazer, the only person on the island where they landed, that the Nachief is a sort of vampire.
Frazier works with Lane to lay a trap for the Nachief, fully aware of his mental control over her and working to make sure that the Nachief can't use that control to take advantage of the situation. As they lay their trap, Frazier explains that he believes Lane because he has heard of the colony of Nalakia, whose inhabitants became bloodsuckers before being destroyed. He surmises that the Nachief may be a vestige of that colony.
Although Schmitz builds up a sense of danger for Lane, it is never particularly threatening and the ultimate solution to the problem of the Nachief, while surprising, is somewhat anticlimactic, perhaps requiring Schmitz to examine the mechanism in more detail. Frazer's back story, when it is ultimately revealed, is something the reader likely surmised earlier in the story, so although it isn't foreshadowed, it also isn't the twist Schmitz meant for it to be. Perhaps the most welcome part of the story is that although Lane required Frazer's help against the Nachief, she is not, ultimately, a damsel in distress, but capable of thinking and taking care of herself.
Reviewed in its only appearance in the magazine Science Fiction +, edited by Hugo Gernsback, December 1953.
I jumped the gun a few weeks ago and published a review of Walter Jon Williams's "The Fate Line" a little early. So click the link for a bonus birthday.
---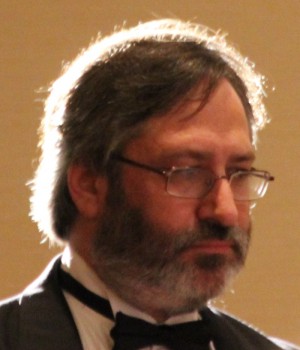 Steven H Silver is a sixteen-time Hugo Award nominee and was the publisher of the Hugo-nominated fanzine Argentus as well as the editor and publisher of ISFiC Press for 8 years. He has also edited books for DAW and NESFA Press. He began publishing short fiction in 2008 and his most recently published story is "Webinar: Web Sites" in The Tangled Web. Steven has chaired the first Midwest Construction, Windycon three times, and the SFWA Nebula Conference 6 times, as well as serving as the Event Coordinator for SFWA. He was programming chair for Chicon 2000 and Vice Chair of Chicon 7. He has been the news editor for SF Site since 2002.