Birthday Reviews: James H. Schmitz's "The Vampirate"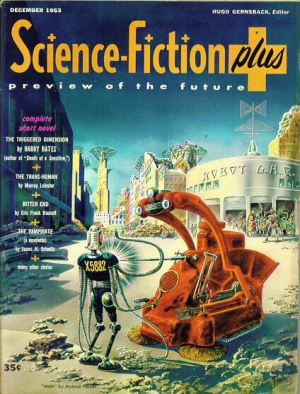 James H. Schmitz was born on October 15, 1911 and died on April 18, 1981.
Schmitz was nominated for the Hugo Award in 1962 for Best Short Fiction for his story "Lion Loose" and in 1967 for the novel The Witches of Karres. In 1966, he had four Nebula nominations for his short story "Balanced Ecology," the Novelettes "Planet of Forgetting" and "Goblin Night," and for the novella "Research Alpha," co-written with A.E. van Vogt.
"Vampirate" was first published in Science-Fiction Plus in December 1953. It was the magazine's final issue and the last science fiction magazine edited by Hugo Gernsback. When Eric Flint and Guy Gordon included it in their collection of Schmitz's stories, Telzey Amberdon in 2000, they changed the story's title to "Blood of Nalakia."
Lane Rawlings is a slave who learned a secret about her master, the Nachief of Frome, and made the mistake of sharing that secret with two other slaves. The three of them find themselves on a ship with the Nachief heading for an unnamed planet, where he intends to kill all three of them. Before they can land, however, their ship comes under attack. While Lane and the Nachief survive, the other two slaves are killed. Lane escapes her master and manages to convince Frazer, the only person on the island where they landed, that the Nachief is a sort of vampire.