Vintage Treasures: The Demon Breed by James H. Schmitz
Vintage Treasures: The Demon Breed by James H. Schmitz
Today's Vintage Treasure is The Demon Breed, a 1979 Ace paperback by James H. Schmitz, which I bought the year it came out. Over the next few decades Schmitz would become one of my favorite SF short story writers, with delightful tales such as "The Second Night of Summer" (which I read in Gardner Dozois's terrific anthology The Good Old Stuff), "Grandpa," the Nebula nominee "Balanced Ecology," and many others.
But in 1979 I was a fifteen year-old teenager, haunting the W.H. Smith on Sparks Street in Ottawa every Saturday, and I'd never heard of James H. Schmitz. But I knew what a bikini was. And Bob Adragna's eye-catching cover, featuring special field agent Nile Etland and her otter companion crossing the floating atoll on the ocean world of Nandy-Cline as two sinister Parahuan observe from behind, spoke to my very soul. On the back of the book Andre Norton said something about a "detailed alien background" and "could not put it down," but who paid attention to that? That cover told me everything I needed to know in two seconds. Bikinis, blasters, and bug-eyed monsters? Sold.
[Click on any of the images in this article for bigger versions.]
The Demon Breed was originally published in two parts in Analog in September and October 1968, under the title The Tuvela. Both issues featured gorgeous covers; the first by John Schoenherr, and the second by Kelly Freas (for Poul Anderson's story "The Pirate").
The novel was released in book form by Ace Books, as one of Terry Carr's famed Ace Science Fiction Specials, as Mark Tiedemann noted in his Black Gate review back in 2011:
I collected the original run of Terry Carr's groundbreaking Ace Specials back when they first appeared in the late Sixties. Some truly phenomenal work came out under that imprint, work still published and read today.

Ursula K. Le Guin's A Wizard of Earthsea, Alexi Panshin's Rite of Passage, Keith Roberts' Pavane, The Black Corridor and Warlord of the Air by Michael Moorcock… Among them was a little novel by a writer not much talked about today except in certain "knowing" circles — James Schmitz. The novel was The Demon Breed and it featured a character that just riveted me.

Tough, smart, capable, a role model for anyone who wanted to grow up competent and self-assured and substantial. Nile Etland.
How I wish Schmitz has written more about this character. I would have followed her adventures as avidly as any other…

Nile Etland was a special field agent who in the course of this short novel pretty much single-handedly kicked major alien butt. And the remarkable thing about the book, especially for its time, is that she does all this without ever once calling attention to the fact that she's, you know, a woman.
The Ace Science Fiction Special edition of The Demon Breed was published in 1968 with a cover by Leo Dillon and Diane Dillon. It's got the same quotes on the back, but this time the Analog quote is attributed to editor John W. Campbell, who bought the novel for his magazine.
Early last decade Eric Flint at Baen collected the complete fiction of James H. Schmitz in seven remarkable paperback volumes, the fourth of which, The Hub: Dangerous Territory (April 2001) included the complete text of The Demon Breed. It's now out of print, but a digital version is available for $6.99.
I recently bought a copy of the 1979 paperback edition as part of a small collection of James H. Schmitz paperbacks in great shape on eBay for $3.00. As I keep telling folks, buying collections is the way to go.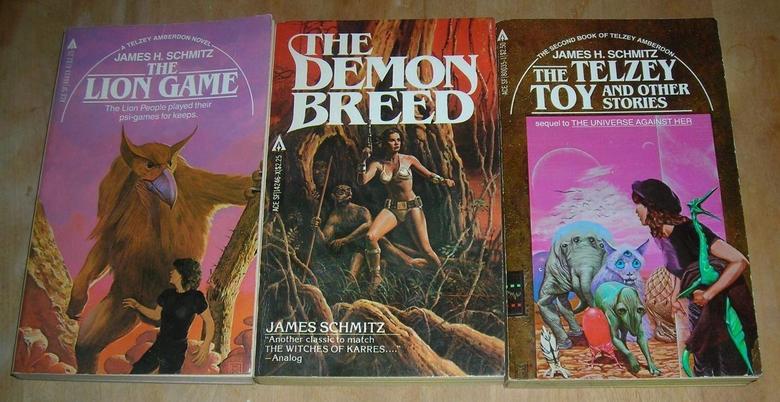 Our recent coverage of James H. Schmitz includes:
Vintage Treasures: The Witches of Karres
James Schmitz's The Demon Breed: SF as a Test-bed for Living (With Women who Kick Alien Butt) by Mark Tiedemann
Back to the Future: Modern Reprints of Classic Fantasy by Rich Horton
A Review of The Witches of Karres by Isabel Pelech
The Omnibus Volumes of James H. Schmitz
The Demon Breed was published by Ace Books in September 1979. It is 215 pages, priced at $1.95. The cover is by Bob Adragna.
See all of our recent Vintage Treasures here.