Vintage Treasures: The Witches of Karres by James H. Schmitz
Vintage Treasures: The Witches of Karres by James H. Schmitz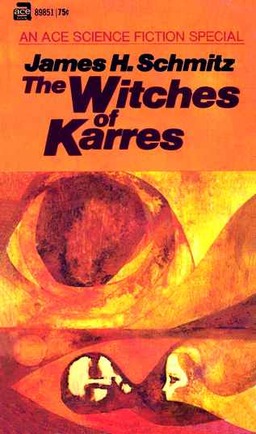 So I tried to hit all the genre classics in my early days as an SF and fantasy reader, and I think I did a pretty fair job . Sure, I have a few gaps here and there, but overall I think I managed to read the ones that looked interesting.
With a few notable exceptions. I didn't discover James H. Schmitz until relatively late, and I wasn't able to lay hands on his most famous novel, Hugo nominee The Witches of Karres, until years after I heard about it. Considering that it's been re-issued six times since its original 1966 publication, by Ace, Gollancz, Baen, and the Science Fiction Book Club, that's either really bad luck or I'm not nearly as accomplished a collector as I like to think. I have a copy now, and I look forward to rectifying the situation.
Over the years I've read multiple brief synopses of the novel, but my favorite remains P. Schuyler Miller's Analog review:
In the far future, Mankind has scattered among the stars, bred into peculiar forms and developed peculiar powers. Captain Pausert of Nikkeldepain makes the serious mistake of rescuing three little Witches of Karres from their overwrought owner. There follows espionage, piracy, assorted forms of mayhem, and a freewheeling galactic war that nobody knew was in progress. You will, in the process, encounter such things as Worm Weather, klatha hooks, and a vatch to end all vatches… not to mention grik dogs and Nartheby Sprites and Sheem Robots.
Space pirates, assorted forms of mayhem, and "a freewheeling galactic war that nobody knew was in progress."
Admit it, now you want to read it, too.
Isabel Pelech reviewed the book for us in 2010 (an assortment of covers accompany that piece), commenting on the science fantasy aspects.
This is a science fiction book, but it has a fantasy-esque feel. Pausert and Goth end up near a space wilderness called the Chaladoor, a region haunted by the Megair cannibals, the mysterious Sea of Light, the alien, hostile phenomenon known as Worm Weather, which has been known to mind-control, madden, or outright kidnap human beings, and the dread pirate Agandar… this is a fun, light-hearted story. It's also great for anyone who wants a good old-fashioned adventure with strange planets, space pirates, alien menaces, the galactic empire, and more than one brave, intelligent witch.
The Witches of Karres has grown in popularity down through the decades, and in fact has been in print from Baen since 2006. It has spawned two modern sequels: The Wizard of Karres, by Mercedes Lackey, Eric Flint and Dave Freer (2006) and The Sorceress of Karres, by Eric Flint and Dave Freer (2011).
The Witches of Karres was published in hardcover by Chilton in 1966, and reprinted in two different editions as an Ace Science Fiction Special in 1966. It is 286 pages in paperback, priced at 75 cents. Copies remain easy to find; I bought mine online as part of a recent collection for under a dollar.
See all of our recent Vintage Treasures here.