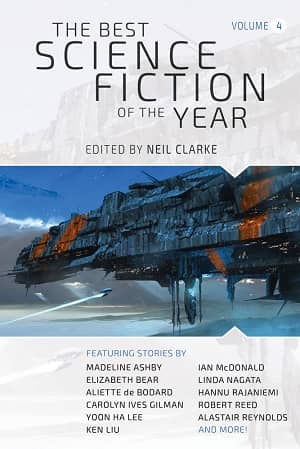 I always look forward to Neil Clarke's Best Science Fiction of the Year, and Volume Four arrived right on time this week. This one is an important milestone in the series for two reasons.
First, it's the first one to be available in hardcover. That may not seem like a big deal, but it is. It's a step up in prestige for the series, and it's great to finally have these books available in a permanent edition. Second, this volume is dedicated to Gardner Dozois, who died last year, and in his thoughtful introduction Neil makes it clear that he will be carrying on Gardner's tradition of a lengthy annual summation.
I opened this year's review of short fiction with an important dedication. Few people can be said to have shaped modern science fiction to the degree that Gardner Dozois did over the course of his career. He will most notably be remembered for his time as editor of Asimov's Science Fiction and The Year's Best Science Fiction series, but he was also a Nebula Award-winning author. Gardner also won the Hugo Award for Best Editor a record-setting fifteen times and edited dozens of Hugo, Nebula, and Locus Award-winning stories. He was also a friend and colleague, working for me as reprint editor of Clarkesworld for the last five years.

On my shelves lies a complete run of The Year's Best Science Fiction, all thirty-five volumes plus his three Best of the Best volumes, and dozens of other anthologies he edited. While volumes one through three of my series were technically competing with his, he never once made me feel like that was the case. One of the best and more beautiful things most of you don't know about this field is how collegial it is. Even when the stories were no longer new to me, I always preordered his next volume, simply for his annual summation of the field. For many of us, it was an important history of the field, one that spanned over thirty years and was yet another important part of his legacy.

No one can fill his shoes, but in his honor, I'm going to merge some of the short-fiction-oriented features of Gardner's introductions into my own. It's my way of noting that aspect of his work. It's of personal value to me, and a desire to see that particular torch carried forward.
Neil is as good as his word, and this volume of The Best Science Fiction of the Year contains a lengthy look back at the year in short fiction, broken up into sections such as The Business Side of Things, Magazine Comings and Goings, The 2018 Scorecard — particularly appreciated by stats nerds like me! — The Most Interesting Development for Short Science Fiction, and In Memoriam. I miss Gardner's idiosyncratic take on the field, of course, but I must say Neil acquits himself very well indeed. His new summation is informative, highly readable, and on-target. I think Gardner would have been proud.
---