Track Down Michael Kelly's Year's Best Weird Fiction While You Can
Track Down Michael Kelly's Year's Best Weird Fiction While You Can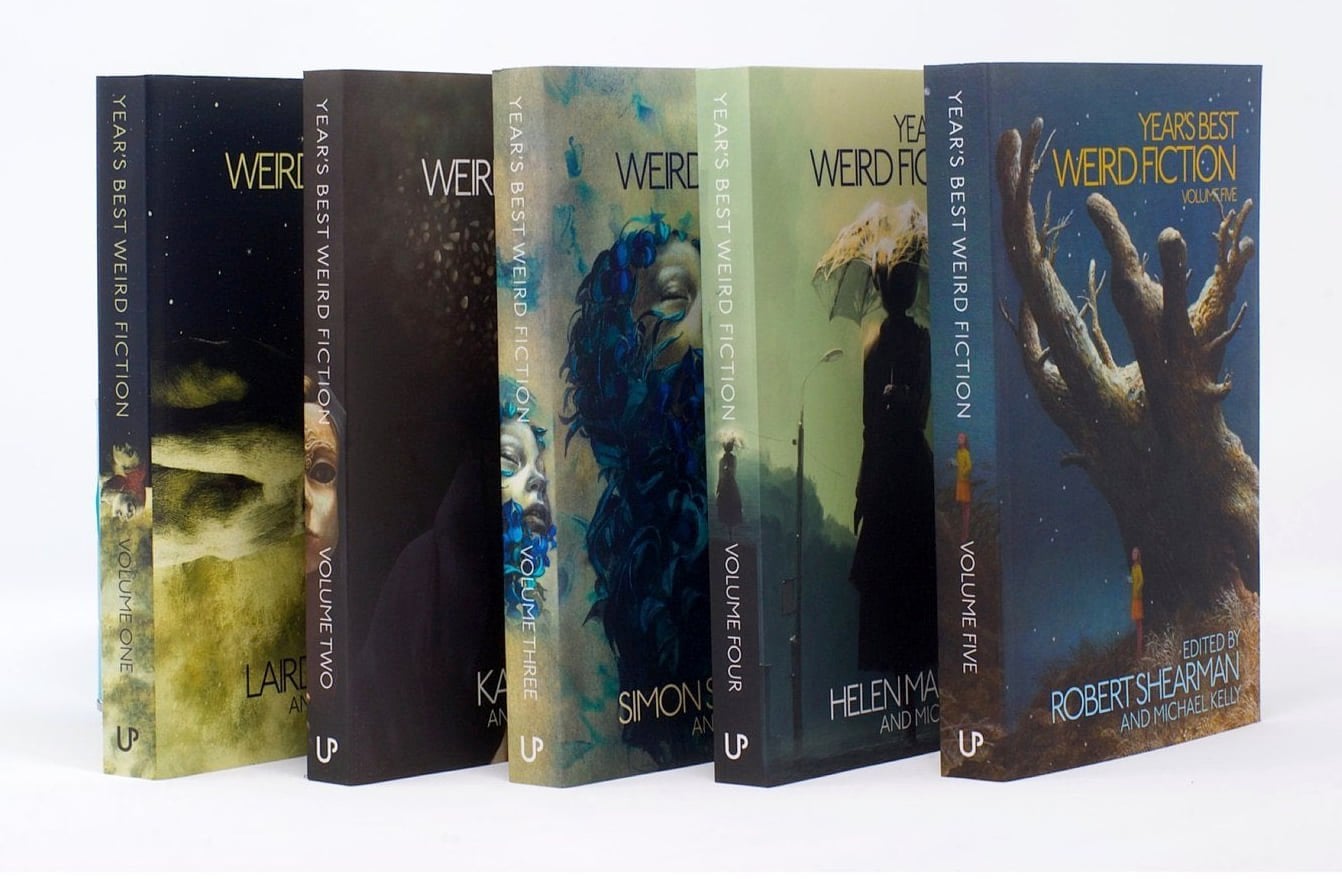 Year's Best Weird Fiction, Volumes One – Five, edited by
Michael Kelly and Divers Hands (Undertow Publications, 2014-2018 )
Two weeks ago I caught this brief note on Michael Kelly's Facebook page.
It was 5 years ago that I published the fifth, and final, volume of the Year's Best Weird Fiction. My proudest publishing endeavour. These are all out of print, now.
Could that be true? Were all five of these fabulous volumes no longer available?
Alas, it appears to be. None are available from the publisher, or at Amazon, or any of the other online sellers I hastily checked. If it's true these books are no longer in the channel, and you don't already have them, then I urge you to track them down in the secondary market while you can.
[Click images for more gruesome versions.]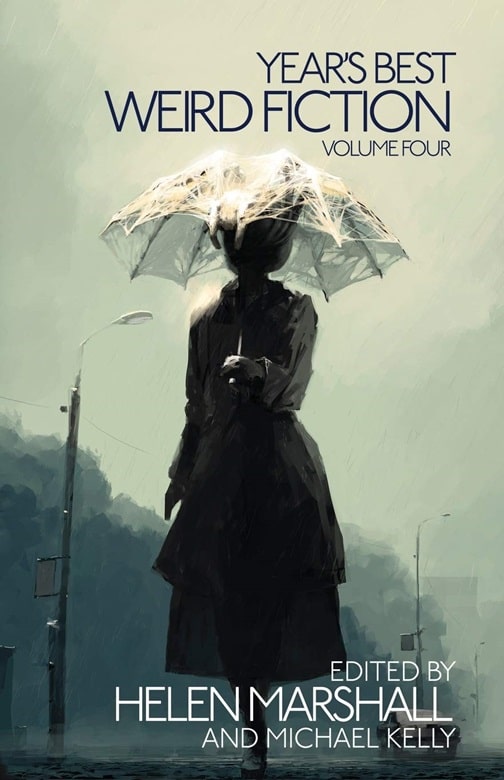 Don't look too closely at this image. Seriously, don't. Cover from
Year's Best Weird Fiction, Volume Four. Art by Alex Andreev
The first volume of Year's Best Weird Fiction was published in 2014 from Undertow Publications, edited by Laird Barron and Undertow's maestro Michael Kelly. The next four arrived in annual installments, each with a distinguished co-editor: Kathe Koja, Simon Strantzas, Helen Marshall, and Robert Shearman.
The books were true labors of love, with professional design and packaging. The covers were likewise excellent — and the cover to Volume Four, above, was my favorite piece of cover art for 2017. Is that a woman out walking innocently in the rain… or is it something else entirely?
Year's Best Weird Fiction collected the finest fiction of the weird from a wide range of small and large presses. It was well loved by readers and fawned over by critics. But it never reached the audience it should have, and Kelly wrapped up the series with Volume Five and turned his time to other pursuits.
Those pursuits have rewarded him handsomely. Undertow Press has thrived over the past five years, publishing acclaimed and award-winning books by Tobi Ogundiran, Premee Mohamed, Cassandra Khaw, Rebecca Campbell, A.C. Wise, Daniel Miles, M. Rickert, Steve Toase, Seán Padraic Birnie, Richard Gavin, Kay Chronister, Simon Strantzas, and many others.
Just last month, Kelly was honored with the World Fantasy Award for his work with Undertow — an honor richly deserved.
But I dearly miss these volumes, and I wish they had continued. They are starting to steadily rise in price in the aftermarket, and if you're interested, I suggest you secure them quickly.
All five are currently available at eBay (for example), with prices ranging from $16.56 to $32. But I expect that won't last long.
Over the years our coverage of the series has included:
Year's Best Weird Fiction, Volume One, edited by Laird Barron and Michael Kelly
Year's Best Weird Fiction, Volume Two, edited by Kathy Koja and Michael Kelly
Year's Best Weird Fiction, Volume Three, edited by Simon Strantzas and Michael Kelly
Year's Best Weird Fiction, Volume Four, edited by Helen Marshall and Michael Kelly
Year's Best Weird Fiction, Volume Five, edited by Robert Shearman and Michael Kelly
Alien Rats, Apocalyptic Nightmares, and a Horror Worse Than Ghosts: Year's Best Weird Fiction, Volume One, a review by James McGlothlin
See all our coverage of the best new fantasy and weird fiction at Black Gate here.