The RPG Rundown is your Home for Lively Discussions of Your Favorite Games
The RPG Rundown is your Home for Lively Discussions of Your Favorite Games

YouTube is the place for serious gaming discussion these days. It's not all fake Marvel trailers and dance clips. With the right connections and a little investigative spirit, you can find a thriving community where old-school gaming is very much alive.
Well, it worked for me, anyway. Mostly because one of those quality connections was Dave Munger, Black Gate's original site engineer and the man who wrote the first two posts on this very blog, way back in November 2008. Dave tipped me off to the RPG Rundown, a YouTube channel that covers tabletop role playing games. The lively and entertaining discussions there include new game reviews, industry news, player tips and info, and broader conversations on the very nature of role playing.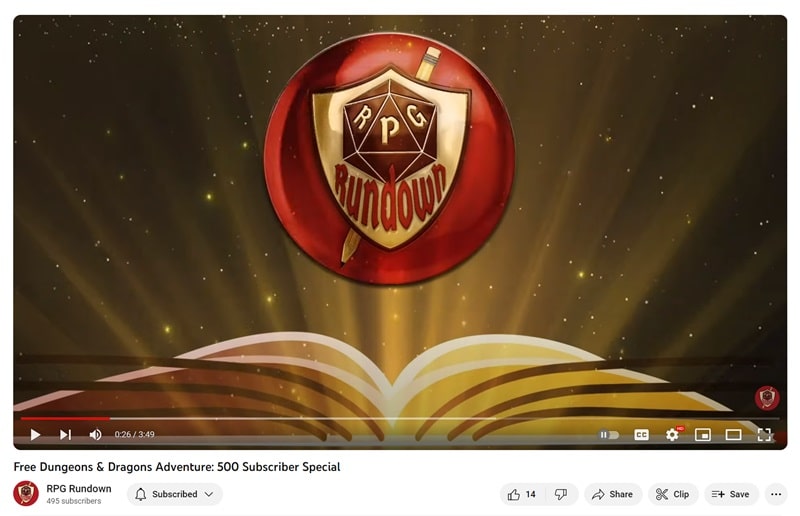 495 subscribers — just five more to go to hit 500! 
I asked Dave to provide a high-level summary of the action at RPG Rundown for our readers, and he was happy to accommodate me. Here's Dave.
The RPG Rundown is a new YouTube channel covering Tabletop Role Playing Games like Dungeons & Dragons, Pathfinder, Call of Cthulhu, and many, many more. We provide industry news, product reviews, GM and player tips and info, and more!

We're one of several channels devoted to tabletop games which are part of the Game Talk Network.

Right now, the RPG Rundown is running a special! When we cross 500 subscribers, we'll release a free D&D 5e adventure for 1st level characters, which will bring them to 3rd level. Best of all, the viewers will decide what the adventure will be about by casting votes on the theme, quest, and location. For more, and to find out how to vote, please go to this video:
As you can see from the screen capture I took this afternoon (above), RPG Rundown already has 495 subscribers — just five more to go to hit that magic number, and unlock that free 5e adventure.
Drop by the RPG Rundown today, check out their catalog of videos, and subscribe. Tell them Black Gate sent you.
And remember — always keep your dice warm.