Year's Best Weird Fiction, Volume One, edited by Laird Barron
Year's Best Weird Fiction, Volume One, edited by Laird Barron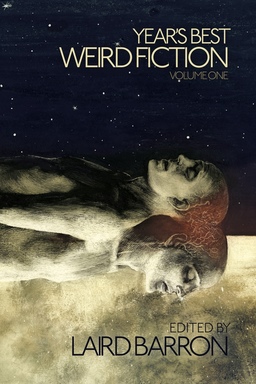 YEAR'S BEST WEIRD FICTION, Vol. 1, edited by the great Laird Barron for Undertow Press, is scheduled for an August release. You can pre-order it right here. This will be a brilliant inauguration for the series. Each volume will be edited by a different "guest editor" and Undertow could not have made a better choice for their first book: Barron is one of the best weird/horror writers in the field. Here is the complete Table of Contents:
"Success" by Michael Blumlein, The Magazine of Fantasy & Science Fiction, Nov./Dec.
"Like Feather, Like Bone" by Kristi DeMeester, Shimmer #17
"A Terror" by Jeffrey Ford, Tor.com, July.
"The Key to Your Heart Is Made of Brass" by John R. Fultz, Fungi #21
"A Cavern of Redbrick" by Richard Gavin, Shadows & Tall Trees #5
"The Krakatoan" by Maria Dahvana Headley, Nightmare Magazine/The Lowest Heaven, July.
"Bor Urus" by John Langan, Shadow's Edge
"Furnace" by Livia Llewellyn, The Grimscribe's Puppets
"Eyes Exchange Bank" by Scott Nicolay, The Grimscribe's Puppets
"A Quest of Dream" by W.H. Pugmire, Bohemians of Sesqua Valley
"(he) Dreams of Lovecraftian Horror" by Joseph S. Pulver Sr., Lovecraft eZine #28
"Dr. Blood and the Ultra Fabulous Glitter Squadron" by A.C. Wise, Ideomancer Vol. 12 #2
"The Year of the Rat" by Chen Quifan, The Mag. of Fantasy & Science Fiction, July/August.
"Fox into Lady" by Anne-Sylvie Salzman, Darkscapes
"Olimpia's Ghost" by Sofia Samatar, Phantom Drift #3
"The Nineteenth Step" by Simon Strantzas, Shadows Edge
"The Girl in the Blue Coat" by Anna Taborska, Exotic Gothic 5 Vol. 1
"In Limbo" by Jeffrey Thomas, Worship the Night
"Moonstruck" by Karin Tidbeck, Shadows & Tall Trees #5
"Swim Wants to Know If It's as Bad as Swim Thinks" by Paul Tremblay, Bourbon Penn #8
"No Breather in the World But Thee" by Jeff VanderMeer, Nightmare Magazine, March.
"Shall I Whisper to You of Moonlight, of Sorrow, of Pieces of Us?" by Damien Angelica Walters, Shock Totem #7.