Check out the Table of Contents for The Year's Best Weird Fiction, Volume Four, edited by Helen Marshall and Michael Kelly
Check out the Table of Contents for The Year's Best Weird Fiction, Volume Four, edited by Helen Marshall and Michael Kelly
It's always a delight when The Year's Best Weird Fiction arrives, as I consistently find it one of the most eclectic and eye-opening of the Year's Best volumes. All of them introduce me to new writers and fiction venues, but I don't think any do it with the same regularity as Year's Best Weird Fiction.
The series is edited by a different guest editor every year; Canadian author Helen Marshall is at the reins for 2017. The series editor is Undertow's distinguished publisher, Michael Kelly. This year's volume includes stories from Jeffrey Ford, Dale Bailey, Usman T. Malik, Sam J. Miller, Sarah Tolmie, Indrapramit Das, and many others. It arrived in trade paperback from Undertow Publications earlier this month.
And while we're talking about the book, I have to say a few words about Alex Andreev's fantastically creepy cover, which may be my favorite cover art of 2017. I've seen it multiple times, but didn't notice anything particularly unsettling about it until I tracked down a high-res version for this article. Once you see it, you can't unsee it. Click the image above left to view a high-resolution version, and see what I mean. Warning: not for the squeamish. (Which in this case definitely includes me. Brrrr.)
Here's the complete Table of Contents.
"I Was a Teenage Werewolf" by Dale Bailey (Nightmare #51)
"Breakdown" by Gary Budden (The Short Anthology: The Second Issue)
"The Signal Birds" by Octavia Cade (Liminal Stories #2)
"Breaking Water" by Indrapramit Das (Tor.com)
"The End of Hope Street" by Malcolm Devlin (Interzone #266)
"The Blameless" by Jeffrey Ford (A Natural History of Hell)
"Waxy" by Camilla Grudova (Granta Online)
"A Heavy Devotion" by Daisy Johnson (Fen)
"Red" by Katie Knoll (The Masters Review Online)
"In The Ruins of Mohenjo-Daro" by Usman T. Malik (The Mammoth Book of Cthulhu)
"Angel, Monster, Man" by Sam J. Miller (Nightmare #40)
"Outtakes" by Irenosen Okojie (Speak, Gigantular)
"Beating the Bounds" by Aki Schilz (The Unreliable Guide To London)
"The Kings With No Hands" by Johanna Sinisalo, translated by J. Robert Tupasela (Finnish Weird 3)
"The Dancer on the Stairs" by Sarah Tolmie (Two Travelers)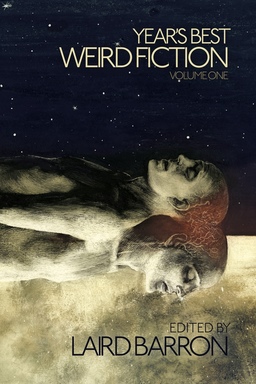 We covered the three previous volumes in the series here:
Alien Rats, Apocalyptic Nightmares, and a Horror Worse Than Ghosts: Year's Best Weird Fiction, Volume One, by James McGlothlin
Year's Best Weird Fiction, Volume One, by John R. Fultz
Year's Best Weird Fiction, Volume One, edited by Laird Barron
Year's Best Weird Fiction Volume Two, edited by Kathe Koja
Year's Best Weird Fiction, Volume Three, edited by Simon Strantzas and Michael Kelly
The most recent two volumes are still in print; Volume One is out of print and rapidly rising in price. If you see a copy in the wild, snap it up.
While we're on the topic of Best of the Year volumes, here's the ones we've covered so far in 2017:
Nebula Awards Showcase 2017, edited by Julie E. Czerneda
The Best Science Fiction and Fantasy of the Year, Volume Eleven edited by Jonathan Strahan
The Best Science Fiction of the Year: Volume Two, edited by Neil Clarke
The Year's Best Science Fiction & Fantasy 2017, edited by Rich Horton
The Year's Best Science Fiction: Thirty-Fourth Annual Collection edited by Gardner Dozois
The Year's Best Military and Adventure SF, Volume 3 edited by David Afsharirad
The Best American Science Fiction and Fantasy 2017, edited by Charles Yu and John Joseph Adams
Year's Best Weird Fiction, Volume 4 was published by Undertow Publications on October 3, 2017. It is 362 pages, priced at $29.99 in hardcover and $19.99 in trade paperback. The spectacularly spooky cover is by Alex Andreev, with design by Vince Haig. Order copies straight from Undertow Publications.
See all of our recent New Treasures here.