Future Treasures: Year's Best Weird Fiction, Volume One, edited by Laird Barron
Future Treasures: Year's Best Weird Fiction, Volume One, edited by Laird Barron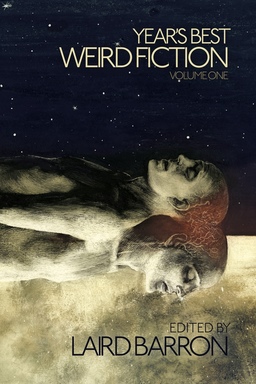 There's lots of great news in this post. So grab some coffee, find a seat, and pay attention.
A few months back, the folks at Undertow Publications, an imprint of the fabulous ChiZine, launched an Indiegogo funding campaign for a brand new anthology of weird fiction: Year's Best Weird Fiction. The campaign wrapped up in September and was a rousing success. (Good news!)
In fact, it was successful enough that the anthology is planned to be an annual affair. (Good news!) And as the editor of the first volume, the publishers have selected none other than the talented Laird Barron, author of The Beautiful Thing That Awaits Us All, The Croning, and The Light is the Darkness. (Great news!) Here's the book description:
Each volume of the Year's Best Weird Fiction will feature a different guest editor. Along with 125,000 words of the finest strange fiction from the previous year, each volume will include an introduction from the editor, a year in review column, and a short list of other notable stories.

Once the purview of esoteric readers, Weird fiction is enjoying wider popularity. Throughout its storied history there has not been a dedicated volume of the year's best weird writing. There are a host of authors penning weird and strange tales that defy easy categorization. Tales that slip through genre cracks. A yearly anthology of the best of these writings is long overdue. So . . . welcome to the Year's Best Weird Fiction.
Year's Best Weird Fiction, Volume One will be published August 19, 2014 by Undertow Publications. I don't have a projected page count, but it will cost $17.95 in trade paperback. The cover art is by Santiago Caruso, with design by Vince Haig. Learn more at ChiZine.