The Expedition Into the Black Reservoir: A Dungeon Adventure at Greyhawk Castle by Gary Gygax
The Expedition Into the Black Reservoir: A Dungeon Adventure at Greyhawk Castle by Gary Gygax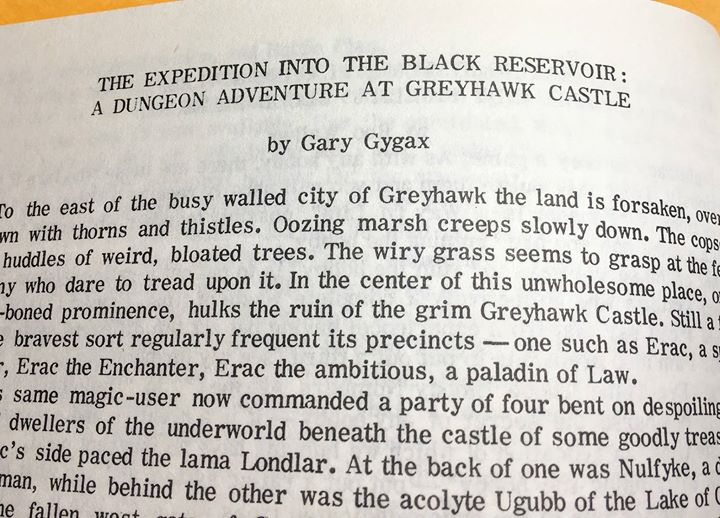 The early days of D&D have been chronicled many times, in Shannon Appelcline's excellent Designers and Dragons books, Michael Witwer's Empire of Imagination, David Kushner and Koren Shadmi's Rise of the Dungeon Master: Gary Gygax and the Creation of D&D, and a rapidly growing corpus of gaming history texts. When an era you lived through in your teens now has its own shelf in the history section, you're getting old.
Still, there are plenty of unchronicled tidbits of gaming history out there, and I stumbled on one this weekend. In 1974 Gary Gygax, strapped for marketing cash for his just-released adventure game Dungeons and Dragons, agreed to contribute two articles to issue 12 of El Conquistador, a Chicago small press magazine devoted to play-by-mail Diplomacy leagues and general wargaming, in exchange for a full-page D&D ad. The first article was "Postal Brotherhood," a short piece on play-by-mail gaming, a pastime that was already dying (and was fully dead less than two decades later).
The second was vastly more interesting: a four-page story that's believed to be the first Greyhawk tale ever published.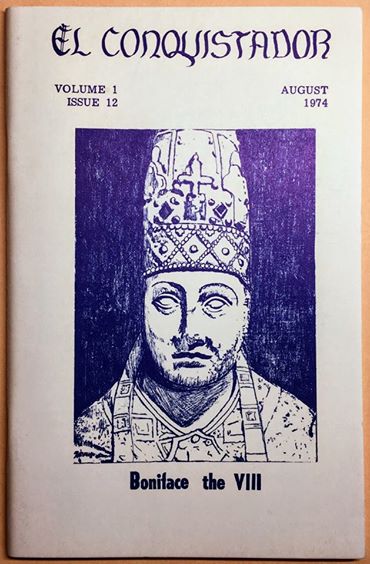 El Conquistador 12
There's been some good scholarship done on this story since it was first re-discovered in 2003 by Michael Badolato, who reported the details at the D&D historical archive The Acaeum.
The story appeared in the fanzine El Conquistador in 1975, and runs about four pages. The title is "The Expedition Into the Black Reservoir; A Dungeon Adventure At Greyhawk Castle" and was authenticated by Gary himself as being a story he wrote to promote the new game, Dungeons & Dragons, which is also advertised in the same issue. The issue also ran a review of D&D, along with another article by Gygax elaborating the idea and themes of D&D. This story has never been re-published, and as far as I know is perhaps the first ever Greyhawk-specific short story ever published. It is also very rare, having been published in a small-print run zine having to do with play by mail Diplomacy and wargaming campaigns. Gary said that he no longer has a copy either, having donated it to WOTC a few years back along with other personal items he had.
Badolato e-mailed Gary, who authenticated the find and provided some interesting detail.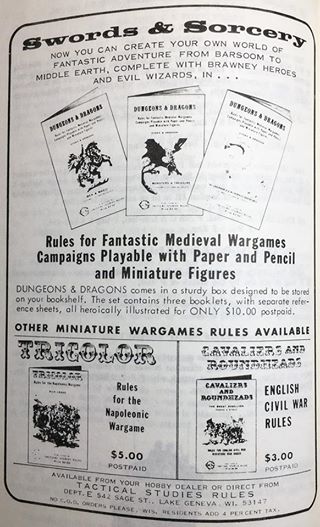 The full-page D&D ad
Badolato elaborated on the find in his e-mail messages.
It was published in a small print run magazine in 1975. The tale describes an adventure into Castle Greyhawk by Erac and his companions. It runs about 2000 words (4 pages) and I've never seen it reprinted anywhere… it's more of an adventure description than a short story. It looks like it was penned to advertise the "new" Dungeons and Dragons game and the "Long awaited Greyhawk supplement" that is advertised in the issue as being available. There is also a short article… entitled "What is the Magic of Swords and Sorcery Wargaming?" in the same issue, a fun little snapshot of the hobby waaaaay back in 1975…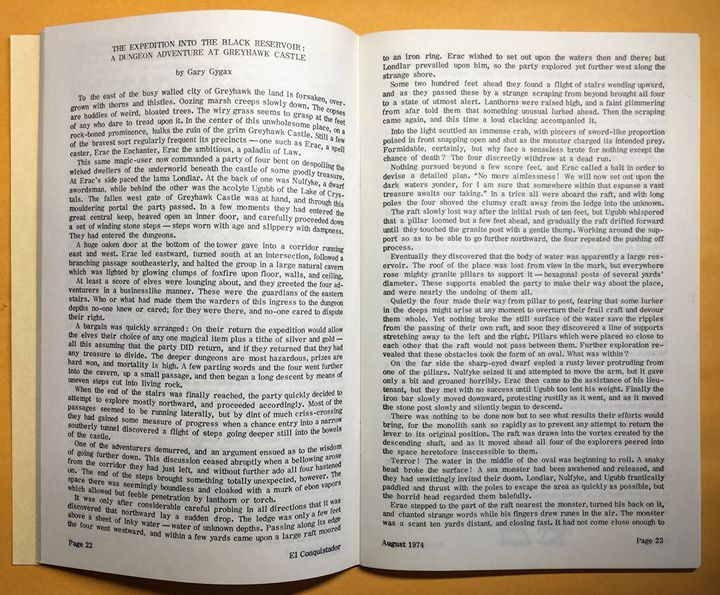 "The Expedition Into the Black Reservoir" by Gary Gygax
The story is based on the adventures of four players in Gygax's famed Castle Greyhawk, Erac, Londlar, Nulfyke, and Ugubb. According to Gary, Erac was his son Ernie. Here's a snippet of his response to Badolato.
Holy Mackeral! I've totally forgotten that essay, don't even recall the name of the zine in which it was published:( Sure would like to read that again myself…

Likely I exchanged the articles for the ad. TSR didn't have much available cash back then for sure… Erac was a PC of Ernie's. I will have to ask him if he recalls the other names, who played those characters.
Read the complete exchange here.

Gary's article on PBM gaming in the same issue
As a work of fiction, "The Expedition Into the Black Reservoir" isn't particularly memorable. But as a glimpse into Gygax's early DM'ing style, and especially as a tantalizingly detailed look at the early days of Castle Greyhawk, perhaps the most famous RPG dungeon ever created, it's a very significant find.
Copies of El Conquistador #12 are exceedingly hard to find. I've never encountered one, and in fact I came across these pictures at an online auction (in the RPG Lobby of Facebook) which is currently at $350. Well outside my price range.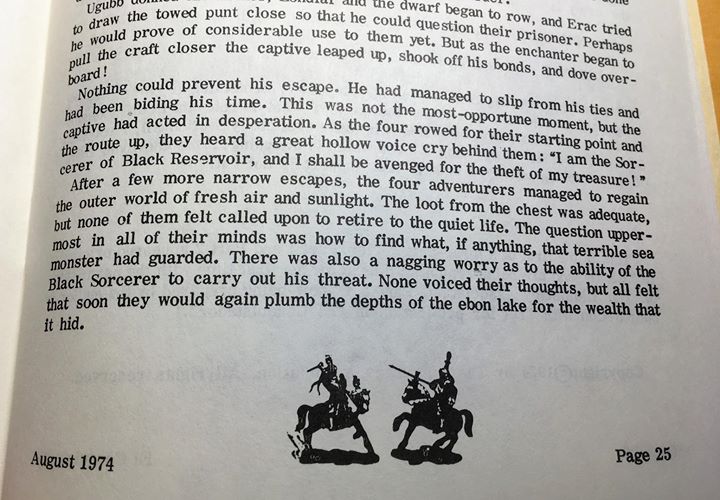 But those of us just interested in reading the story are in luck — you can read the entire thing at Greyhawk Online.
See all our recent RPG coverage here.