Future Treasures: Nebula Awards Showcase 2017, edited by Julie E. Czerneda
Future Treasures: Nebula Awards Showcase 2017, edited by Julie E. Czerneda
I attended the Nebula Awards ceremony here in Chicago last year, where Black Gate bloggers C.S.E. Cooney and Amal El-Mohtar were both nominated for awards, and got to see the gorgeous Nebula trophies (surely one of the most beautiful awards in the business) given out in person. So you can understand that I've been looking forward to Nebula Award Showcase 2017, which collects all of the winning stories — including "Hungry Daughters of Starving Mothers" by Alyssa Wong (Best Short Story), "Our Lady of the Open Road" by Sarah Pinsker (Best Novelette), and Binti by Nnedi Okorafor (Best Novella) — as well as excerpts from all the nominees for Best Novel (including the winner, Naomi Novk's Uprooted) and all the nominees for Best Short Story.
Believe it or not, the Nebula Awards have been given out by SFWA for 50 years, and this is the 50th anthology collecting the winners and runners-up. That's a lot of great fiction packed into a highly collectible series of hardcover and paperback volumes (that's a subtle tip for you collectors.) Nebula Awards Showcase 2017 will be published by Pyr on May 16, 2017. It is 336 pages, priced at $18 in trade paperback and $9.99 for the digital edition — a bargain, considering it includes Binti (priced at $9.99 all on its own) in its entirety. The cover is by Maurizio Manzieri.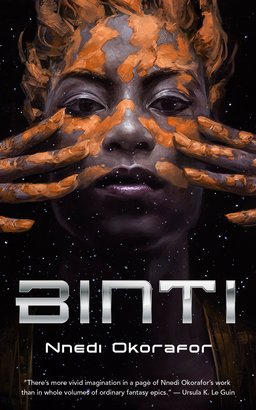 We've covered plenty of the previous anthologies over the years, and reported here on the Nebula Awards faithfully every year. Our coverage includes:
Nebula Awards One and Two From Stealth Press
Cloud Sculptors, Dragon Riders, and an Unearthly Craps Game: Nebula Award Stories 3, edited by Roger Zelazny (1970)
Nebula Awards Showcase 2014, edited by Kij Johnson
Nebula Awards Showcase 2015, edited by Greg Bear
Nebula Awards Showcase 2016, edited by Mercedes Lackey
Presenting the 2015 Nebula Awards
The 2016 Nebula Award Winners
A Weekend With the Greatest Talents in Science Fiction: Report on the 2016 Nebula Awards
Blogging from the Nebulas Weekend by Derek Kunsken
SFWA Announces the 2017 Nebula Award Nominations
See all our recent Book coverage here.