How to Assemble an Instant Science Fiction Collection
How to Assemble an Instant Science Fiction Collection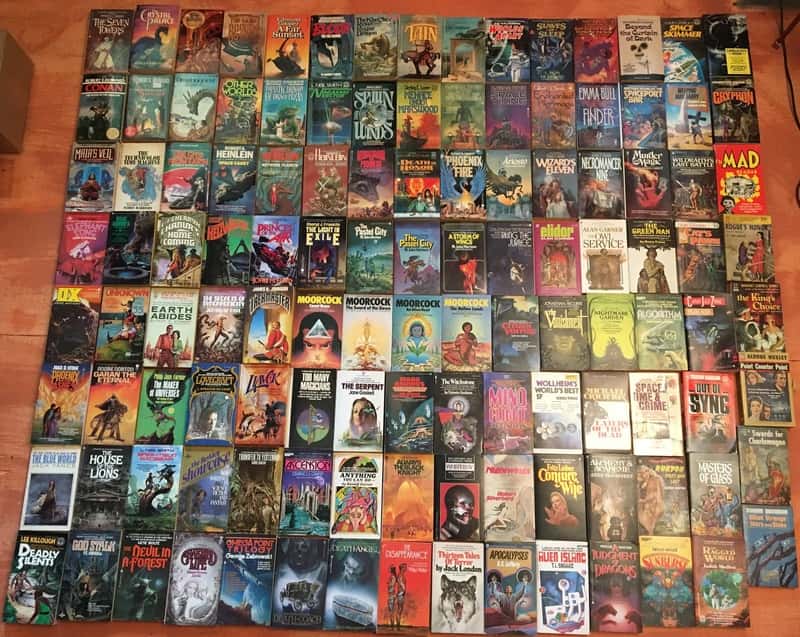 I came home from the 2017 Windy City Pulp & Paper Show with a lot of books.
The 120 SF & fantasy paperbacks books above represent the bulk of my purchases this year. I found plenty of additional treasures — including early issues of Hugo Gernsback's Science Wonder Stories, a handful of hardcovers, art books, bargain graphic novels, and plenty of magazines — but this year, it was mostly about the paperbacks.
And man, what a haul. As I mentioned in my brief report Saturday morning, one of the highlights of the convention was discovering a vendor in the back of the room selling mint condition, unread SF paperbacks from the 70s and 80s at cover price (about $2 each). It was like stepping back in time 30 years into a well-stocked bookstore. You can't reasonably expect someone to keep their head under circumstances like that.
[Click the images for bigger versions.]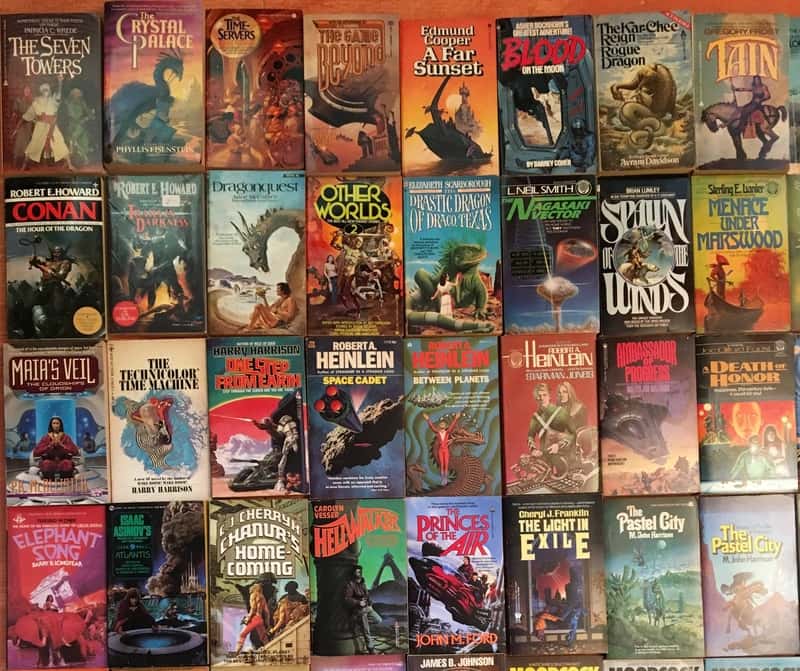 In about 30 minutes in that booth, I assembled from scratch the start of a pretty decent science fiction collection. I supplemented it with additional purchases (mostly from a vendor in the corner selling $1 vintage paperbacks, and a return trip to the $2 booth late Sunday when the vendor cut his prices in half), and the result was very nearly enough books to carpet the floor in my living room.
One thing I love about this field is the constant sense of discovery. Did you know (for example) that there was a paperback edition of Brian Lumley's 1978 Titus Crow collection Spawn of the Winds? I didn't.  Or that there was a Berkley paperback edition of Harry Harrison's 1967 novel The Technicolor Time Machine? Or that Walter Jon Williams's debut novel was a far-future space opera, Ambassador of Progress (Tor, 1984)? Or that Patricia C. Wrede published standalone fantasy novel The Seven Towers in 1984? Who knew?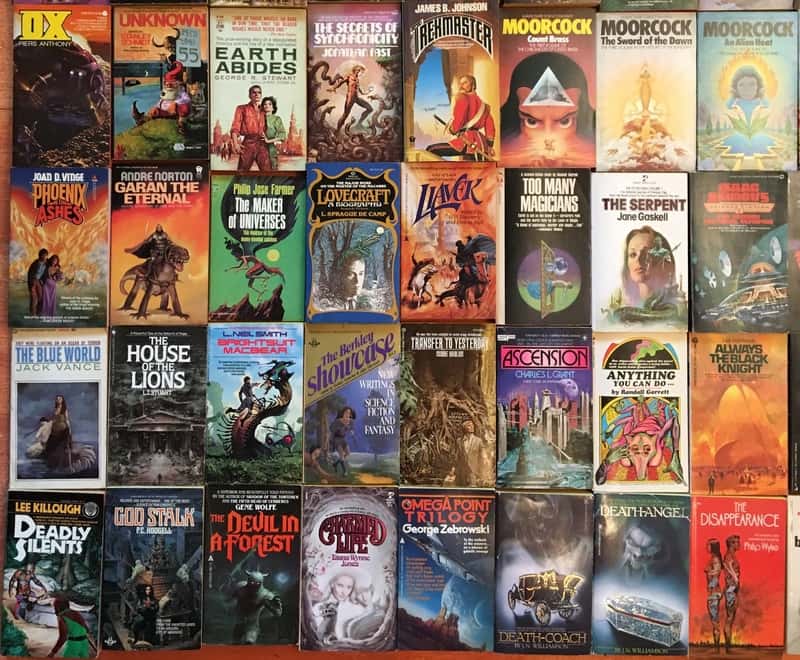 I was also delighted to find a brand new (from 1976) copy of Piers Anthony's OX, one of the first science fiction novels I ever read at the tender age of 12. In the same lot I found a copy of Will Shetterly & Emma Bull's shared world anthology Liavek (1985), with contributions from Gene Wolfe, Patricia C. Wrede, Nancy Kress, Steven Brust, Robin Hobb, Barry B. Longyear, and many others.
I was especially delighted to find a pair of books by Randall Garrett: the original Curtis paperback edition of Too Many Magicians, the 1967 Hugo nominee in his Lord Darcy series, set in an alternate Britain where magic has supplanted technology and Lord Darcy is the Chief Criminal Investigator for the Duke of Normandy, and a novel I never even knew existed, Anything You Can Do (1969).
I also bought a mint-condition copy of P.D. Hodgell's God Stalk, just because it would make Fletcher Vredenburgh happy.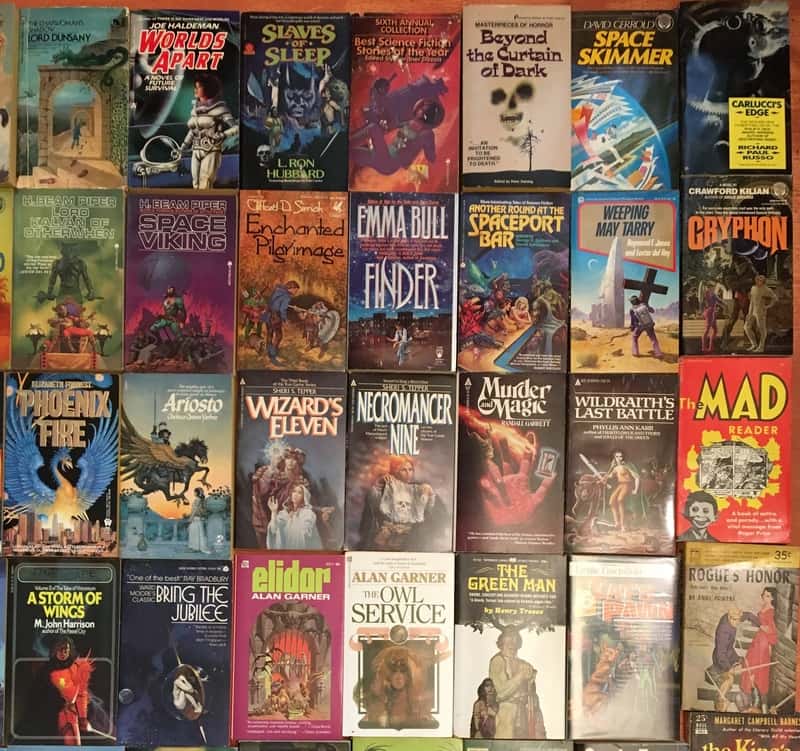 Other great finds included the Ace editions of H. Beam Piper's Lord Kalvan of Otherwhen and Space Viking (again, mostly to make Fletcher happy), a David Gerrold SF novel I'd never heard of (Space Skimmer, 1972), Richard Paul Russo's hard-boiled cyberpunk classic Carlucci's Edge (1995, a Philip K Dick winner), Emma Bull's Bordertown novel Finder (1985), Randall Garrett's Lord Darcy collection Murder & Magic (1979), M. John Harrison's Viriconium novel A Storm of Wings, and two novels in Sheri S. Tepper's famous True Games series.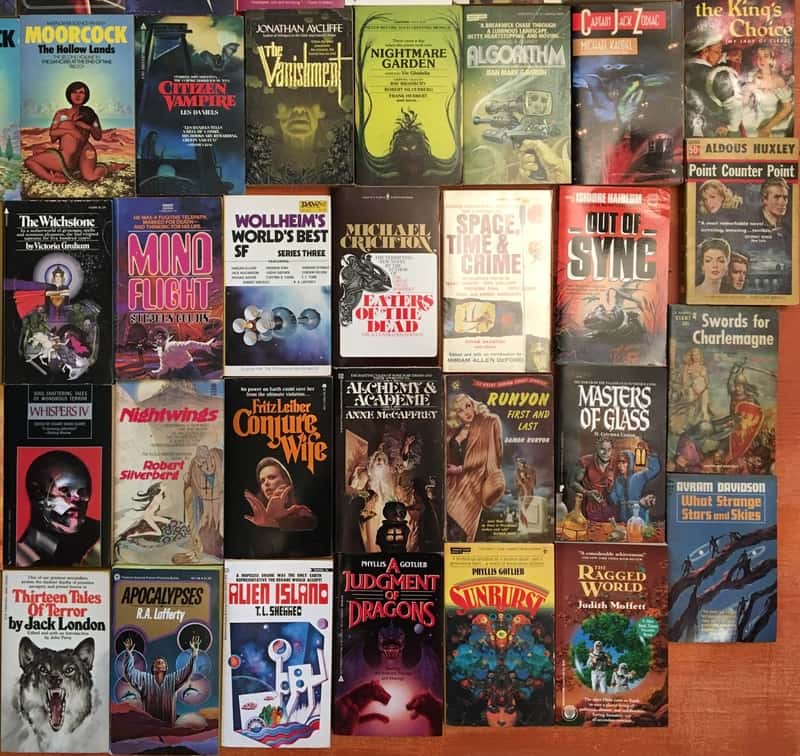 I made a few significant finds in the last day of the show. I was not aware, for example, that horror writer Les Daniels had a vampire series until I stumbled on Citizen Vampire (1981), the third book in his 5-volume Don Sebastian de Villanueva series. I was well aware of Michael Kandel's Strange Invasion (1989) and In Between Dragons (1990), but I never knew his surreal cyberpunk novel Captain Jack Zodiac (Bantam Spectra, 1991) even existed until I laid eyes on it in a book bin on the floor. Ditto for the 1964 anthology from Miriam Allen deFord, Space, Time & Crime.
One of my favorite finds of the show was Jack London's 1978 Popular Library collection Thirteen Tales of Terror, which gathers together some of his most popular horror stories. It made a nice discovery next to R.A. Lafferty's novella collection Apocalypses (1977), and the weird little 1970 Ballantine paperback Alien Island, from someone I've never heard of, T. L. Sherred. I was also pleased to find another edition of Fritz Leiber's Conjure Wife, to add to my growing collection.
Needless to say, this pile of paperbacks has made me very happy, and will keep my busy for weeks. In terms of sheer volume, it is only eclipsed by the four boxes (roughly 400 paperbacks) from Martin H. Greenberg's collection I purchased in 2012 — also at Windy City, as it turns out.
If I have time, I'll also catalog my remaining finds from the show in a subsequent post. In the meantime, enjoy some of our previous coverage of the Windy City Pulp & Paper Show.
Windy City Pulp and Paper — 2007 — Report by Howard Andrew Jones
Thank You, Martin H. Greenberg (and Doug Ellis) — 2012
Tales From Windy City Pulp and Paper — 2013
A Triumphant Return from Windy City Pulp & Paper — 2014
Celebrating Pulp Fiction Magazines at Windy City Pulp & Paper — 2015 (video)
Pulp Flakes: Windy City Pulp and Paper 2015 – photos
Total Pulp Victory: A Report on Windy City Pulp & Paper, Part I — 2016
Total Pulp Victory: Windy City Pulp & Paper, Part II — 2016
See all of our Convention Reports here.