Adventure in a Ruined Future Paris: The Dominion of the Fallen Novels by Aliette de Bodard
Adventure in a Ruined Future Paris: The Dominion of the Fallen Novels by Aliette de Bodard
I met Aliette de Bodard at the Nebula Awards Weekend here in Chicago in 2015, and I was totally charmed. She is smart, self-deprecating, and very funny (and a very sharp dresser, as I recall). That was a few months before the debut of her major fantasy novel The House of Shattered Wings, which won the 2015 British Science Fiction Award, and which Tim Powers called "A Gothic masterpiece of supernatural intrigues, loves and betrayals in a ruined and decadent future Paris… this novel will haunt you long after you've put it down." On her website, Aliette describes the books as:
A series of dark Gothic fantasies set in a turn-of-the-century Paris devastated by a magical war – featuring magicians, witches, alchemists, Fallen angels, and the odd Vietnamese ex-Immortal…
The second novel, The House of Binding Thorns, arrived in trade paperback from Ace last month, and it's already winning wide acclaim. F&SF called it "dizzying and beautiful," and the B&N Sci-Fi Blog called it "A truly grand story, brimming with action, heart, representation, and magic."
Here's the description for the first novel.
Paris has survived the Great Houses War – just. Its streets are lined with haunted ruins, Notre-Dame is a burnt-out shell, and the Seine runs black with ashes and rubble. Yet life continues among the wreckage. The citizens continue to live, love, fight and survive in their war-torn city, and The Great Houses still vie for dominion over the once grand capital.

House Silverspires, previously the leader of those power games, lies in disarray. Its magic is ailing; its founder, Morningstar, has been missing for decades; and now something from the shadows stalks its people inside their very own walls.

Within the House, three very different people must come together: a naive but powerful Fallen, an alchemist with a self-destructive addiction, and a resentful young man wielding spells from the Far East. They may be Silverspires' salvation. They may be the architects of its last, irreversible fall…
And for The House of Binding Thorns.
As the city rebuilds from the onslaught of sorcery that nearly destroyed it, the Great Houses of Paris, ruled by fallen angels, still contest one another for control over the capital.

House Silverspires was once the most powerful, but just as it sought to rise again, an ancient evil brought it low. Philippe, an immortal who escaped the carnage, has a singular goal—to resurrect someone he lost. But the cost of such magic may be more than he can bear.

In House Hawthorn, Madeleine the alchemist has had her addiction to angel essence savagely broken. Struggling to live on, she is forced on a perilous diplomatic mission to the underwater Dragon Kingdom — and finds herself in the midst of intrigues that have already caused one previous emissary to mysteriously disappear…

As the Houses seek a peace more devastating than war, those caught between new fears and old hatreds must find strength — or fall prey to a magic that seeks to bind all to its will.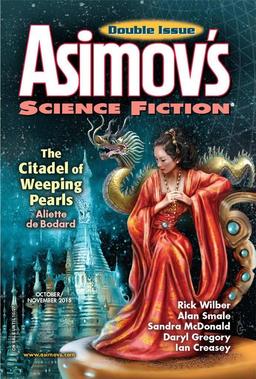 And here's the publishing details.
The House of Shattered Wings (Roc Books, 418 pages, $26.95 in hardcover/$16 trade paperback/$11.99 digital, April 4, 2017) — cover by Nekro
The House of Binding Thorns (Ace Books, 368 pages, $27 in hardcover/$11.99 digital, April 4, 2017) — cover by Nekro
Our previous coverage of Aliette de Bodard includes:
The House of Shattered Wings
Obsidian & Blood
October/November 2015 Asimov's Science Fiction
See all our recent coverage of the best in Series Fantasy here.