Total Pulp Victory: Windy City Pulp & Paper, Part II
Total Pulp Victory: Windy City Pulp & Paper, Part II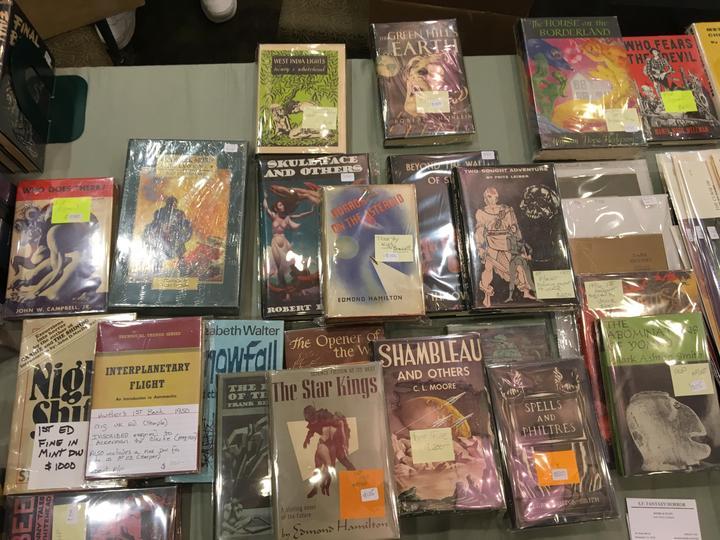 Horror on the Asteroid, and other fabulous treasures
Happy Saturday morning everyone!
I leaped out of bed this morning, and hastily started packing up to head out to the Windy City Pulp and Paperback show in nearby Lombard, IL. I spent most of the day there yesterday, catching up with Jason Waltz, Arin Komins, Rich Warren, David Willoughby, Bob Garcia, Doug Ellis, and many other old friends… and more than a few fellow happy buyers and sellers.
I also found more than a few treasures, including a seller in the back with an absolutely gorgeous collection of 1970s and 80s science fiction paperbacks that looked glossy and flawless. He was asking $2 each, in many cases less than the original cover price, so it was like stepping back in time and plucking brand new books by Roger Zelanzy, Sherri Tepper, H. Beam Piper, P.C. Hodgell, Gene Wolfe, and Robert E. Howard off the shelves. I even found a complete set of M. John Harrison's Viriconium sequence, which Fletcher Vredenburgh enthusiastically wrote up here at Black Gate. I spent a small fortune at that booth alone, and it took a few trips back to the car to carry all my bags.
Windy City has the kind of treasures I cannot find anywhere else, like rare Arkham House collections and early issues of Weird Tales, and even a copy of the first collection by my favorite pulp writer, Edmond Hamilton's The Horror on the Asteroid and Other Tales of Planetary Horror, published in hardcover by Philip Allan in 1936. I've only seen one copy in my entire life, and that was at last year's show, resting on a table among dozens of other near-priceless volumes, like early first editions of Stephen King, H.P. Lovecraft, Robert A Heinlein, Fritz Leiber, C.L. Moore, Robert E. Howard, Clark Ashton Smith, and lots more (click the image above for a closer look).
[Click the images for bigger versions.]
Windy City Pulp is my favorite local convention. Partly that's because of the fantastic Dealer's Room, and partly it's the late-night programming and auctions. But mostly because over the years it's been a reliable site to reconnect with many friends and Black Gate contributors from all over the country whom I only get to see once I year, like Barbara Barrett, William Patrick Maynard, Bill Cavalier, and many others.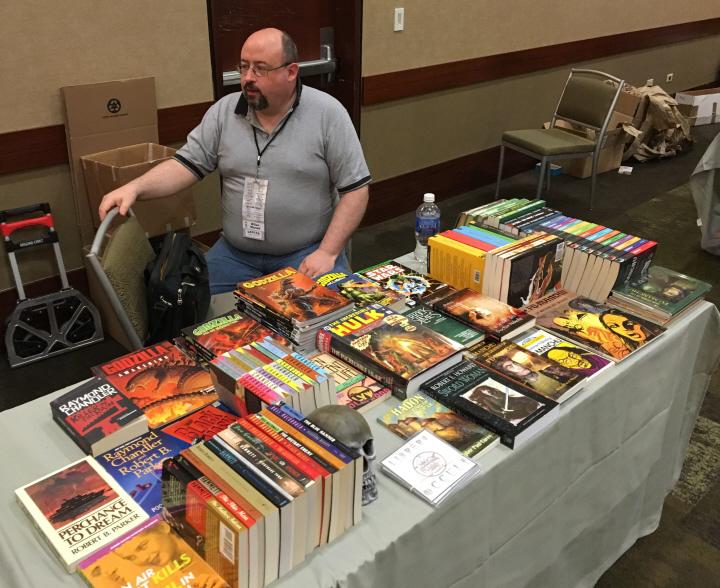 William Patrick Maynard sells Precious Treasures at Windy City 2016
If you're in the area, I hope you drop by! A one-day pass is $25, and you can get a full weekend pass at the door for just $35.
You can find complete details on the show, including directions to get there, here.
I reported in detail on Windy City Pulp and Paper last year.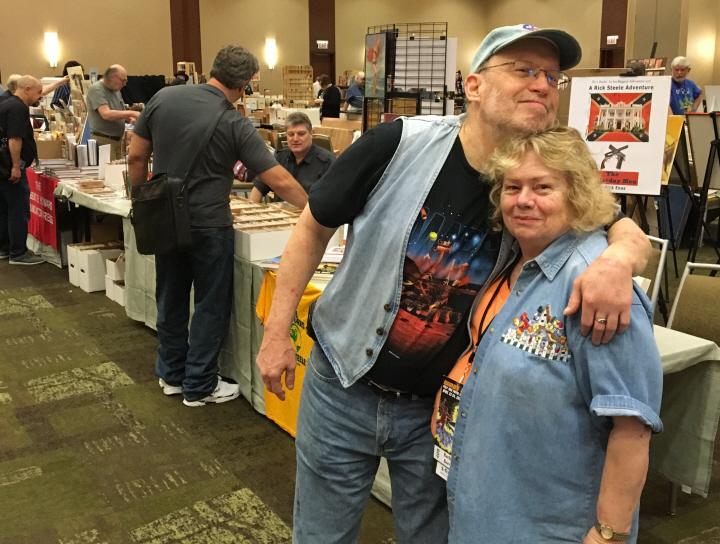 Barbara Barrett gets a well-deserved hug at Windy 2016
What else does the show have to offer? Although Windy City doesn't have regular programming like most conventions, it does have specially organized panel events, and they are excellent. This year Friday night was devoted to a legendary bookseller and collector Robert Weinberg, and the launch of the 270-page tribute book, Weinberg Tales, which debuted at the con. Bob was a friend of mine, and the man who sold me my very first pulp magazine. He passed away in September, and it was wonderful to spend an hour in a room with a group of fans and fellow friends sharing stories of how Bob impacted their lives.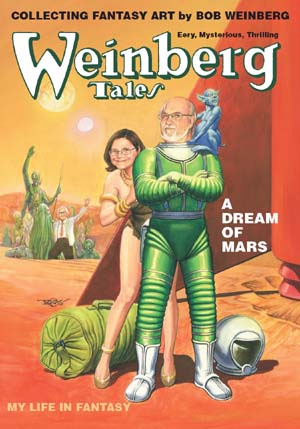 Last year the highlight of the convention for me also occurred on Friday night, a slideshow presentation on artist Jeffrey Jones. It was a fascinating glimpse behind the scenes at the life and work of one of the most talented artists our field has ever seen, conducted by a close friend who'd known him for decades, and who included hundreds of pictures of Jones and his early artwork from his private collection. It was a once-in-a-lifetime opportunity for fans of Jones, and a memory I'll treasure for a long time.
Windy City is made up of countless moments like that. If you're at all a fan of pulp fiction and those who've worked tirelessly to preserve it, it's an opportunities for you to meet those creators, publishers and collectors who've touched your life. Not to mention find some priceless treasures.
John Hauser at Windy City Pulp 2016
We've written reports on Windy City Pulp and Paper sporadically over the years. Here are some of our earlier efforts.
Windy City Pulp and Paper — 2007 — Report by Howard Andrew Jones
Thank You, Martin H. Greenberg (and Doug Ellis) — 2012
Tales From Windy City Pulp and Paper — 2013
A Triumphant Return from Windy City Pulp & Paper — 2014
Celebrating Pulp Fiction Magazines at Windy City Pulp & Paper — 2015 (video)
Total Pulp Victory: A Report on Windy City Pulp & Paper — 2016
Want more pics from Windy City Pulp? There are a few sites out there. Pulp Flakes has a delicious portfolio of images from last year's Dealers Room and the art show here: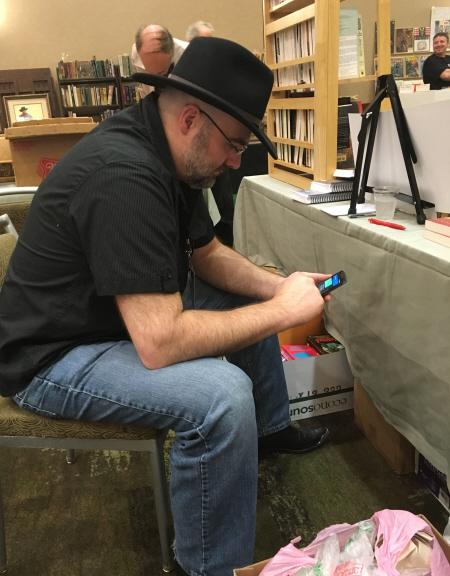 Jason Waltz wheels and deals at Windy 2016
To close out this article, I've included a few more pics from last year's show for your enjoyment. Most of these were taken as the show wound down on Saturday night and Sunday, so the huge crowds didn't hide all the booths.
With luck, I'll include a write-up in this year's show in the next few weeks. Hope to see you there!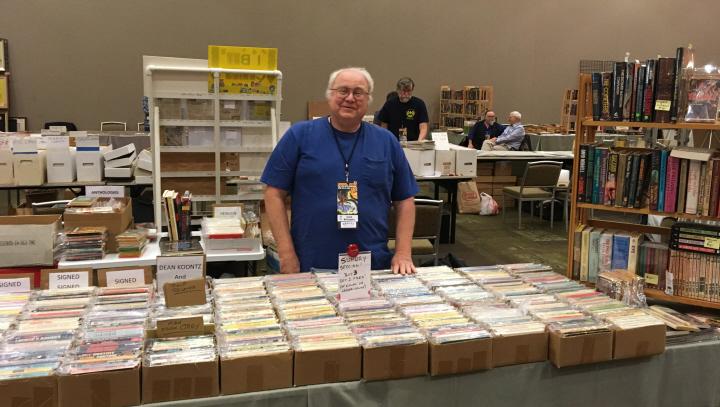 Dave Willoughby has the books you need… and is looking for Sax Rhomer
Paging Dave Willoughby…
the Black Gate booth has Sax Rhomer in stock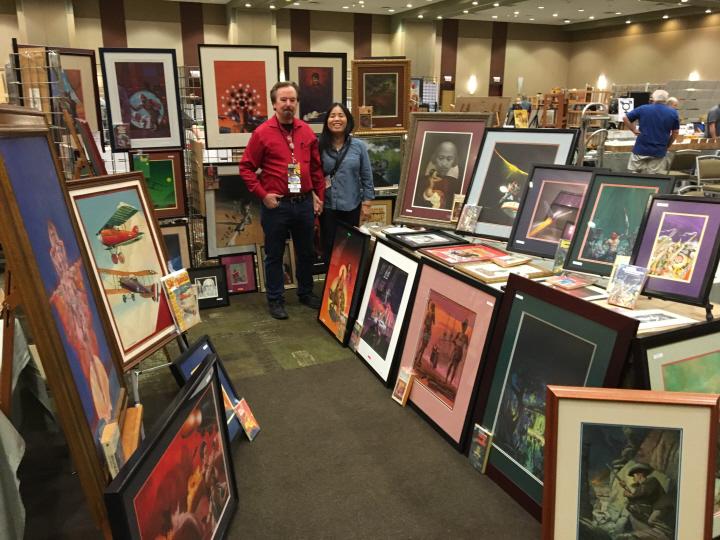 Craig Poole's fabulous Art booth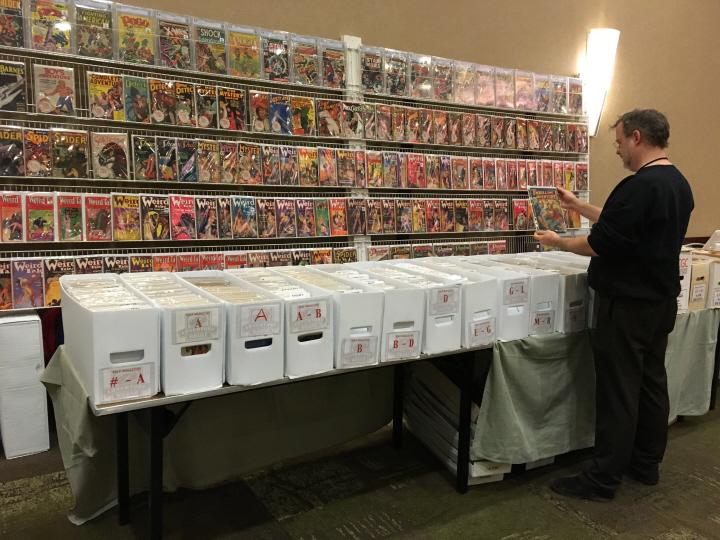 Nope, I can't afford this one, either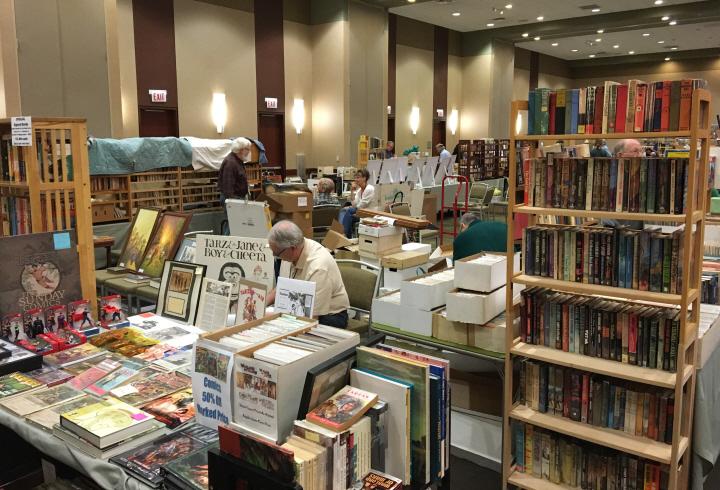 Books vendors at Windy City Pulp 2016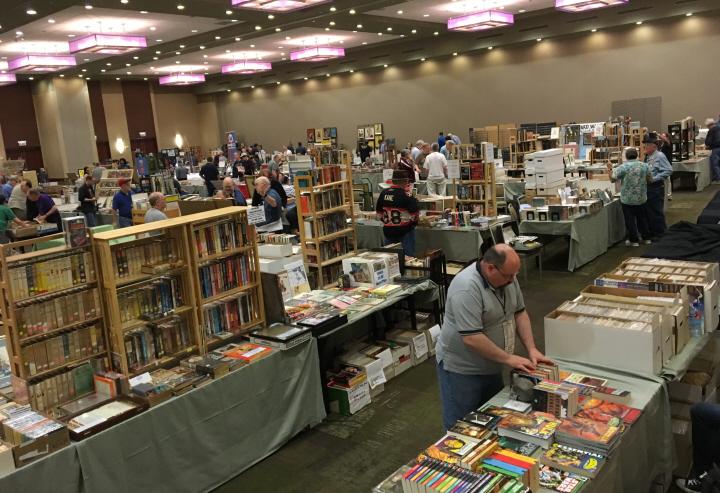 Book vendors at Windy City Pulp 2016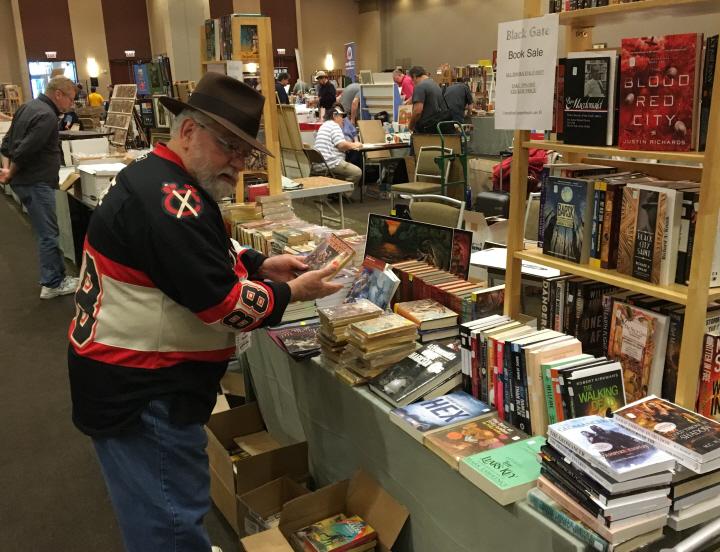 Bill Cavalier has a keen eye for a bargain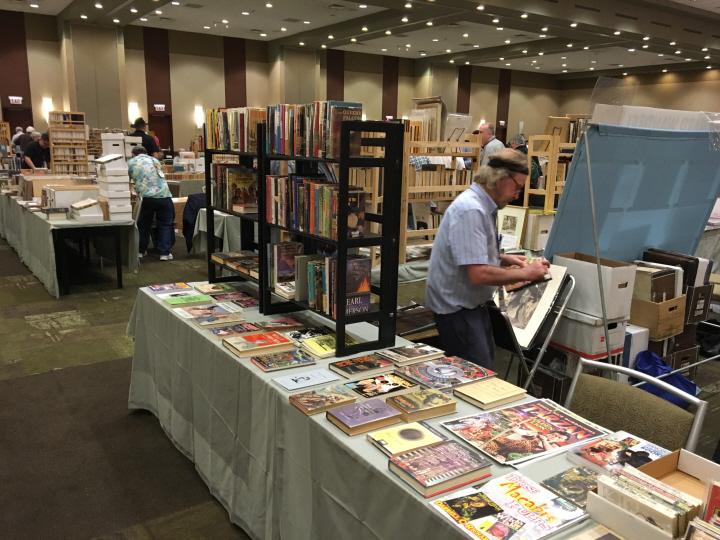 Art and pulps at Windy City Pulp 2016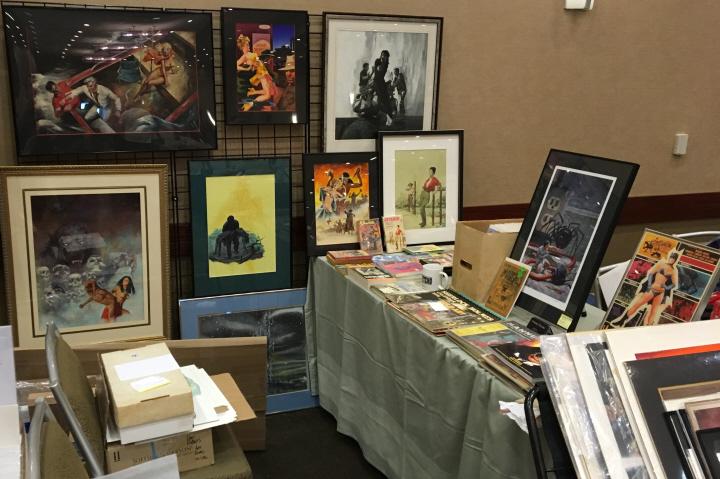 More Art and pulps at Windy City Pulp 2016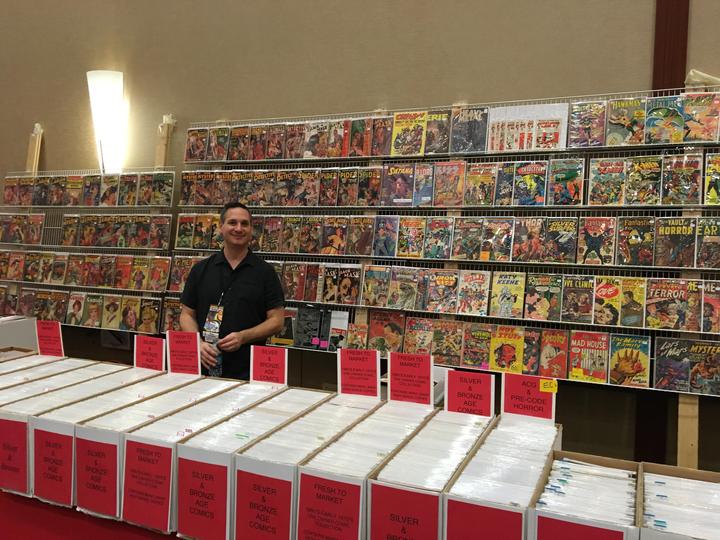 That's a lot of pulps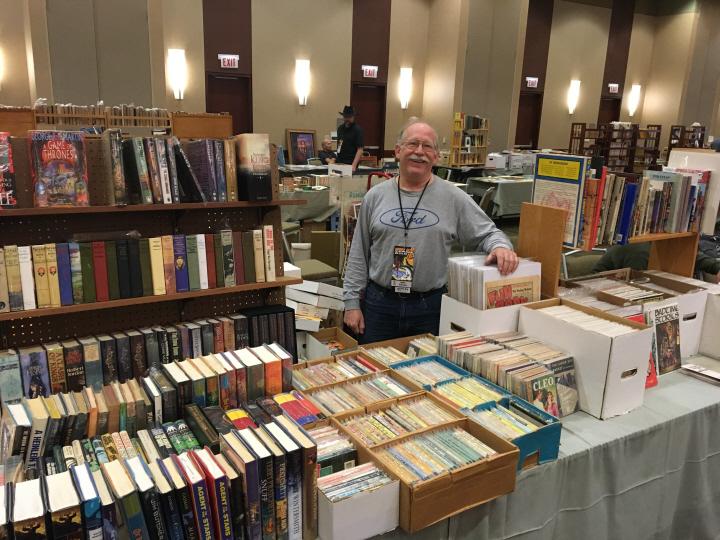 Mike Parsons and his marvelous booth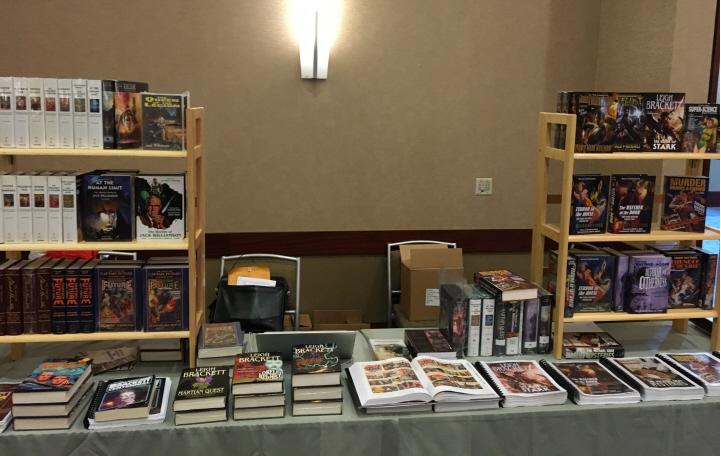 The always impressive Haffner booth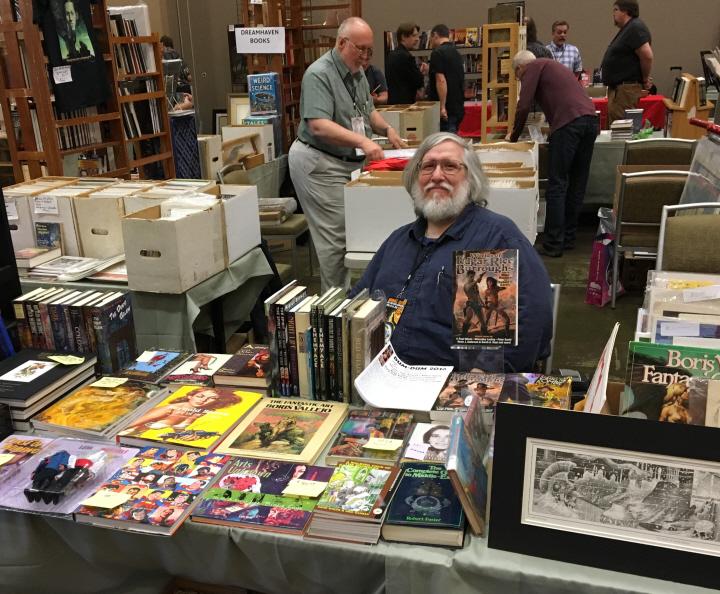 Smiling Bob Garcia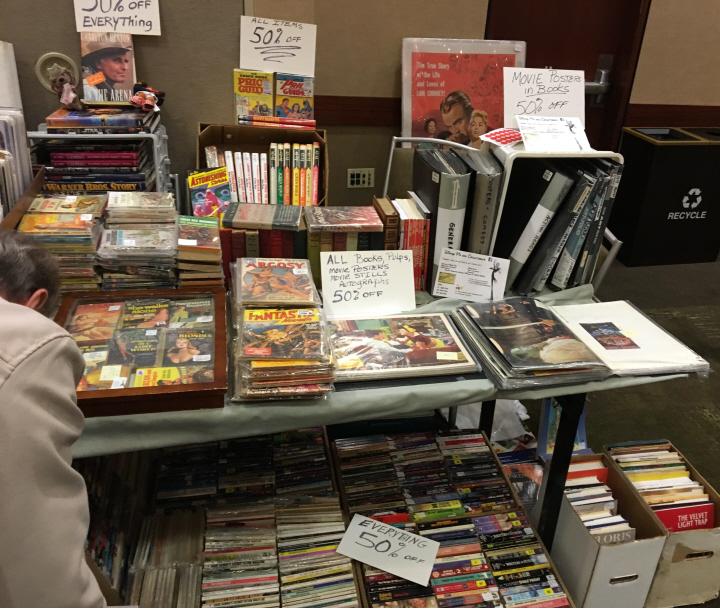 It's tough to resist a 50% off sale