New Treasures: Nebula Awards Showcase 2015, edited by Greg Bear
New Treasures: Nebula Awards Showcase 2015, edited by Greg Bear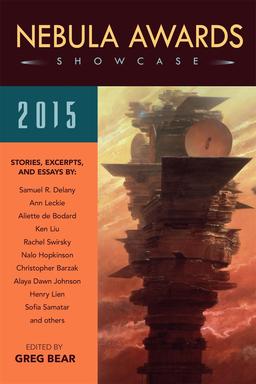 There are a lot of new anthologies released every year, including around a dozen Year's Best volumes. I frequently get asked which is the best single-volume collection showcasing the finest science fiction and fantasy of the year. And year after year, I always suggest the same book: the annual Nebula Awards Showcase, which contains the stories selected by the Science Fiction Writers of America for the prestigious Nebula Awards. It also includes many of the runners-up, author appreciations, yearly wrap-ups, novel excerpts, and other fascinating articles.
The annual Nebula Awards Showcase volumes have been published every year since 1966. The 2015 volume contains some of the most talked-about fiction of the past several years, including Rachel Swirsky's "If You Were a Dinosaur, My Love," Sophia Samatar's "Selkie Stories Are For Losers," Aliette de Bodard's "The Waiting Stars," and many others. Here's the description.
The Nebula Awards Showcase volumes have been published annually since 1966, reprinting the winning and nominated stories of the Nebula Awards, voted on by the members of the Science Fiction and Fantasy Writers of America (SFWA). The editor, selected by SFWA's anthology Committee (chaired by Mike Resnick), is American science fiction and fantasy writer Greg Bear, author of over thirty novels, including the Nebula Award-winning Darwin's Radio and Moving Mars. This year's volume includes the winners of the Andre Norton, Damon Knight Memorial Grand Master, Rhysling, and Dwarf Stars Awards, as well as the Nebula Award winners, and features Ann Leckie, Nalo Hopkinson, Rachel Swirsky, Aliette de Bodard, and Vylar Kaftan, with additional articles and poems by authors such as Robin Wayne Bailey, Samuel R. Delany, Terry A. Garey, Deborah P Kolodji, and Andrew Robert Sutton.
We covered the previous volume, Nebula Awards Showcase 2014, edited by Kij Johnson, last May (and the TOCs for the now-classic first three volumes are here). Read all about this year's Nebula winners here.
Nebula Awards Showcase 2015 was published by Pyr Books on December 8, 2015. It is 347 pages, priced at $18 in trade paperback and $11.99 for the digital edition. The cover is by John Harris.