Cloud Sculptors, Dragon Riders, and an Unearthly Craps Game: Nebula Award Stories 3, edited by Roger Zelazny
Cloud Sculptors, Dragon Riders, and an Unearthly Craps Game: Nebula Award Stories 3, edited by Roger Zelazny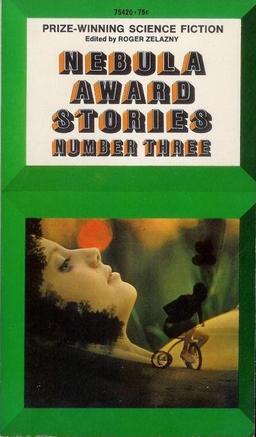 Nebula Award Stories Three
Edited by Roger Zelazny
Pocket Books (193 pages, $0.75, February 1970)
It looks like there were 16 works of shorter fiction nominated for the 1968 Nebula awards. Seven of them appear in this collection. Although the Ballard story included doesn't appear on the ballots I found listed at various reference sites.
In any event, there are some holes in my reading history represented here. I've read lots of Ellison over the years and a fair amount of Ballard. As for Leiber, Moorcock, McCaffrey and Delany, not so much. But there's some great stuff here, by my reckoning, and a few good ones and one that was not so much.
PICKS
"The Cloud-Sculptors of Coral D," by J. G. Ballard
As the title suggests, actual cloud sculptors are sculpting clouds in this one. At first they do it for small change and later for a wealthy and not-so-nice woman. Things fall apart at this point, in rather spectacular fashion.
"Gonna Roll the Bones," by Fritz Leiber
Last things first. Leiber's story has one of the best last lines I've read for a long time. And the story that precedes it isn't half bad either. It's actually quite good and deserving of an award. You could go wrong in so many ways when writing a story that's just a play-by-play rendition of an unearthly craps game. But Leiber carries it off well.
"Weyr Search," by Anne McCaffrey
I haven't read much McCaffrey and none of her Dragonriders books, that I can recall. No surprise, since I lean more toward SF than fantasy. But I was pleasantly surprised by this novella that was later incorporated into the first Dragonriders novel. It's a fairly simple premise — Dragonriders take on a ruthless tyrant — but McCaffrey handles it skillfully and turns it into a real page turner. If I can find the reading time for it, I might even check out the first novel.
THUMBS UP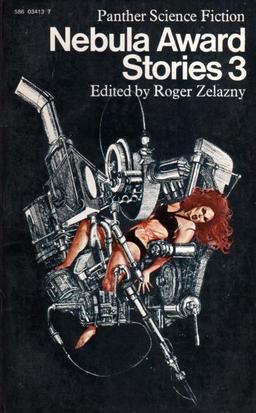 "Pretty Maggie Moneyeyes," by Harlan Ellison
At the heart of it, the premise for this novelette is about as lame as you can get. It might pass muster for a fourth-rate horror film, but I wouldn't count on it. It's a measure of Ellison's skill as a fiction writer that he was able to take such a dopey premise and make it into something worth reading and nominating for a Nebula.
"Mirror of Ice," by Gary Wright
A stripped-down, action-packed yarn here. It's a look at a pumped-up futuristic version of luge or bobsled racing where the body count is high. We follow the protagonist — who seems to be losing his nerve — through one harrowing race. It made for entertaining reading but I don't know if I'd rank it as a potential award winner.
"Behold the Man," by Michael Moorcock
I'm lukewarm on this one but since I don't have a corresponding category and since I was on the high side of lukewarm I'll put it here in Thumbs Up. It's a time travel story about a modern chap who takes over for Jesus, all the way up to that unpleasantness at Golgotha.
THUMBS DOWN
"Aye, and Gomorrah," by Samuel R. Delany
If I had to choose between the Ballard story, which was nominated for the Nebula (or not — see above), and this one, which won it, I'd go with the former. It's an interesting premise — spacefarers are exploited (and exploit) as a side effect of some genetic modifications that allow them to go to space. It just didn't do much for me.
---
William I. Lengeman III's last review for us was the 1966 anthology Beyond Belief. He holds forth at www.wileng3.com