Future Treasures: Koko the Mighty by Kieran Shea
Future Treasures: Koko the Mighty by Kieran Shea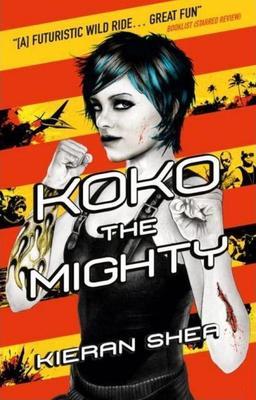 The first Koko novel, Koko Takes a Holiday, set in a war torn future 500 years from now, flew under the radar for me. That was probably a mistake. Sandman Slim author Richard Kadrey called it "a vivid and brutal old school (in the best sense) cyberpunk headkick," and Publishers Weekly said its "sheer velocity keeps the story rattling along like a big geeky pinball machine."
A review copy of the sequel, Koko the Mighty, arrived last week, and this looks like a perfect time to jump on board. The book will be released in trade paperback by Titan at the end of August. Check it out.
With an outstanding Ultimate Sanction bounty still on her head, Koko Martstellar (ex-mercenary and saloon madam extraordinaire) and Jedidiah Flynn (former orbital sky-cop) have narrowly escaped death in paradise. Rescued during a storm, Koko and Flynn are taken in by what amounts to a self-sufficient outlander cult. To save Flynn's life, Koko barters her warrior skills and assists the de-civ group in fending off their most imminent threat: a horde of genetic-mutant raiders. However, even with the group's foes bested and their idealist lifestyle somewhat enticing, being among the outlander de-civs doesn't sit well with Koko. In spite of the de-civ group's hospitality and Flynn's arguing that they have it pretty good, Koko suspects something is amiss. People within the outlander group's interlocking compounds keep disappearing with flimsy explanations — people like the girl who died on the cliff before Koko and Flynn's rescue — and soon the group's leadership assesses Koko as a threat to their secret agenda. As the mystery unfolds, Koko's limits and loyalties — perhaps even her love for Flynn — will be tested.

And as if that isn't enough, bounty agent Wire has managed to track down Koko and, after a little politicking, is preparing to lead an army of genetic-mutant raiders in a last-man-standing battle against the cult…
Koko the Mighty will be published by Titan Books on August 25, 2015. It is 327 pages, priced at $14.95 in trade paperback and $7.99 for the digital edition.