New Treasures: The Year's Best Military and Adventure SF, Volume 3 edited by David Afsharirad
New Treasures: The Year's Best Military and Adventure SF, Volume 3 edited by David Afsharirad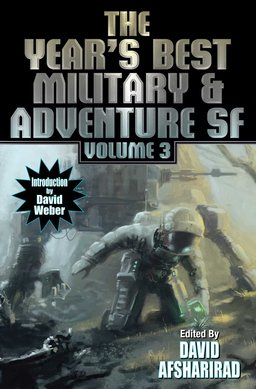 When you read as many Year's Best volumes as I do, you come to accept a certain amount of story overlap. Yes, most of the editors do their best to coordinate with each other, but this is still a pretty small field, and with more than a half dozen Year's Best titles every year, some repetition is to be expected. That's one of the strengths of David Afsharirad's Year's Best Military and Adventure SF — he walks his own path, and in the three years he's been doing this, I'm not sure there's been any overlap with his fellow editors. Here's the TOC for the newest installment, now on sale.
Preface by David Afsharirad
Introduction by David Weber
"Cadet Cruise" by David Drake (Baen.com, May 2016)
"Tethers" by William Ledbetter (Baen.com, November 2018)
"Unlinkage" by Eric Del Carlo (Analog Science Fiction and Fact, March 2016)
"Not in Vain" by Kacey Ezell (Black Tide Rising, 2016)
"Between Nine and Eleven" by Adam Roberts (Crises and Conflicts, 2016)
"Sephine and the Leviathan" by Jack Schouten (Clarkesworld, Issue 118, July 2016)
"The Good Food" by Michael Ezell (Beyond the Stars: At Galaxy's Edge, 2016)
"If I Could Give This Time Machine Zero Stars, I Would" by James Wesley Rogers (Unidentified Funny Objects 5, 2016)
"Wise Child" by Steve Miller and Sharon Lee (Baen.com, June 2016)
"Starhome" by Michael Z. Williamson (Baen.com, October 2016)
"The Art of Failure" by Robert Dawson (Compelling Science Fiction, Issue 1, April/May 2016)
"The Last Tank Commander" by Allen Stroud (Crises and Conflicts, 2016)
"One Giant Leap" by Jay Werkheiser (Strange Horizons, November 21 2016)
"The Immortals: Anchorage" by David Adams (Beyond the Stars: A Planet Too Far, 2016)
"Backup Man" by Paul Di Filippo (Terraform, April 7 2016)
The Year's Best Military and Adventure SF, Volume 3 was published by Baen on June 6, 2017. It is 336 pages, priced at $16 in trade paperback and $8.99 for the digital edition. The cover is by Greg Bobrowski. We covered the first volume here, and the second volume here. Read story samples at the Baen website.