The Digest Enthusiast #6 Now Available
The Digest Enthusiast #6 Now Available
There's a lot of fascinating content in The Digest Enthusiast. I'm a guy who skims magazines, stopping to read a story when an author's name or a piece of interior art catches my eye, and TDW sure don't make it easy. Their June issue, the sixth, is crammed full of the kinds of pieces that you start out skimming and end up reading front to back.
There's too much here for me to catalog it all, but the highlights include: Editor Richard Krauss' News Digest, 12 pages of news and gossip on Down & Out: The Magazine, Nostalgia Digest, Paperback Parade, Weirdbook, Pulp Literature, The Pulpster, Fantasy & Science Fiction, Broadswords & Blasters, and other fine publications; an interview with publisher and writer Edd Vick, Steve Carper's fascinating piece on "the bestselling digest paperback of all time," Bob Hope's self-published They Got Me Covered; Richard Krauss' survey of 60s SF mag International Science Fiction; Krauss' review of Weirdbook #34; and Joe Wehrle Jr's review of Brian Aldiss' Hothouse story cycle.
[Click the images for bigger versions.]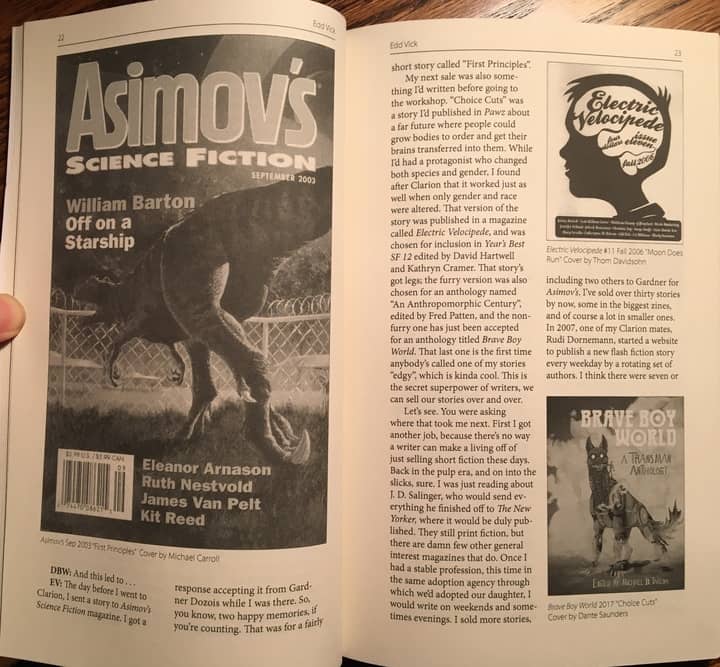 As I've mentioned previously, one of the things I most appreciate about TDE is that they're not stingy with cover scans. Their interviews and articles are stuffed with high-res images of dozens of vintage magazines. The above is a sample spread from D. Blake Werts' interview with Edd Vick.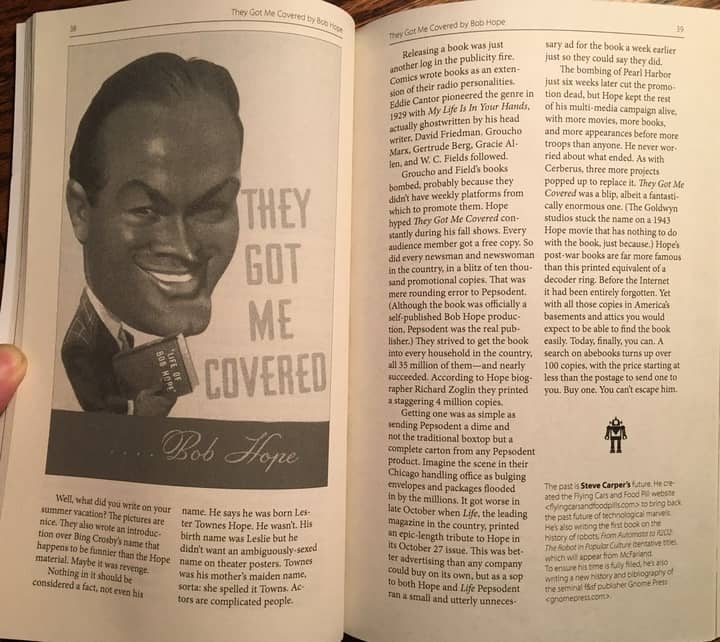 Steve Carper's piece on Bob Hope's They Got Me Covered is a perfect example of a seemingly innocuous article that refuses to let you skim past it. Here's the the opening paragraphs:
Quick. What's the bestselling digest paperback of all time? Here are some hints. It appeared in 1941. It was self-published. It sold four million copies. And you've probably never heard of it.

If none of these things seem at all probable, here's the wholly improbable story of Bob Hope's They Got Me Covered.
Carper's article wasn't the first one I tried to skim past and failed. It wasn't the last, either.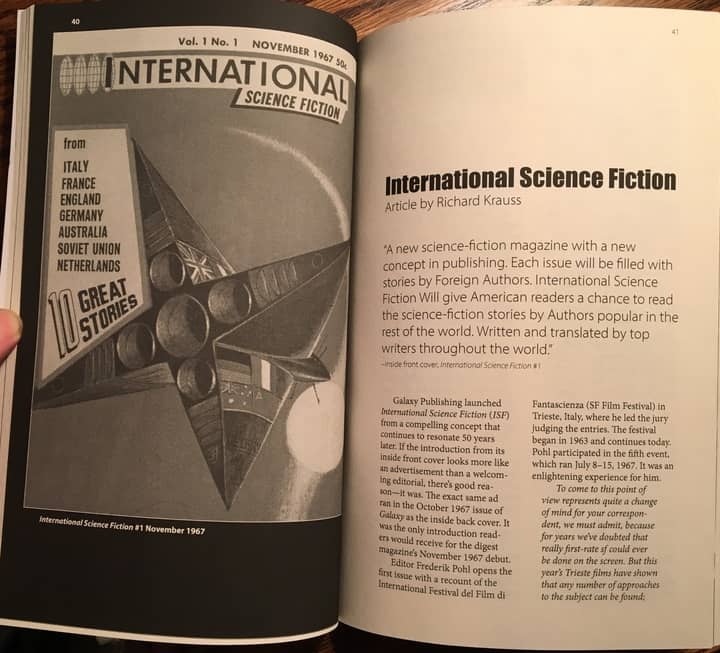 Every issue The Digest Enthusiast includes a detailed survey of a digest genre magazine; past subjects have included Galaxy Science Fiction, Beyond Fantasy Fiction, Super-Science Fiction, and Magazine of Horror. This issue Krauss goes a little off the beaten path with International Science Fiction, a 60s SF digest that lasted a scant two issues.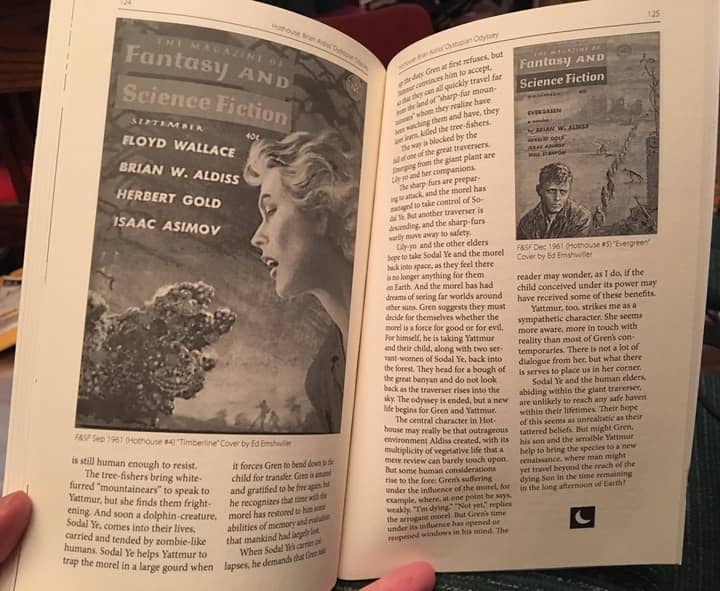 But my favorite article this issue is Joe Wehrle's fond look back at Brian Aldiss' Hugo Award-winning short story series Hothouse (known in some editions as The Long Afternoon of Earth). The five stories were published in The Magazine of Fantasy and Science Fiction in 1961, and collected in paperback in numerous editions over the next half-century. Here's Joe:
A two or three month hiatus lay between each [story appearance]. But they fit together rather seamlessly to form a well-plotted novel, and I'm not sure a reader of the published book could easily separate them… Hothouse begins by directly immersing us in a steaming forest habitat where humans of a greatly diminished size (one fifth our height) struggle endlessly against semi-sentient vegetable life, and one side of Earth forever faces an aging sun.
I read my first Hothouse story in Robert Silverberg's anthology Mutants in 1975, and loved it. The vision of a far-future Earth where mankind was on the verge of extinction, and the Moon had an atmosphere (and was connected to Earth by a vast network of spiderwebs…. still inhabited by the spiders that wove them), captivated me. Here's a few of the paperback editions.
Joe Wehrle is also an artist — he painted the cover for the last issue of TDE.
Here's the complete TOC for the sixth issue of The Digest Enthusiast:
Interviews
B.K. Stevens: Alfred Hitchock's Mystery Magazine
Edd Vick: Analog, Asimov's
Articles
News Digest: F&SF, Nostalgia Digest, Betty Fedora, Pulp Literature, Weirdbook, Switchblade, The Pulpster, and more
Bob Hope's They Got Me Covered by Steve Carper
International Science Fiction by Richard Krauss
Sharon Tate's Fate by Tom Brinkmann
Manhunt 1953 part one by Peter Enfantino
Hothouse: Brian Aldiss' Dystopian Odyssey by Joe Wehrle, Jr.
Reviews
Max Allan Collins' Digest Dolls Trading Cards
Weirdbook #34
Fiction
"Down the Rabbit Hole" by Lesann Berry
"Atomic Fuel" by Alec Cizak
"The Eihkarrad Talisman" by Joe Wehrle, Jr.
Artwork and Cartoons
Brian Buniak
Brad Foster
Michael Neno
Bob Vojtko
Joe Wehrle, Jr.
The cover this issue is by Brian Buniak.
We last covered The Digest Enthusiast with issue #5.
The Digest Enthusiast is edited by Richard Krauss and published twice a year by Larque Press. Issue #5 is cover-dated January 2017. It is 151 pages, priced at $8.99 in trade paperback and $2.99 for the digital edition. See complete details here.
Copies are available directly through Barnes & Noble, Amazon.com, and at their website.
See our June Fantasy Magazine Rack here, and all of our recent magazine coverage here.