The Digest Enthusiast #5 Now Available
The Digest Enthusiast #5 Now Available
Unplug the phone and cancel my Netflix subscription. The Digest Enthusiast #5 is finally in the house.
Okay, maybe it seems strange to some of you that there's a magazine out there devoted to collectors of vintage digest magazines. (But it can't have escaped you that a healthy percentage of Black Gate's contributors are obsessive digest magazine collectors, right? Right?) Though I think the thing that might really surprise you is just how fascinating this magazine is to anyone with an interest in 20th Century genre fiction.
Last issue my favorite feature was Steve Carper's affectionate and detailed look at The Galaxy Science Fiction Novels, and so this time I turned with high anticipation to his 20-page survey of Ellery Queen Selects, a line of 10 novels and collections published between 1947-1950, including work by Dashiell Hammett, John Dickson Carr, O. Henry, and others. And I was not disappointed — it's a lively behind-the-scenes look at an interesting chunk of literary history. But the article that really grabbed my attention was Peter Enfantino's insightful issue-by-issue examination of Robert A.W. Lowndes' Magazine of Horror, one of the most collectible pulp horror periodicals of the 20th Century.
[Click the images for bigger versions.]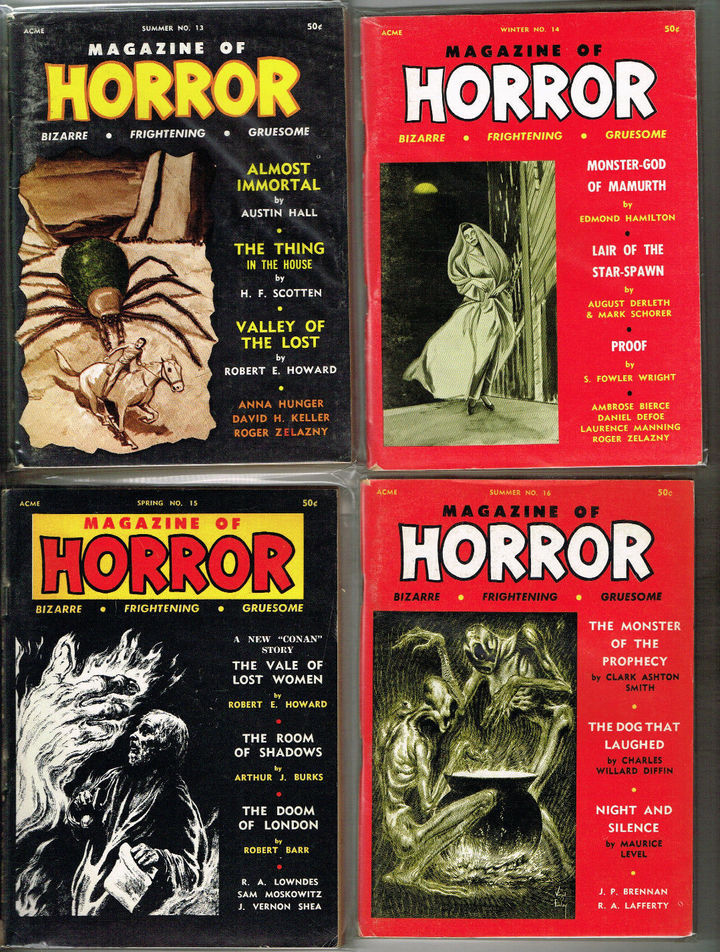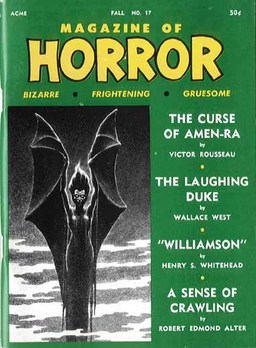 Enfantino gives us a very personal history, examining each of the magazine's 36 issues with the kind of loving detail that could only come from a true fan and devotee — and one who really knows his stuff. Here's an example:
No. 17 Fall 1967
130 pages, 50 cents

I wrote a long essay on Robert Edmond Alter's contributions to Alfred Hitchcock's Mystery Magazine that appeared on Sept. 23 on the bare•bones e-zine website. In that article, I said that Alter's death was a mystery. He had purportedly died in 1966 but stories continued to appear for years after. In his intro to "A Sense of Crawling," RAWL fills in some of the blanks (I wish I had thought to check this before writing the AHMM piece): Alter died after contracting pneumonia during amputation surgery for cancer. RAWL continues that: "Alter died the very day that his agent, Larry Sternig wired him that Boy's Life and Argosy had accepted a story each, that Avon would publish his novel, The Red Feather, and that Putnam wanted his 14th boys' book, First Comes Courage. Alter never saw the telegram." A very sad ending for a great writer, one who needs a major reassessment.

"It Is Written" was left out of the issue. The Editor's Page is simply a couple paragraphs to explain where the pages went (RAWL insists that his editorial comments would not get in the way of longer stories).

Prolific spot and comic book artist Joe Doolin illustrates "The Laughing Duke."

The [Robert E.] Howard story is another discovered manuscript.

Sam Moskowitz introduces "The Spell of the Sword." Moskowitz, much like his contemporary Mike Ashley, wrote so well that much of the time his intros were better than the stories themselves.

"The Curse of Amen-Ra," a killer mummy tale, is illustrated by pulp artist Amos Sewell (I don't have the original Strange Tales issue but I assume that this is where it's from).
The cover to the Fall 1967 issue is by Virgil Finlay.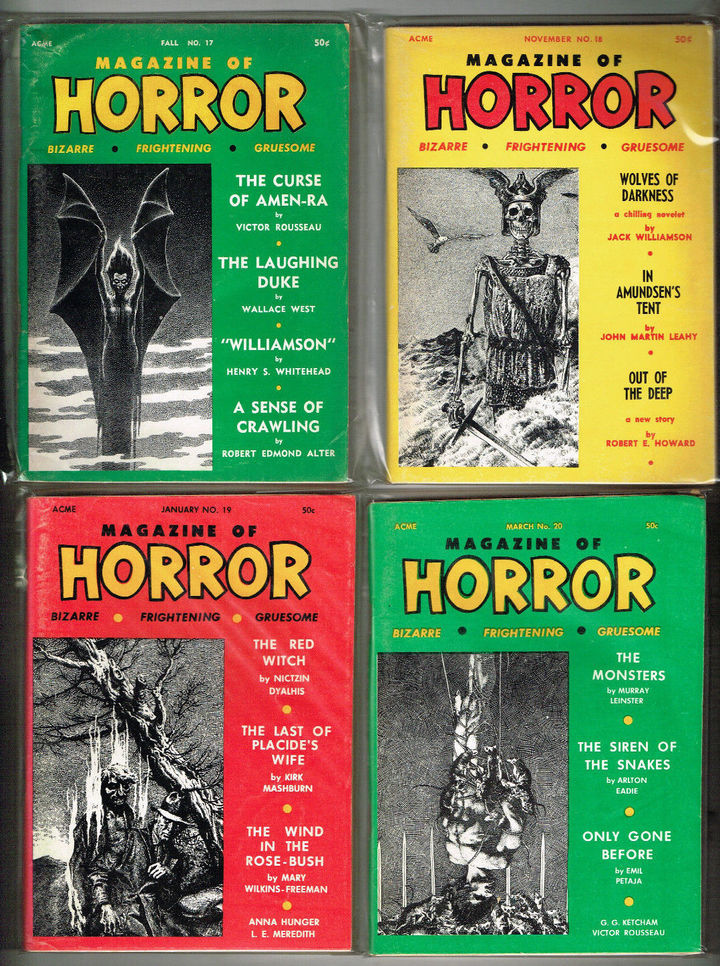 That's another thing I really appreciate — the editors of The Digest Enthusiast see fit to include a scan of the cover of every single issue of Magazine of Horror to accompany Enfantino's feature. That's dedication. And since the covers featured Finlay 17 times (not to mention terrific work by Robert Schmand, Hubert Carter, Gray Morrow and others), the whole article is a visual treat.
An earlier version of Enfantino's article was originally published online in two parts at bare•bones e-zine, with high-rez color covers.
The Health Knowledge Genre Magazines Part One: The Magazine of Horror
The Health Knowledge Genre Magazines Part Two: Magazine of Horror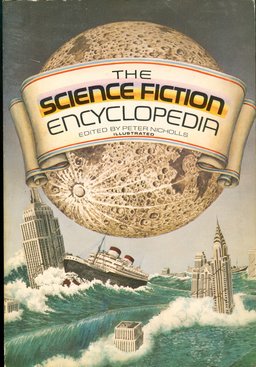 There's plenty of other great content in the issue, including editor Richard Krauss' 14-page News column, with updates on Asimov's SF, Alfred Hitchcock, F&SF, and the close of Video WatcHDog; plus a review of the May 1951 issue of Marvel Science Stories, with fiction by Arthur C. Clarke, Jack Vance, Richard Matheson, Mack Reynolds, and William Tenn, and a no-holds barred debate on Dianetics between Theodore Sturgeon, Lester Del Rey, and L. Ron Hubbard.
But more interesting to me was a brief 2-page feature on the first edition of Peter Nicholls' Science Fiction Encyclopedia, written by Richard Krauss. The 672 page first edition, published in hardcover and trade paperback by Doubleday in 1979, contained 4,500 entries, and has since been superseded by both a more expansive second edition (1995, co-edited with John Clute), and the monumental Third Edition, completely online, which contains nearly 17,000 entries. But the first edition was a treasured reference for many years — and a delight to browse. It's still an enjoyable read today.
Here's the complete TOC for the issue:
Interview
Bill Crider: inside Dan Rhodes, Ellery Queen Mystery Magazine blog bytes, and Bill's storied career with digests
Articles
News Digest from Dell, Fate, F&SF, Nostalgia Digest and more
Justice: Amazing Detective Mysteries by Peter Enfantino
The Riddle of the Ellery Queen Selects Series by Steve Carper
Magazine of Horror by Peter Enfantino
RAWL: Writing for Publication
Reviews by Gary Lovisi and Richard Krauss
Worlds of Fantasy #4
Encyclopedia of Science Fiction edited by Peter Nicholls
Honky Tonk Girl by Charles Beckman, Jr.
Marvel Science Stories May 1951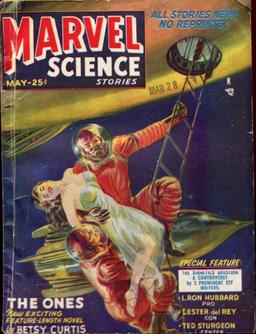 Fiction
"Feed the Beast" by Lesann Berryi
"The Obvious Danger" by Joe Wehrle, Jr.
"Fencer's Document Caper" by Richard L. Kellogg
Artwork and Cartoons
Brian Buniak
Brad Foster
Michael Neno
Bob Vojtko
Joe Wehrle, Jr.
Also includes
Haiku by Clark Dissmeyer
Digest indexes and checklists
Monster Laffs by Bob Vojtko
Opening Lines
The cover this issue is by Joe Wehrle, Jr.
We last covered The Digest Enthusiast with issue #4.
The Digest Enthusiast is edited by Richard Krauss and published twice a year by Larque Press. Issue #5 is cover-dated January 2017. It is 151 pages, priced at $8.99 in trade paperback and $2.99 for the digital edition. See complete details here.
Copies are available directly through Barnes & Noble, Amazon.com, and at their website.
See our March Fantasy Magazine Rack here, and all of our recent magazine coverage here.