Future Treasures: The Year's Best Science Fiction: Thirty-Fourth Annual Collection edited by Gardner Dozois
Future Treasures: The Year's Best Science Fiction: Thirty-Fourth Annual Collection edited by Gardner Dozois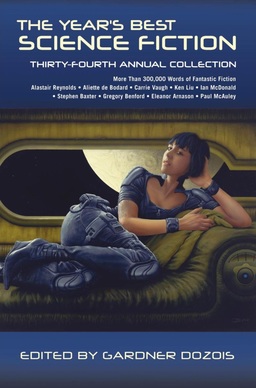 I look forward to Gardner's Year's Best volume every year. It was the first science fiction Year's Best I read regularly — starting way back in 1989, with the Sixth Annual volume, while I was in grad school. And while I didn't always make time to read every volume cover to cover, year after year, I always read Gardner's summation, the indispensable annual report card that captures all the relevant news, industry trends, hot books, overlooked gems, and of course Gardner's cranky observations and ruminations on the future of the field.
A few years ago I noticed that Gardner lists my name in the "Acknowledgements" section every year, and that he has every year since 2004. I'm not sure why. But I'm always surprised and delighted to see it.
Gadrner's Year's Best Science Fiction is by far the largest and most comprehensive of the annual Year's Best volumes. The Thirty-Fourth — thirty-fourth! — arrives in hardcover and trade paperback from St. Martin's Press in ten days. Here's a taste of Gardner's Summation, in which he comments on an unwelcome trend I've noticed myself: the gradual disappearance of the mass-market paperback.
Like last year, 2016 was another relatively quiet year in the SF publishing world, although there were some changes down deep… One such effect that may eventually become noticeable to the average reader is the dwindling of mass-market paperback titles, once the most common way (at one point, almost the only way) for SF books to be published, from bookstores shelves. The publishing industry has been trying to find the right balance between traditional print publishing and the publishing of titles as e-books for a number of years now, and one area where publishers seem to be switching away from print publication to e-book only publication is in the mass-market paperback market niche. At least in the science fiction/fantasy publishing world, the number of mass-market paperbacks published was down for the eighth year in a row, hitting a new record low, down 11 percent since 2015. I think this may be a mistake, myself.
The Thirty-fourth volume of The Year's Best Science Fiction contains 39 stories — more than 300,000 words of fiction — from Alastair Reynolds, David Gerrold, Carolyn Ives Gilman, Paul McAuley, Aliette de Bodard, Rich Larson, Geoff Ryman, Sam J. Miller, Shariann Lewit, Gregory Benford, Nina Allan, James Patrick Kelly, Ken Liu, Eleanor Arnsason, Paolo Bacigalupi, Charlie Jane Anders, and many others. I was especially pleased to see contributions from Black Gate authors Derek Kȕsken and Bill Johnson.
Here's the complete TOC.
TERMINAL, Lavie Tidhar
TOURING WITH THE ALIEN, Carolyn Ives Gilman
PATIENCE LAKE, Matthew Claxton
JONAS AND THE FOX, Rich Larson
PRODIGAL, Gord Sellar
KIT: Some Assembly Required, Kathe Koja & Carter Scholz
VORTEX, Gregory Benford
ELVES OF ANTARCTICA, Paul McAuley
THE BABY EATERS, Ian McHugh
A SALVAGING OF GHOSTS, Aliette de Bodard
THOSE SHADOWS LAUGH, Geoff Ryman
RedKING, Craig DeLancey
THINGS WITH BEARDS, Sam J. Miller
FIELDWORK, Shariann Lewit
THE FURTHER ADVENTURES OF MR. COSTELLO, David Gerrold
INNUMERABLE GLIMMERING LIGHTS, Rich Larson
FIFTY SHADES OF GRAYS, Steven Barnes
SIXTEEN QUESTIONS FOR KAMALA CHATTERJEE, Alastair Reynolds
COLD COMFORT, Pat Murphy & Paul Dohert
THE ART OF SPACE TRAVEL, Nina Allan
FLIGHT FROM THE AGES, Derek Kȕsken
MY GENERATIONS WILL PRAISE, Samantha Henderson
MARS ABIDES, Stephen Baxter
THE VISITOR FROM TAURED, Ian R. MacLeod
WHEN THE STONE EAGLE FLIES, Bill Johnson
THE VANISHING KIND, Lavie Tidhar
ONE SISTER, TWO SISTERS, THREE, James Patrick Kelly
DISPATCHES FROM THE CRADLE: THE HERMIT—FORTY-EIGHT HOURS IN THE SEA OF MASSACHUSETTS, Ken Liu
CHECKERBOARD PLANET, Eleanor Arnsason
THEY HAVE ALL ONE BREATH, Karl Bunker
MIKA MODEL, Paolo Bacigalupi
THAT GAME WE PLAYED DURING THE WAR, Carrie Vaughn
BECAUSE CHANGE WAS THE OCEAN AND WE LIVED BY HER MERCY, Charlie Jane Anders
THE ONE WHO ISN'T, Ted Kosmatka
THOSE BRIGHTER STARS, Mercurio R. Rivera
A TOWER FOR THE COMING WORLD, Maggie Clark
FIRSTBORN, LASTBORN, Melissa Scott
WOMEN'S CHRISTMAS, Ian McDonald
THE IRON TACTICIAN, Alastair Reynolds
We covered last year's installment here.
Previous Year's Best volumes we've looked at in 2017 include:
Nebula Awards Showcase 2017, edited by Julie E. Czerneda
The Best Science Fiction and Fantasy of the Year, Volume Eleven edited by Jonathan Strahan
The Best Science Fiction of the Year: Volume Two, edited by Neil Clarke
The Year's Best Science Fiction & Fantasy 2017, edited by Rich Horton
The Year's Best Science Fiction: Thirty-Fourth Annual Collection will be published by St. Martin's Griffin on July 11, 2017. It is 704 pages, priced at $40 in hardcover, $22.99 in trade paperback, and $7.99 for the digital edition. The cover is by James Burns.
See all of our recent Future Treasures here.