Lock 'n Load Tactical: Heroes of Normandy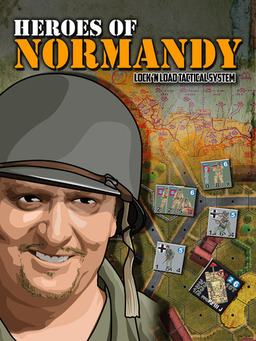 Lock 'n Load Tactical: Heroes of Normandy was one of my favorite purchases last year. I loved it so much that I made sure it was something I played on my birthday (my son enjoyed it too).
I've held off reviewing the game, though, because shortly after it arrived on my doorstep last year it went out of print. With a reprint due at the end of the first quarter of 2017, likely in March, and because those who place pre-orders receive a substantial discount, I thought it high time to alert Black Gate readers to the game, and the entire Lock 'n Load Tactical series. (If this little intro is enough to convince you the game's worth a look, feel free to skip all my prose and drop right down to the end where there's a link to order a demo copy of the game.)
Overview
Lock 'n Load Tactical is a revision and representation of Mark Walker's excellent Lock 'n Load system. The new publisher has clarified, re-organized, and revised the rules, printed them in full color with additional examples, and eliminated the need for purchases of unrelated games to play certain settings. For example, you might once have needed to own several modules before you could play some of the Lock 'n Load World War II games. That's no longer necessary — Lock n' Load Tactical: Heroes of Normandy is complete unto itself.