The Priceless Treasures of the Barbarian Prince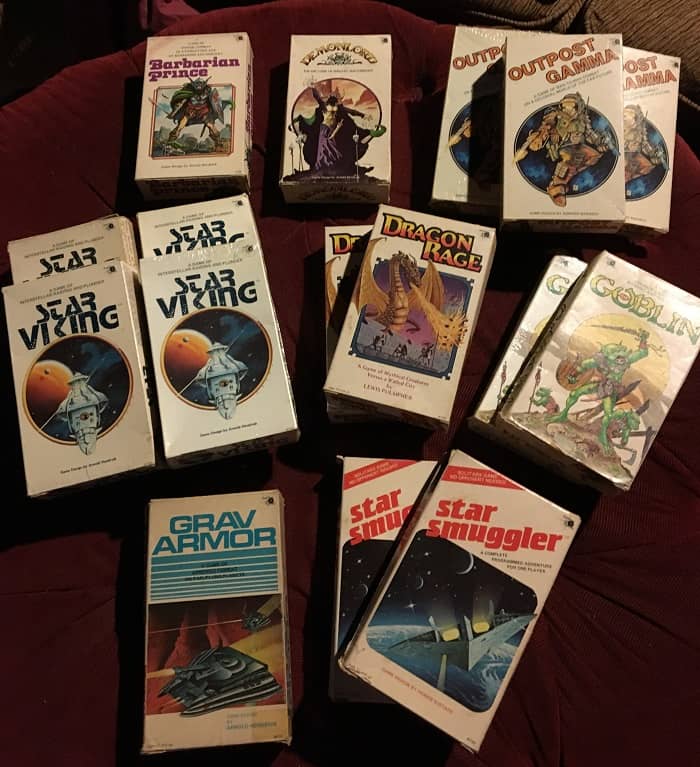 A complete set of Dwarfstar games. Probably worth more than my house.
I enjoyed Sean McLachlan's Black Gate post last month, Wargaming with my Twelve-Year-Old. Sean and his son played Outpost Gamma, a 1981 science fiction board game of man-to-man combat on a distant colony world. You don't see a lot of coverage of early-80s science fiction microgames these days, so I appreciated being able to share the fun.
Outpost Gamma was published by Heritage Models in 1981, under their celebrated Dwarfstar imprint. Dwarfstar, like Metagaming, Steve Jackson, and Task Force Games, produced a rich catalog of microgames aimed at younger players. Well, budget-conscious players anyway. Metagaming, who pioneered the concept of the microgame with their first release, Steve Jackson's runaway hit Ogre, charged $2.95 for a two-color game in a small baggie. Dwarfstar did away with the baggie and upgraded to a slim box, added full color, and charged a lordly $3.95.
As a business, the Dwarfstar line wasn't a success. Unlike Metagaming and Task Force, who released dozens of titles over the years, they produced only eight games between 1981-82. But from a creative perspective, they were a magnificent hit. Their titles included Arnold Hendrick's classic Demonlord, simulating the desperate struggle against the Demon Empire, Lewis Pulsipher's Dragon Rage, a game of giant monsters attacking a walled medieval city, Dennis Sustare's Star Smuggler, a marvelous solitaire programmed adventure following the adventures of a star trader on the frontier, and the peak achievement of Western Civilization, Arnold Hendrick's Barbarian Prince, a solitaire game of heroic action in a forgotten age of sorcery.
Superbly well-designed as they were, Dwarfstar games had one great weakness: they weren't built to last. Paper-thin boxes and flimsy components helped keep the cost down, but did nothing for their longevity. More than 35 years later these eight games have a nearly mythical reputation among collectors, but there aren't a lot of copies to be had. And you know what that means: the scarce copies still in good condition are very, very expensive.