From Buffalo Castle to Choose Your Own Adventure: The Evolution of Solitaire Board Games
From Buffalo Castle to Choose Your Own Adventure: The Evolution of Solitaire Board Games
I'm old enough to remember when Choose Your Own Adventure books first appeared in bookstores and supermarkets in the late 70s and early 80s, and what a sensation they created.
I remember thinking how simplistic they were, especially compared to the more sophisticated solitaire fare already available in gaming stores at the time. Like Rick Loomis' groundbreaking Buffalo Castle (Flying Buffalo, 1976), the first solo adventure for Tunnels & Trolls (and considered by some to be the first published adventure gamebook, period); Steve Jackson's bestselling Death Test for The Fantasy Trip (Metagaming, 1978); and especially Jeffrey C. Dillow's brilliant collection of early solo adventures, Wizards and Warriors (Prentice Hall, 1982), which I played to death and passed around repeatedly to my gaming group.
But there was something powerfully appealing in the very simplicity of Choose Your Own Adventure titles, and it didn't take long for me to become a convert. I wasn't the only one. Bantam published its first Choose Your Own Adventure book, The Cave of Time by creator Edward Packard, in 1979, and the series quickly surpassed role playing in popularity, selling more than 250 million copies. That's more — far more — than virtually any RPG or fantasy or series in history. (For comparison, The Lord of the Rings has sold 150 million copies over the past 70 years, and George R.R. Martin's Game of Thrones novels a scant 90 million. Only J.K. Rowling's Harry Potter novels, at 500 million, offer real competition). Bantam produced 184 titles in the series between 1979 and 1998.
Role Playing has evolved and expanded enormously since the 70s. You can't say the same of Choose Your Own Adventure… but the franchise isn't as dead as you might think. Most interesting to serious games is a pair of cooperative adventure board games released by Z-Man Games that capture the spirit of the CToA line, and take it in some intriguing new directions.
[Choose to click on the images for bigger versions.]
Z-Man released Choose Your Own Adventure: House of Danger in 2018. Based on R. A. Montgomery's novel Choose Your Own Adventure #15: House of Danger (1982), this board game invites you to investigate criminal activity and a dark history in your town, and solve the mystery of the missing owner of the Marsden mansion using your psychic senses and skills as a detective. Just as in the original novel, you explore the mansion, unravel its secrets, cross paths with ghostly figures, navigate a secret lab, and make lots of nerve-wracking, page-flipping decisions in the process.
Credit goes to Andrew Smith at BoardGameQuest who first tipped me off to the existence of House of Danger with his 2018 review. Here's an excerpt.
If you have a large amount of nostalgia for Choose Your Own Adventure books, you are unlikely to be disappointed in what House of Danger has to offer. The experience is almost exactly like reading a book. The addition of managing your inventory and occasionally rolling a die to attempt a challenge adds a new wrinkle to the narrative.

That said, if you are looking for some amount of mechanically rich experience, this isn't it. The decisions are nearly entirely random. Occasionally there will be hints dropped throughout the chapter that can help you later on, but 99% of the time when choosing between the door and the ladder you really are just picking whatever sounds more appealing to you in the moment…

Narratively though, House of Danger is fantastic. It's full of bizarre and interesting imagery and twists you won't see coming. As you approach the end of the second chapter you'll have a hard time walking away until you've pressed through the entire story. Once complete, you can easily reset all of the cards and pass it on to someone else in your game group or take another run through making slightly different choices.
Like the book it's based on, House of Danger is replayable… to a certain extent. You can try out different paths to "uncover more secrets and different settings." According to the ad copy, anyway.


The game packs a lot into a small box, including a rulebook, 160 Story Cards, 129 Clue Cards, a game board, a die, and additional game pieces.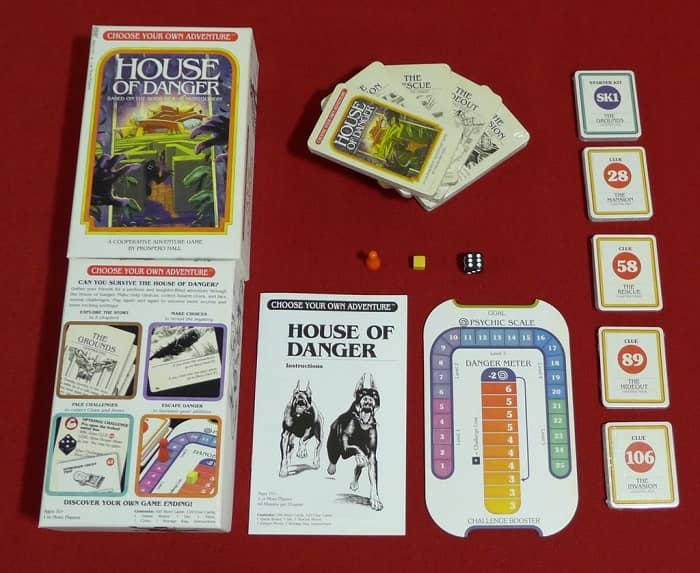 Z-Man Games has released one additional title in the line. The colorfully titled Choose Your Own Adventure: War With the Evil Power Master was published earlier this year. I'm not sure if any other games in the series are planned, but if they are, fingers crossed they keep coming up with over-the-top titles.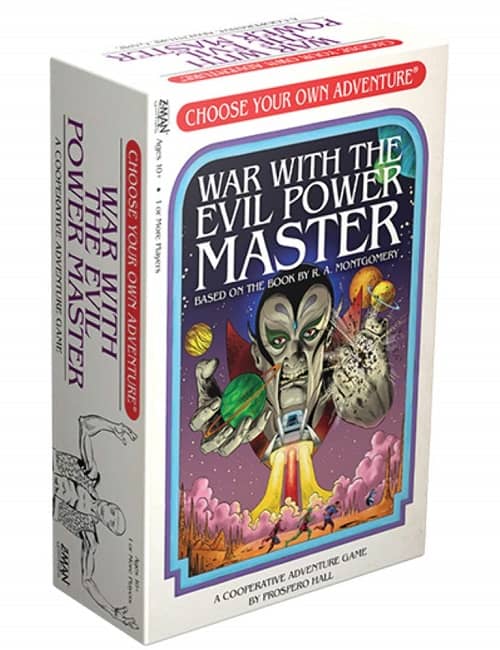 And here's a look at the original source material from 1982.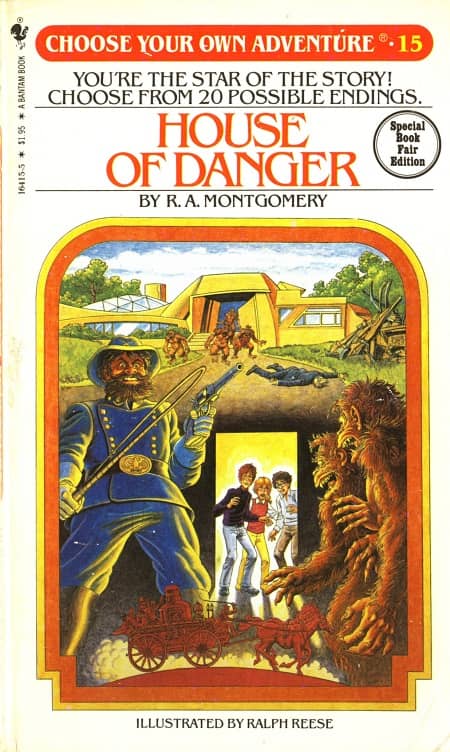 I have fond memories of Choose Your Own Adventure adventure books, and I'm very pleased to see they haven't been left behind in our modern board game renaissance. Kudos to Z-Man Games for bringing the concept into the roaring 20s.
Our previous coverage of Z-Man Games includes:
Adventure in the Spaceways with Perry Rhodan: The Cosmic League (2012)
Become a Time Traveling Detective in Tragedy Looper (2019)
The Game is Afoot: Beyond Baker Street (2019)
Choose Your Own Adventure: House of Danger and War with The Evil Power Master retail for $24.99. They're available wherever fine games are sold; you can also order directly from Z-Man Games. Or download the PDF rulebook for House of Danger free here.
See all our Solitaire Game coverage here.