Adventure in the Spaceways with Perry Rhodan: The Cosmic League
Adventure in the Spaceways with Perry Rhodan: The Cosmic League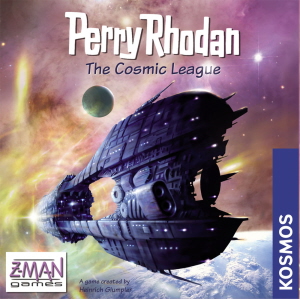 I'm willing to bet most of you have no idea who Perry Rhodan is.
Believe it or not, Perry Rhodan is the most ambitious future history ever written. Since its creation in 1961, over 3,000 Perry Rhodan novels have been published; the series has been translated into half a dozen languages and spawned at least one movie and a popular computer game, The Immortals of Terra.
Why haven't you heard of him? Probably because the last English-language Perry Rhodan novel, #118 The Shadows Attack, was published by Ace Books in 1977. The English-language version was the brainchild of Forrest J. Ackerman, who hired his wife Wendy to do most of the translations. The series has continued in its native Germany, where it is published weekly.
I bring all this up because A) Perry Rhodan practically introduced me to science fiction, at the tender age of eleven, and B) I recently purchased Perry Rhodan: The Cosmic League, a two-player card game from Z-Man games that makes use of the Perry Rhodan license in a fast-paced game of interstellar trading and politics:
A newly colonized star system, populated by different peoples… Mysterious remains of age-old technology… Orbital stations to organize the trade between the worlds… and you and your spaceship right in the middle of it all…

Discover the Ambourella system with all its opportunities. Fight the adversities of gravity and do business with the planets. Your are the captain of a spaceship transporting goods and passengers. Invest your earnings early in valuable technologies and thus strive to become the most wealthy merchant of the Cosmic League.
Perry Rhodan doesn't actually appear in the game, but it does draw on the rich backdrop of the Cosmic League. It comes with 60 technology and interventions cards, 6 planet tokens, 30 different cargo cards, and 2 spaceships. The average playing time is under half an hour. It's a fairly simple game at heart, and the tie-in with Perry Rhodan is fairly light, but nonetheless it brought back a lot of great memories of 1970s pulp science fiction.
Perry Rhodan: The Cosmic League was published by Z-Man Games in 2007. It retails for $24.99, but I bought my copy new online for around 10 bucks.