John DeNardo on the Best Science Fiction, Fantasy, and Horror Books for December
John DeNardo on the Best Science Fiction, Fantasy, and Horror Books for December
The Barnes & Noble Sci-Fi & Fantasy Blog, one of my favorite genre websites, essentially shut down on December 16th of this year, firing all freelancers and halting production of new content. They've left older content up, thankfully, so our many links to articles by Jeff Somers, Joel Cunningham, and others still work (for now). Like Penguin's much-missed Unbound Worlds (formerly Suvudu), the B&N Sci-Fi Blog was an inventive and far-ranging publisher-funded genre site that never found a business model, or managed to consistently prove value to its owner in the rapidly-changing publishing industry. I'll miss many things about the site, but most of all I'll miss their monthly round-up of the best new SF and fantasy titles.
Fortunately we still have the tireless John DeNardo, who still does a top-notch round-up as part of his regular article series at Kirkus Reviews. This month John calls out new books by Deborah Teramis Christian, Lynne M. Thomas & Michael Damian Thomas, Jeff VanderMeer, Tomi Adeyemi, Rachel Atwood, Charles Soule, Joe R. Lansdale, and others. Here's a few highlights.
Mainline (Tor Books, 1997). Cover by Bruce Jensen
The first book on the list to grab my attention was Splintegrate by author and game designer Deborah Teramis Christian, who also writes under the name Deborah Christian (she's also used the name Terry Randall for some of her gaming work). Under the name Deborah Christian she's published three novels, all with Tor Books: Mainline (1996), Kar Kalim (1997), and The Truthsayer's Apprentice (1999). Her gaming credits include multiple D&D titles, such as Kara-Tur: The Eastern Realms, Lords of Darkness, and Tales of the Outer Planes. Her latest is a sequel to her highly-regarded debut Mainline, which came in 9th in the Locus poll for Best First Novel.
Splintegrate by Deborah Teramis Christian (Tor Books, 384 pages, $29.99 hardcover/$14.99 digital, Dec. 31) — cover artist uncredited
This standalone sequel to the 1996 cyberpunk thriller Mainline features Kes, a professionally licensed dominatrix employed at the Tryst, a palatial house of domination on the planet Lydir. One of Kes' clients is Janus, the leader of an intraplanetary crime cartel. Janus has many enemies who will stop at nothing to eradicate him, including a powerful imperial authority who threatens Kes' family to force her to betray Janus. After reluctantly agreeing to the latter, Kes is imprisoned, altered, and trained to be a killer by the highly experimental Splintegrate cloning technology. That's when her real trials begin.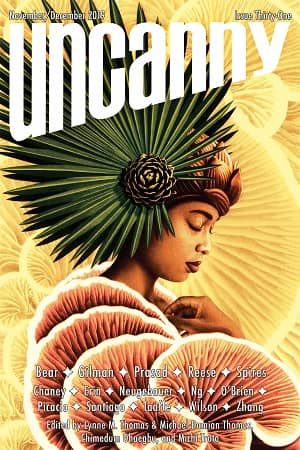 Next up is one of the best anthologies of the year, a fat 680-page hardcover from Subterranean Press collecting the best short fiction from one of the finest magazines on the market.
The Best of Uncanny edited by Lynne M. Thomas & Michael Damian Thomas (Subterranean Press, 680 pages, $40 in hardcover/ $5.99 digital, Dec. 31) — cover by Tran Nguyen
As I've noted before in this space, one of the best places to read good science fiction and fantasy for free is Uncanny Magazine. Since its first appearance five years ago, it has published consistently excellent fiction. Chalk that up to the tireless efforts of editors Lynne M. Thomas and Michael Damian Thomas, who have a keen eye for quality. This anthology collects the best stories from the first 22 issues, with contributions from Charlie Jane Anders, Elizabeth Bear, Delilah S. Dawson, Aliette de Bodard, Amal El-Mohtar, Maria Dahvana Headley, Kat Howard, N.K. Jemisin, Mary Robinette Kowal, Seanan McGuire, Sam J. Miller, Naomi Novik, Sofia Samatar, Catherynne M. Valente, Fran Wilde, Alyssa Wong, Caroline M. Yoachim, and others. The Best of Uncanny is your perfect excuse to read more short fiction.
You can order copies, and see the complete Table of Contents, here. And check out the latest issue of the excellent magazine here.
One of the reasons I delight in John's selections is that he lets me know about release that no one else does — like the latest volume in the new Warhammer Horror line, collecting a dozen stories in their Warhammer 40K setting.
Invocations by Lora Gray, Ray Cluley, Richard Strachan, David Annandale, et. al. (Games Workshop, 352 pages, $16 trade paperback/$9.99 digital, December 10, 2019) — cover artist uncredited
Discover tales of terror from the nightmare hellscape of the 41st Millennium and the darkest corners of the Mortal Realms. From doomed pilgrimages to monstrous confessions, this collection will chill your soul and leave you quaking in fear…

An Imperial Priest extracts a monstrous confession; a widower embarks on a doomed pilgrimage; a witch hunter returns to the place of his nightmares… Invocations is Black Library's second Warhammer Horror anthology, featuring more short stories set in the chilling hellscape of the 41st Millennium and the arcane gloom of the Mortal Realms. From the whispering corridors of an abandoned medicae facility to the shrieking dungeons of ghostly castles, this collection of sinister stories further explores the unspeakable evil haunting in the worlds of Warhammer.
Here's the complete Table of Contents:
"The Hunt" by David Annandale
"The Confession of Convict Kline" by Justin D Hill
"He Feasts Forever" by Lora Gray
"Stitches" by Nick Kyme
"The Healer" by Steven Shiel
"Blood Sacrifice" by Peter McLean
"The Growing Seasons" by Richard Strachan
"Supplcication" by Jake Ozga
"From the Halls, the Silence" by David Annandale
"A Sending from the Grave" by C L Werner
"Flesh and Blood" by Ray Cluley
"The Summons of Shadows" by David Annandale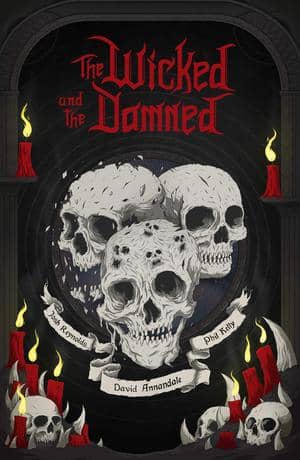 We covered the first Warhammer Horror volume, The Wicked and the Damned by Josh Reynolds, David Annandale, and Phil Kelly, back in March.
See John's complete December coverage here.
We last sampled John's monthly rec column back in October. Our recent coverage of John's Kirkus articles includes:
A Wide Range of Stories: John DeNardo on the Best Science Fiction & Fantasy Books in October
You're Gonna Need a Bigger Bookshelf: John DeNardo on the Best June Science Fiction & Fantasy (2019)
John DeNardo on Terrific Science Fiction & Fantasy for Every Kind of Reader in March (2019)
John DeNardo on 31 Science Fiction & Fantasy Books You Should Read in July (2018)
John DeNardo on the Best Science Fiction, Fantasy & Horror in May (2018)
John DeNardo on the Best SF and Fantasy in November (2017)
John DeNardo on August's Must-Read Science Fiction, Fantasy & Horror Books (2017)
John DeNardo on Your Best Bets for Science Fiction, Fantasy and Horror in July (2017)
John DeNardo on The Science Fiction & Fantasy Books Everyone Will be Talking About in April (2017)
John DeNardo on the Definitive List of 2017's Best Science Fiction and Fantasy
See all our coverage of the best new book releases here.