John DeNardo on The Science Fiction & Fantasy Books Everyone Will be Talking About in April
John DeNardo on The Science Fiction & Fantasy Books Everyone Will be Talking About in April
At the end of March, John DeNardo crafted a brief article at Kirkus Reviews highlighting "The Science Fiction & Fantasy Books Everyone Will be Talking About in April." Wait, wait, wait. How the heck does he know that? I'm still not sure what books people were taking about in February.
Well, no sense trying to suss out the roots of DeNardo's uncanny forecasting abilities ('cause they're probably supernatural, involving dark underworld pacts. Best not to know.) But we can share a few of his recommendations with you here, as long as you don't ask too many questions.
Void Star by Zachary Mason (Farrar, Straus and Giroux, 400 pages, $27 hardcover/$12.99 digital, April 11, 2017)
Void Star is a mind-bending story set in the near-future that follows three characters. There's Irina, possessing an artificial memory that lets her earn a living by acting as a medium between her employers and their complex artificial intelligences; there's Kern, a refugee who lives in a drone-built slum who gets by as a thief and paid enforcer; and Thales, the mathematically-inclined scion of a Brazilian political clan, who has fled to L.A. after the attack that left him crippled and his father dead. Strangers at the outset, events – or more specifically forces that remain just out of sight – conspire to push these characters towards the same path.

Change Agent by Daniel Suarez (Dutton, 416 pages, $27 hardcover/$11.99 digital, April 18, 2017)
In this near-future thriller, Suarez contemplates a world where mankind can control its own evolution through genetic engineering. It's 2045 and Interpol has a team, led by Kenneth Durand, charged with fighting genetic crimes like "vanity edits" on human embryos. Many of the crimes are performed on victims of human trafficking. At the center where genetic crime and trafficking converge, you'll find the leader of a large, powerful cartel led by Marcus Demang Wyckes. Wyckes knows that Durand is on to him, so as a pre-emptive strike, he injects Durand with a change agent that transforms him into a Wyckes lookalike. Durand, now seen as the world's most wanted suspect, goes from hunter to fugitive.
Finally we have Entropy in Bloom: Stories by Jeremy Robert Johnson (Night Shade Books, 280 pages in hardcover, $25.99 in hardcover, $11.49 digital, April 18, 2017). Here's the book description.
Available in hardcover for the first time, a collection of cult sensation Jeremy Robert Johnson's best and most bizarre short fiction, including a brand-new, never-before-published novella.

For more than a decade, Jeremy Robert Johnson has been bubbling under the surface of both literary and genre fiction. His short stories present a brilliantly dark and audaciously weird realm where cosmic nightmares collide with all-too-human characters and apocalypses of all shapes and sizes loom ominously. In "Persistence Hunting," a lonely distance runner is seduced into a brutal life of crime with an ever-narrowing path for escape. In "When Susurrus Stirs," an unlucky pacifist must stop a horrifying parasite from turning his body into a sentient hive. Running through all of Johnson's work is a hallucinatory vision and deeply-felt empathy, earning the author a reputation as one of today's most daring and thrilling writers.

Featuring the best of his independently-published short fiction, as well as an exclusive, never-before-published novella "The Sleep of Judges" ― where a father's fight against the denizens of a drug den becomes a mind-bending suburban nightmare ― Entropy in Bloom is a perfect compendium for avid fans and an ideal entry point for adventurous readers seeking the humor, heartbreak, and terror of JRJ's strange new worlds.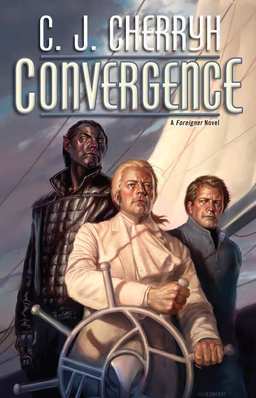 Additional titles on the list include Convergence by C. J. Cherryh, The House of Binding Thorns by Aliette de Bodard, and The Ship by Antonia Honeywell. Read the complete article at Kirkus Reviews.
Our previous coverage of John's recent Kirkus articles includes:
The Best of the Best of 2015's Science-Fiction and Fantasy Books
January Must-Read Speculative Fiction
February Speculative Fiction Books You Can't Miss
The Must-Read Science Fiction, Fantasy, & Horror in June
John DeNardo on the Best Books of August 2016
The Science Fiction, Fantasy, and Historical Fiction You Won't Want to Miss in September
John DeNardo's Savory Selection of Science Fiction and Fantasy for October
John DeNardo Proves Lovecraftian Fiction is Alive and Well
The Best Science Fiction and Fantasy Reads for November
The Best of the Best: The Definitive List of 2016's Best Science Fiction and Fantasy
John DeNardo on 11 Can't-Miss SF and Fantasy Books in March
See all our coverage of the best new book releases here.