John DeNardo on the Best Science Fiction, Fantasy & Horror in May
John DeNardo on the Best Science Fiction, Fantasy & Horror in May
Over at Kirkus Reviews, the always organized John DeNardo has already compiled his list of the most interesting genre fiction of the month. And as usual, it's crammed with titles that demand our immediate attention. Starting with a new release by one of the most popular authors to ever appear in Black Gate, the marvelous Martha Wells.
Artificial Condition by Martha Wells (Tor.com, 160 pages, $16.99 in trade paperback/$9.99 digital, May 8, 2018) — cover by Jaime Jones
Looking for a short novel that packs a punch? Check out the fun Murderbot Diaries series by Martha Wells. In the first one, All Systems Red, attempts by the people of a company-sponsored mission on another planet to mount a rescue are complicated by a rogue robot who hacked its own governing module and ends up with identity issues. In the new book, Artificial Condition (the second of four planned short novels), the robot's search for his own identity continues. To find out more about the dark past that caused him to name himself "Murderbot," the robot revisits the mining facility where he went rogue where he finds answers he doesn't expect.
All Systems Red was nominated for the 2018 Philip K. Dick Award, and is currently up for both the Locus Award and Hugo Award for Best Novella. The third installment in the series, Rogue Protocol, will be released on August 7, 2018. Read the first two chapters of Artificial Condition at Tor.com.
[Click the images to embiggen.]
Fury From the Tomb by SA Sidor (Angry Robot, 448 pages, $8.99 paperback/$7.99 digital, May 1, 2018) — cover by Daniel Strange
Fury From the Tomb is your cure for the pulp fiction blues you never knew you had. (The cover promises "Mummies, grave-robbing ghouls, hopping vampires, and evil monks." Just sayin'!) This tantalizing mashup combines supernatural horror, western and adventure in one shiny package. It concerns the archaeological discovery of a bunch of coffins and a sarcophagus in 1888 Egypt. The Egyptologist who discovers the cursed mummies, Rom, returns them to America to hand over to his reclusive sponsor. But in the Arizona desert the train carrying the ancient cargo is hijacked by murderous banditos who flee over the border. Now it's up to Rom and his ragtag team of friends to reclaim them.
Under the name Steven Sidor, SA Sidor wrote the thriller Pitch Black back in 2011. Fury From the Tomb is the first novel in the Institute for Singular Antiquities series.
Afterwar by Lilith Saintcrow (Orbit, 416 pages, $15.99 trade paperback/$9.99 digital, May 8, 2018) — cover designed by Lisa Marie Pompilio
If anyone asks whether science fiction can be relevant, point them to Afterwar, Lilith Saintcrow's new book, which depicts a fictional future that is frighteningly close to becoming a reality. Afterwar is a dystopian novel set in a near-future America that is rebuilding itself from the ashes of a second civil war. Although the war is declared to be over and the fascist regime has been toppled, the journey to rebuilding the nation is far from easygoing. After years of being violently divided, how can fellow citizens find common ground and peace?
Liz Bourke at Tor.com calls Afterwar "is a punch in the gut… well-paced, strikingly well-characterised, and deftly written, Afterwar is a deeply accomplished novel."
John also includes American Hippo: River of Teeth, Taste of Marrow, and New Stories by Sarah Gailey (Tor.com, 304 pages, $18.99 trade paperback/$9.99 Kindle, May 22, 2018) in his Short Fiction list. It includes the two previous Tor.com novellas, River of Teeth and Taste of Marrow, and (presumably?) additional new stories.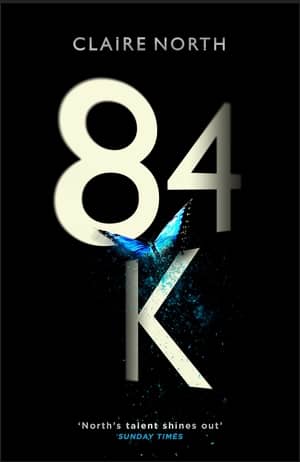 84K by Claire North (Orbit, 496 pages, $15.99 trade paperback/$9.99 digital, May 22, 2018)
What is the value of a single human life? In or society, that's a question we dare not answer. In the dystopian future of Claire North's 84K, where money reigns supreme, the question is asked, answered and asked again on a daily basis. Theo Miller, an auditor at the Criminal Audit Office, assesses the monetary value of crimes to ensure that society's debt is repaid for every criminal offense, including the taking of another person's life. This system precludes the need for prison terms, as long as you have the money to pay for your crime. In other words, if you are rich, you can get away with murder. Theo has had enough of this system when he witnesses a murderer-for-hire calmly phoning in his crime while standing over the body of his latest victim. The killer will go free, but this time Theo wants true justice.
Claire North won the World Fantasy Award for Best Novel last year for The Sudden Appearance of Hope. 84K has already been optioned by Tall Story Pictures, part of ITV, as a major international television drama.
Read John's complete comments at Kirkus Reviews.
Our previous coverage of John's recent Kirkus articles includes:
John DeNardo on August's Must-Read Science Fiction, Fantasy & Horror Books
John DeNardo on the Best SF and Fantasy in November
John DeNardo on the Definitive List of 2017's Best Science Fiction and Fantasy
See all our coverage of the best new book releases here.