John DeNardo on the Best SF and Fantasy in November
John DeNardo on the Best SF and Fantasy in November
I do a lot of work sifting though all the science fiction and fantasy releases every month to select those few that are worth highlighting. Sometimes it seems that I could save myself a lot of time if I just listened more to John DeNardo.
Over at Kirkus Reviews, John selects the most interesting new releases to showcase in his column, including new books by Rachel Neumeier, Tim Pratt, Mira Grant, Richard Baker, Brandon Sanderson, James Van Pelt, and many others. Here's a few of the highlights.
Jade City by Fonda Lee (Orbit, 512 pages, $26, November 7)
What do you get when you set The Godfather in an Asia-inspired city and add some magic and kung fu? You get Jade City, set on the island of Kekon, where Jade is the lifeblood of society, a precious commodity that that is mined, traded, stolen, and a motivation for murder. The Kaul family have used it to enhance their magical abilities while becoming the dominant force on the island. They care about nothing other than protecting their own power and those within their family. But now it's a new generation and when a powerful new drug allows anyone to wield the power of jade, the war between the Kaul family and their rivals explodes into violence.
[Click the images for bigger versions.]
Ironclads by Adrian Tchaikovsky (Solaris, 200 pages, $30, November 7)
Ironclads are lethal battle suits that make their wearers, the so-called Scions, masters of battle. Unfortunately, one of Scions (a son of one of the great corporate families) must have met with catastrophe, because he's gone missing. Enter Sergeant Ted Regan and his team, who are assigned to find the missing Scion behind enemy lines and discover how an Ironclad, previously thought undefeatable, could be taken down. (If this sounds like your cup of tea, act fast! There are only 1,000 copies of this hardcover novella being published.)
The Overneath by Peter S. Beagle (Tachyon Publications, 336 pages, $15.95, November 14)
An odd couple patrols a county full of mythological beasts and ornery locals. A familiar youngster from the world of The Last Unicorn is gifted in magic but terrible at spell-casting. A seemingly incorruptible judge meets his match in a mysterious thief who steals his heart. Two old friends discover that the Overneath goes anywhere, including locations better left unvisited.

Lyrical, witty, and insightful, The Overneath is Peter S. Beagle's much-anticipated return to the short form. In these uniquely beautiful and wholly original tales, with new and uncollected work, Beagle once again proves himself a master of the imagination.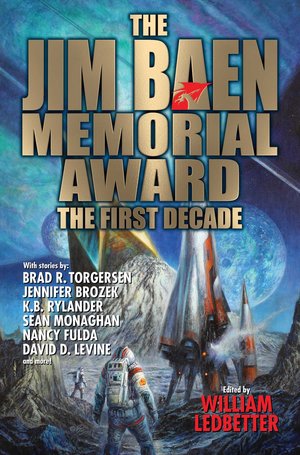 The Jim Baen Memorial Award: The First Decade edited by William Ledbetter (Baen, 320 pages, $16, November 7)
CELEBRATING TEN YEARS OF THE JIM BAEN MEMORIAL SHORT STORY AWARD

Since 2007, Baen Books and The National Space Society have sponsored The Jim Baen Memorial Short Story Award, to honor the legacy of Jim Baen and to promote the ideals of forward-thinking, positive science fiction. Here gathered together for the first time are the best of the best of the first decade of the Jim Baen Memorial Award. Winners and runners-up whose stories dared imagine a bright future in which humankind has shaken off the shackles of gravity and moved into that limitless realm known as "outer space." Each tale is set in a plausible, near-future setting, and yet the variations are as limitless as the imaginations of the array of authors represented. Stories that ask, "What if?" Stories that dare to say, "Why not?" Stories that continue the grand science fiction tradition, looking to the future with a positive outlook on humanity's place in the universe.
Read John's complete comments at Kirkus Reviews.
Our previous coverage of John's recent Kirkus articles includes:
The Best of the Best of 2015's Science-Fiction and Fantasy Books
January Must-Read Speculative Fiction
February Speculative Fiction Books You Can't Miss
The Must-Read Science Fiction, Fantasy, & Horror in June
John DeNardo on the Best Books of August 2016
The Science Fiction, Fantasy, and Historical Fiction You Won't Want to Miss in September
John DeNardo's Savory Selection of Science Fiction and Fantasy for October
John DeNardo Proves Lovecraftian Fiction is Alive and Well
The Best Science Fiction and Fantasy Reads for November
The Best of the Best: The Definitive List of 2016's Best Science Fiction and Fantasy
John DeNardo on 11 Can't-Miss SF and Fantasy Books in March
John DeNardo on The Science Fiction & Fantasy Books Everyone Will be Talking About in April
It's Not Too Late to Catch Up on Your May Reading (But You're Cutting it Close)
John DeNardo on Your Best Bets for Science Fiction, Fantasy and Horror in July
John DeNardo on August's Must-Read Science Fiction, Fantasy & Horror Books
See all our coverage of the best new book releases here.