John DeNardo on Your Best Bets for Science Fiction, Fantasy and Horror in July
John DeNardo on Your Best Bets for Science Fiction, Fantasy and Horror in July
As regular readers know, I enjoy John DeNardo's survey pieces on the best new books every month over at Kirkus Reviews. For July, he's assembled what could well be the best batch of new releases so far this year. Here's John.
Summer reading season is in full swing, and if you'd like to join the beach party, there's plenty of entertainment to be found in the pages of science fiction, fantasy, and horror books. July's cream of the crop includes stories about a robot hitman, a dark and previously unseen perspective on Peter Pan, a woman with supernatural abilities who goes up against Nazis, aliens in New York, flying shapeshifters, and more short stories than you can shake a stick at.
The list this month includes new books by Nancy Kress, Kay Kenyon, Carrie Vaughn, Martha Wells, Charles Stross, Naomi Kritzer, Christopher Rowe, Margaret St. Clair, William Browning Spencer, Adam Christopher, and many more. Here's a few of the highlights.
The Art of Starving by Sam J. Miller
In this edgy story, Matt is troubled by a boy named Tariq and his band of high school bullies who have driven away his sister, Maya. What's a brother to do? If you're Matt, and you've discovered that the less you eat the more you gain powers – like the ability to read what other people are thinking – you starve yourself. That way you can get close to Tariq and discover the truth behind Maya's disappearance. But as Matt finds out, there are some forms of hunger that cannot be controlled.
The Art of Starving was published by HarperTeen on July 11, 2017. It is 384 pages, priced at $17.99 in hardcover and $9.99 for the digital version. The cover is by Matt Blease.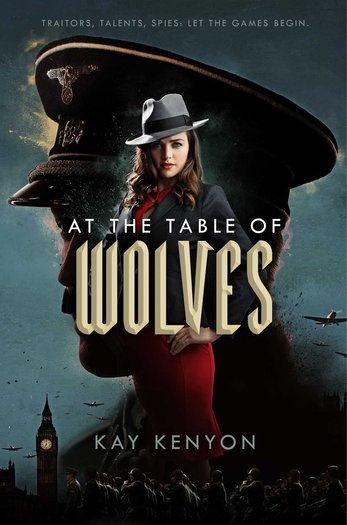 At the Table of Wolves by Kay Kenyon
In this British espionage story (described as Tinker Tailor Soldier Spy meets X-Men) a young woman with superpowers goes undercover to fight Nazis. In this version of 1936, supernatural powers are not unheard of, ushered into existence thanks to the Great War. The race to harness superpowers is on, but England has not gotten as far as Germany. Kim Tavistock – a woman whose abilities compel people to tell the truths they don't want to share – is tasked with exposing a German spy among the British ranks. Her assignment becomes even more important when she discovers a German plot to invade England.
At the Table of Wolves will be published by Saga Press on July 11, 2017. It is 421 pages, priced at $26.99 in hardcover and $7.99 for the digital version. The cover is by Mike Heath. We covered it in more detail here.
Age of Swords by Michael J. Sullivan
In Age of Myth, Sullivan introduced readers to an imaginative world where gods have been proven mortal and humans are poised to take over. In this sequel, the human uprising is threatened by enemies both outside and inside the rebellion. The good news is that the answer to uniting the human factions against their common enemy lies overseas. The bad news is that it's a land populated by a reclusive race who holds nothing but contempt for both Fhrey and mankind.
Age of Swords, the second volume in The Legends of the First Empire, will be published by Del Rey on July 25, 2017. It is 496 pages, priced at $28 in hardcover and $14.99 for the digital edition. The cover is by Marc Simonetti. We covered the first book in the series, Age of Myth, here.
The Best Horror of the Year Volume Nine edited by Ellen Datlow
Whether you crave short fiction or longer novellas, you'll have a hard time choosing from this month's selection. Perhaps a good place to start is with the crop of new "Year's Best" anthologies! Lots of work goes into these endlessly entertaining books, so prepare for some fascinating reading.

The Best Horror of the Year Volume Nine edited by Ellen Datlow features twenty-one chilling tales that will probably keep you up at night, with stories by Livia Llewellyn, Peter Straub, Gemma Files, and more. Or, if horror really is your thing, also check out The Year's Best Dark Fantasy & Horror 2017 Edition edited by Paula Guran, which features 37 stories by the likes of Aliette de Bodard, Victor LaValle, and N. K. Jemisin. Science fiction fans will no doubt want to check out the granddaddy of speculative fiction anthologies, The Year's Best Science Fiction: Thirty-Fourth Annual Collection edited by Gardner Dozois.
The Best Horror of the Year Volume Nine was published by Night Shade Books on July 11, 2017. It is 440 pages, priced at $15.99 in trade paperback and $9.99 for the digital edition. The cover is by Kevin Peterson.
Read John's complete article at Kirkus Reviews.
Our previous coverage of John's recent Kirkus articles includes:
The Best of the Best of 2015's Science-Fiction and Fantasy Books
January Must-Read Speculative Fiction
February Speculative Fiction Books You Can't Miss
The Must-Read Science Fiction, Fantasy, & Horror in June
John DeNardo on the Best Books of August 2016
The Science Fiction, Fantasy, and Historical Fiction You Won't Want to Miss in September
John DeNardo's Savory Selection of Science Fiction and Fantasy for October
John DeNardo Proves Lovecraftian Fiction is Alive and Well
The Best Science Fiction and Fantasy Reads for November
The Best of the Best: The Definitive List of 2016's Best Science Fiction and Fantasy
John DeNardo on 11 Can't-Miss SF and Fantasy Books in March
John DeNardo on The Science Fiction & Fantasy Books Everyone Will be Talking About in April
It's Not Too Late to Catch Up on Your May Reading (But You're Cutting it Close)
See all our coverage of the best new book releases here.