Video Game Review: Tunnels & Trolls Adventures
Video Game Review: Tunnels & Trolls Adventures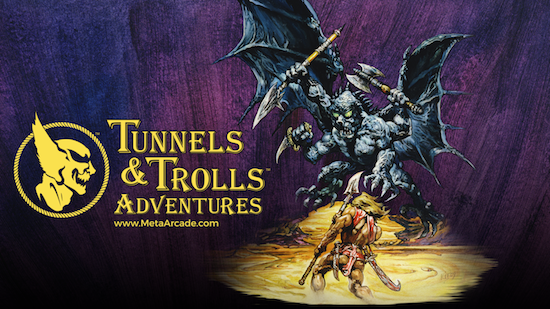 I've been hankering for some old school pen and paper adventuring lately, but not having a gaming group here in Madrid (or indeed any gaming group for a few decades now), I did what old school gamers always used to do when they found themselves all on their lonesome — I played some solo Tunnels & Trolls adventures.
But I did it with a modern twist. I played Tunnels & Trolls Adventures, a free app by MetaArcade. The app takes you through various classic adventures such as Sewers of Oblivion and Buffalo Castle and runs very smoothly. It's been decades since I've played T&T, so I read all the intro material, which explained the game quickly and concisely and had me playing within minutes.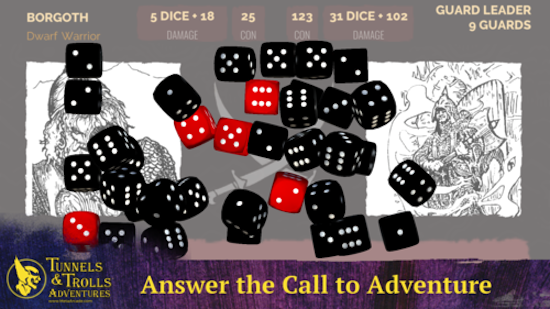 The game's biggest strength is how it brings you back to the feel of the original adventures. Suddenly I was in the early Nineties playing at the University of Arizona, and meeting T&T designer Ken St. Andre at AGOG — A Gathering of Gamers, our university con. Fun times!
Most adventures take less than 20 minutes to play but are lots of fun with sound effects, rolling dice, and original artwork. Soon I was up to level 3, even though I died once. There is no permanent death in this game, sort of like the ultimate cheat we did with favorite characters back in the day.
I did find a few hiccups. When I started my character as a forester I was given a hand axe, but my equipment list showed I had two of them. In one adventure the dialog page starts with "the snake attacks you." What snake? I hadn't been told about that in the previous page. Another time I earned some gold but wasn't told how much, and in my inventory it didn't say how much either.
But these are minor glitches. All in all, Tunnels & Trolls Adventures is a fun, nostalgic romp through 1980s gaming and well worth a try.
But what about those from the post-grognard generation? I tested it out on my twelve-year-old son, who is currently obsessed with Fortnite and Asphalt 8. He has never played a game like this before.
I'm happy to say he enjoyed it. The yelps from his room as he got attacked by various monsters were amusing to hear. He thought the art was cool, liked the story lines, and was intrigued by the whole idea of that style of game. It's not  going to unseat his favorites, but he does plan to play it some more.
. . . and capturing the attention of a twelve-year-old is the highest praise any game can get.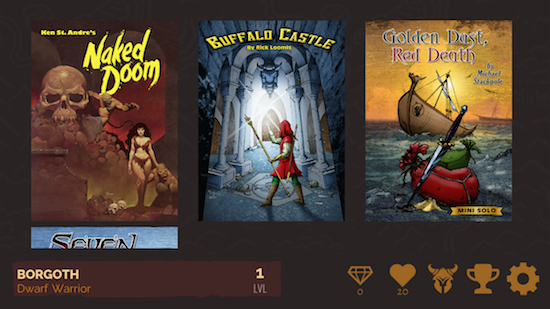 Images courtesy MetaArcade.
---
Sean McLachlan is the author of the historical fantasy novel A Fine Likeness, set in Civil War Missouri, and several other titles. Find out more about him on his blog and Amazon author's page. His latest book, The Case of the Purloined Pyramid, is a neo-pulp detective novel set in Cairo in 1919.