Vintage Treasures: Study War No More, edited by Joe Haldeman
Vintage Treasures: Study War No More, edited by Joe Haldeman
By 1977 Joe Haldeman had already won three Hugo Awards, for his novella "Hero" (1972), his debut SF novel The Forever War, and his short story "Tricentennial" (1976), and one Nebula, also for The Forever War. He was a fast-rising star, and in November of that year he added the anthology Study War No More to his fast-growing SF catalog. It contained stories by some of the greatest SF writers of the time — including Poul Anderson, Harry Harrison, Isaac Asimov, George Alec Effinger, Damon Knight, and Mack Reynolds — that addressed the problem of war. Here a snippet from his introduction:
Fear of the atom was such an effective deterrent that it was over two weeks before war broke out again. A fellow with a wispy beard seized control of Hanoi. The editor of this anthology was in diapers when that happened; it lasted long enough to give him his first white hairs, and then five years more…

But why this anthology? The absurdity and outrage of war may be quite obvious, but trying to find a solution to it has occupied the energies of the race's finest philosophers and poets for thousands of years, to no conspicious success.

Science fiction writers are generally renowned neither for the depth of their philosophy nor the fineness of their poetry, so isn't it presumptuous of them to take on so formidable, yet subtle, an opponent? The answer is a duet: a soft "no," and a loud "Hell, no!"
Haldeman was intimately familiar with war; he was a combat engineer in Vietnam who was wounded and received a Purple Heart. The inside cover of Study War No More addressed his experience, and how it had influenced his writing. Here it is.
[Click the images for bigger versions.]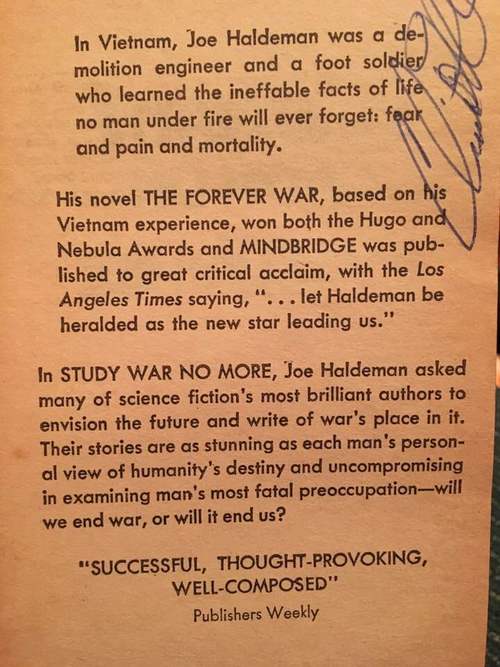 While it's a powerful statement — and effective salesmanship — the line "Joe Haldeman asked many of science fiction's most brilliant authors to envision the future and write of war's place in it" is pure hyperbola. Haldeman didn't ask anybody anything, other than story permissions. Study War No More is a reprint anthology, collecting stories published between 1952 – 1974,
Study War No More was a popular volume, and was reprinted in 1978, 1979, 1980, and 1981. Orbit/Futura released a paperback edition in the UK in 1979 and again in 1987.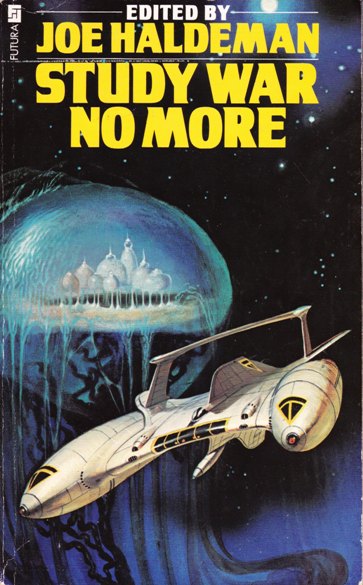 Cover by Vicente Segrelles
Study War No More was released in an era when cheap paperback anthologies were economically viable; those days, sadly, are now over. It contained only nine stories (plus a 1973 essay by Isaac Asimov), but was sizable for all that, chiefly due to the inclusion of three long novellas: "The Dueling Machine" by Ben Bova and Myron R. Lewis, "Mercenary" by Mack Reynolds (part of his Joe Mauser series), and the classic "Rule Golden" by Damon Knight.
Here's the complete Table of Contents.
Introduction by Joe Haldeman
"Basilisk" by Harlan Ellison (The Magazine of Fantasy and Science Fiction, August 1972)
"The Dueling Machine" by Ben Bova and Myron R. Lewis (Analog Science Fact/Science Fiction, May 1963)
"A Man to My Wounding" by Poul Anderson (Ellery Queen's Mystery Magazine, December 1959)
"Commando Raid" by Harry Harrison (Prime Number, July 1970)
"Curtains" by George Alec Effinger (The Magazine of Fantasy and Science Fiction, August 1974)
"Mercenary" by Mack Reynolds (Analog Science Fact/Science Fiction, April 1962)
"Rule Golden" by Damon Knight (Science Fiction Adventures, May 1954)
"The State of Ultimate Peace" by William Nabors (Fantastic, March 1974)
By the Numbers, by Isaac Asimov (The Magazine of Fantasy and Science Fiction, May 1973) — essay
"To Howard Hughes: A Modest Proposal" by Joe Haldeman (The Magazine of Fantasy and Science Fiction, November 1974)
Copies are not hard to come by. At the moment there are exactly a dozen copies on eBay, with an average asking price of $3-4, less than half the cost of a new paperback. I bought mine as part of a collection of 32 unread paperbacks on eBay for $10.60, about 35 cents/book — a steal, especially considering the fabulous shape these books were in. Take a look.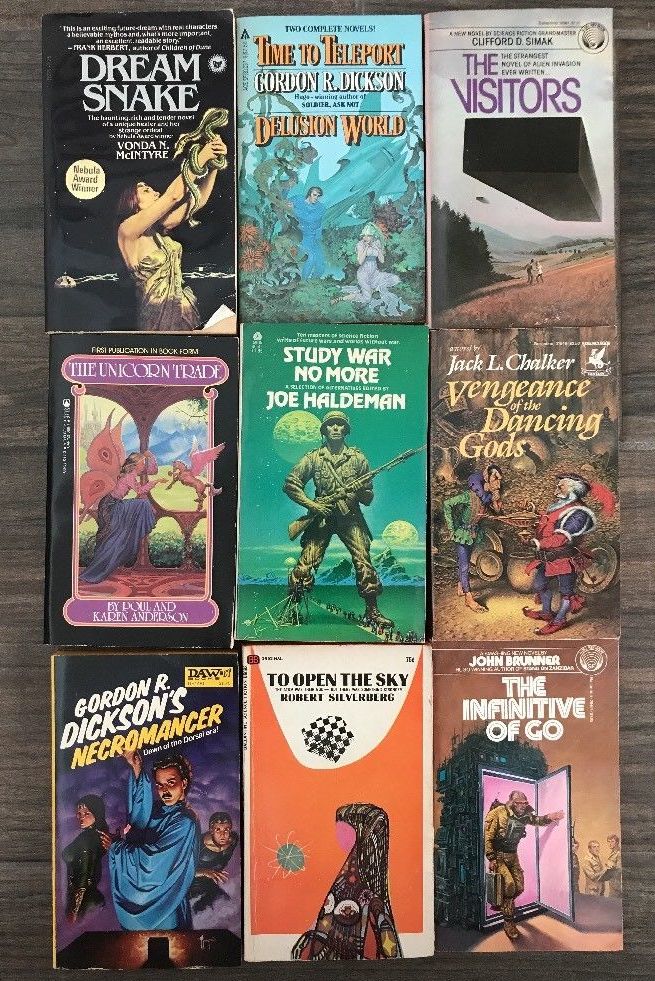 For my fellow bookhounds (who I know will e-mail me asking for them), here's the pics of the rest of the set of 32 books.
Study War No More was published in hardcover by St. Martin's Press in November 1977, and reprinted in paperback by Avon in October 1978. The paperback is 323 pages, priced at $1,95, with a cover by Michael Whelan.
See all of our recent Vintage Treasures here.