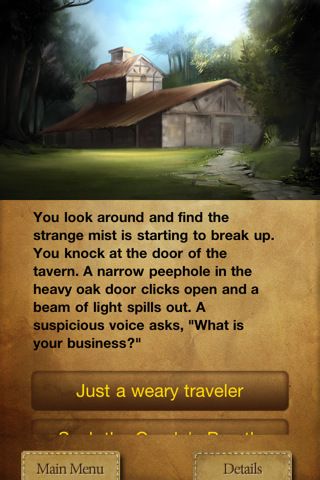 We're big fans of Dark City Games' terrific line of solitaire fantasy games. We've wasted many hours with these little wonders on the Black Gate rooftop headquarters, when we should have been plotting the overthrow of the entire publishing world.
Instead, we searched for the buried archives of long-dead sorcerers on The Island of Lost Spells, stood alongside Roman Legionnaires at the border between Gaul and Germania in Wolves on the Rhine, and plumbed the depths of an ancient ruin for a powerful relic in The Oracle's Breath. There are publishing barons in Manhattan who owe their Perrier to Dark City Games, and that's a fact.
Subscribers may even remember that we published a complete solo adventure from Dark City Games in issue 12 of Black Gate: "Orcs of the High Mountains," by Jerry Meyer, Jr. Don't tell me we don't share the love.
Now comes word that Questland Games has made one of Dark City's best adventures available for the iPhone: Oracle's Breath.
Yes, now you can journey to a rich world of fantasy while everyone else in the staff meeting thinks you're checking stock prices.
---