Rebuild Civilization on a Savage and Alien Earth in Midnight Legion from Studio 9
Rebuild Civilization on a Savage and Alien Earth in Midnight Legion from Studio 9
Midnight Legion box set from Studio 9 (2016). Art by C. Aaron Kreader.
It's been a busy year, between changing jobs in April, managing a fledging writing career as Todd McAulty, running Black Gate, and coping with a pandemic. I don't get to read as much as I used to, and I definitely don't get to game as much. I especially regret not having the chance to dig into some of the new generation of solo RPGs, like Four Against Darkness and Into the Dungeon.
But I did spend a few shekels to try Midnight Legion, a very promising post apocalyptic solo gamebook series with a strong Metamorphosis Alpha vibe. Created by writer Aaron J. Emmel and artist C. Aaron Kreader and published by Evanston, Illinois-based Studio 9, Midnight Legion is a three-book series featuring an amnesiac android who awakens on a vastly changed Earth peopled with strange creatures and deadly mutant plants, and must piece together the clues to his original mission. You get everything you need to start in the intro Midnight Legion box set, published in 2016 with this description on the back:
You are an elite, android agent of an ancient, clandestine group who is forced awake after hundreds of years of stasis.Your memory is gone, and you can't recall your purpose.You will need to solve puzzles and choose whether to use combat, stealth, or sixth sense and diplomacy to unlock your mission and the secrets of the world you knew.

The Midnight Legion is an interactive story where player(s) choose how to respond to what happens next. Created for solo play, with a 2-player option, this three book game series promises hours of gaming. Starting with Book 1: Operation Deep Sleep, everything you need to begin is contained in this boxed set.
The second gamebook, The World Reborn followed in 2017, and the final volume Portal of Life in 2019. Together they form an ambitious and compelling science fiction adventure that I'm anxious to dig into.
[Click the images for mutant versions.]
Midnight Legion 2: The World Reborn (2017)
The box set is the place to start; it contains the first game book, Operation Deep Sleep, that kicks off the adventure. In theory at least, all three books can be played separately, but they do tell a continuous story and you definitely want to play them in order if you can. It retails for $24.99.
The Midnight Legion box set includes:
Book 1: Operation Deep Sleep
Memory and Rule Book
Color map
2 custom dice
Operation Deep Sleep takes place almost entirely inside Alpha Base, where you awaken. The second book, The World Reborn, is 219 pages, and picks up the story with your android character in pursuit of a rogue agent who intends to unleash untold destruction on a fragile Earth.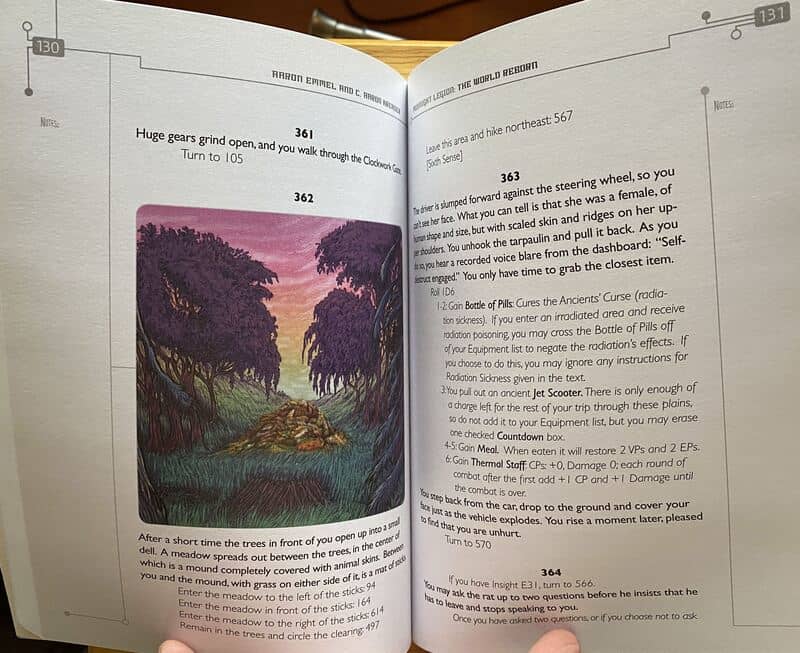 Interior pages of Midnight Legion 2: The World Reborn
Here's the summary for The World Reborn.
More than four centuries have passed since the Devastation engulfed Earth. The species that remained were fused and reborn in the alchemy of atomic fire. Now their diverse descendants have claimed the planet.

You are an agent of the Midnight Legion, tasked with preserving life and rebuilding civilization. Only one other agent remains, and she is somewhere ahead of you, racing for your last remaining base. Unless you can reach it before she does, she will seize the command center and use its ancient weapons to unleash a second Devastation. This time, if she succeeds, nothing will survive. Your chase will lead you to new creatures, lost technologies and possibly even the clues your adversary leaves behind. But beware — there are no established paths across this constantly shifting land, and nothing is what it seems.
The World Reborn is printed on sturdy paper stock and contains many full color illos by creator C. Aaron Kreader. It is 219 pages in color (plus character sheets) and sells for $12.95. It is currently available at clearance prices ($6.49) at Phoenix Fire Games.
Book 3, Portal of Life, wraps up the story.
Midnight Legion 3: Portal of Life (2019), and the Free RPG Day giveaway Last Recruit (2018)
Here's the summary:
Portal of Life is the final gamebook in the Midnight Legion trilogy. However, it can be played as a stand alone or following book 2, The World Reborn, and book 1, Operation Deep Sleep.

The Midnight Legion: Portal of Life is an interactive story where you decide what happens next. Solve puzzles, recover lost memories, and utilize combat, stealth, or sixth sense and diplomacy. It is a highly advanced, color illustrated gamebook with control over your character and world. An interactive story is combined with combat, strategy, puzzles, diplomacy, stealth and role playing elements. Collect information, knowledge, and goods from the world around you to advance your character…

[The Earth we know is gone but] the world that has replaced it is alien and savage, but filled with wondrous new life. In the last remaining Midnight Legion base a computer controls technology that can destroy it or help it to thrive. If you're strong enough you can defeat the agent who betrayed your mission. If you're clever and skilled enough you can solve the base's puzzles and outwit its traps. But even then you will still need to confront the sentient, possibly deranged computer itself. What it can tell you depends on how much you are willing to sacrifice to regain the memories you have lost.
Portal of Life is also printed in full color, and sells for $12.95. It's still available through most gaming outlets, including Amazon & B&N, and directly from Studio 9 Games.
Before the completion of original trilogy, the creators promoted the series with a giveaway on Free RPG Day 2018, the short adventure Last Recruit. Copies of that are now available for $7.49 at Studio 9.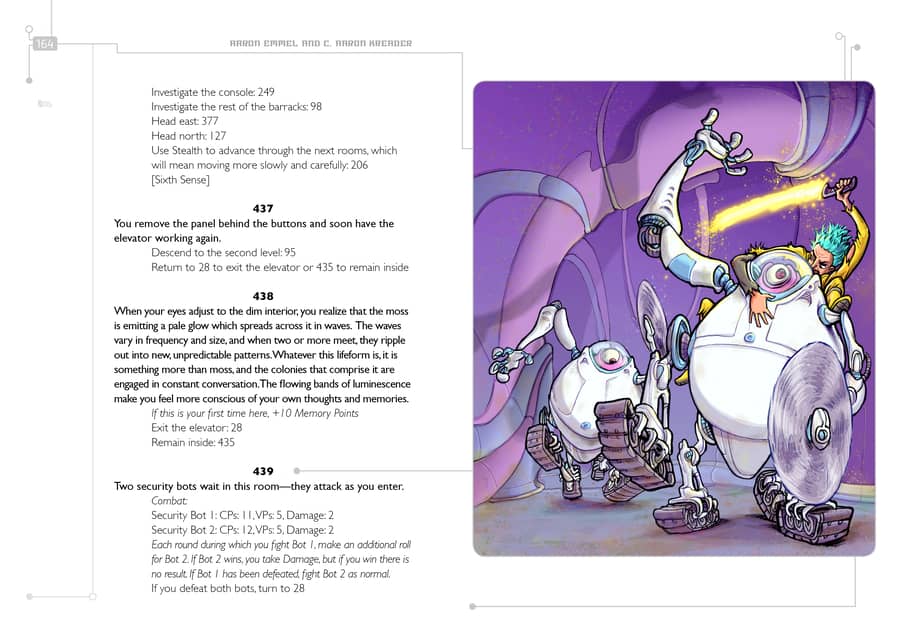 Interior pages from Midnight Legion 3: Portal of Life
The series didn't get a lot of attention from the mainstream gaming press — but what it did get was extremely positive. WDYPTW said
It's just an incredible story, an incredible journey that's going to be different every time. It's just so much fun.
And Nerdy But Flirty selected the Midnight Legion box set as one of The Best Games for Solo Players from Gen Con 2016, saying:
People who like books as much as I do will likely love this Choose Your Own Adventure meets RPG solo game. Technically, you can play it with two people (where one person acts as game master and one acts as player), however, this is really meant to be a solo endeavor. The set comes with blueprints, dice, a rule book, and the RPG book. It's designed so that all you have to do is open the book and start reading. The story takes place in a distant future, where you're forced awake after years of being in stasis. You know you have a mission, but you've lost your memory, and you have no idea what your mission is. First, you build your character, RPG style. Then, you wake up and start making decisions Choose Your Own Adventure style, with each choice leading you somewhere different in the book and affecting the story. There are puzzles, combat, diplomacy, and role playing elements in this game, and the cool part is you can choose how to solve your problems – either through solving puzzles or by recovering your memories for clues. Anyone who likes books or yearns for those old Choose Your Own Adventure stories will foam at the mouth over this game.
There hasn't been a new release for Midnight Legion in 2020. These days Studio 9 seems seems to focus on supporting Goodman Games' Dungeon Crawl Classics (with adventures like Reckoning of the Gods-Into the Shadow Realm) and a new City Builder for their Villagers & Villains game.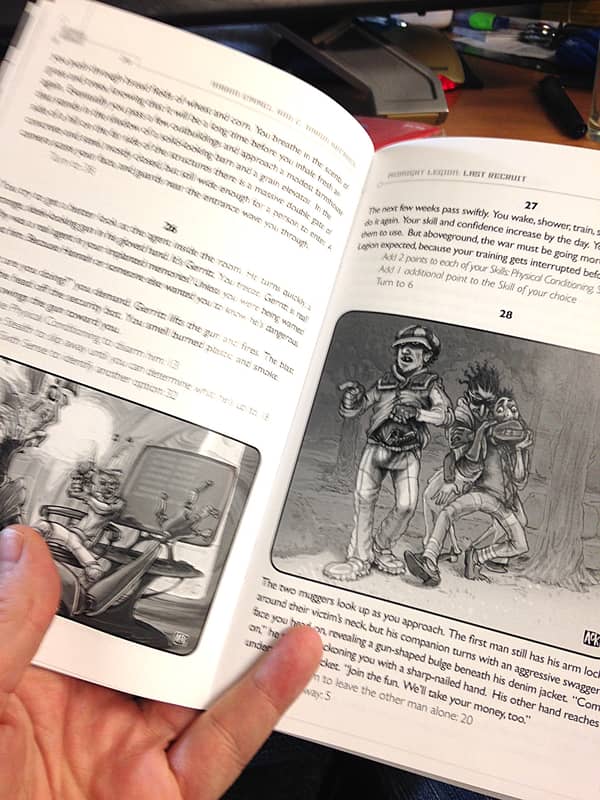 Interiors from Midnight Legion: Last Recruit
Although copies of the box set and The World Reborn are getting hard to find, fortunately Studio 9 has made them available print on demand. Here's the announcement on the Midnight Legion web page:
Studio 9 has sold out of most of the original print runs of Midnight Legion Books 1 and 2, but both are now available as print on demand titles from DriveThru RPG.

Details: They're available in both hardcover and softcover, and come in a standard size (6″x9″) that's a bit bigger than the originals (6″x8.5″).  They also cost a bit more (+$3-$10 depending on the title and format), except for the Book 1 softcover version, which costs $3 less than the Boxed Set since it does not contain the box or dice, and the map and Rule & Memories Book come as a free PDF accompanying the print book.

You can get the Midnight Legion, Book 1: Operation Deep Sleep POD edition here, and the Midnight Legion, Book 2: The World Reborn POD here.  You may also still be able to find copies of the originals in your favorite book and hobby stores.
High quality solo RPGs are rare, and it's a delight to find one as ambitious and well conceived as Midnight Legion. I bought the first two books a few years ago — and I'm very glad I did — and hope to get the third shortly. The setting is enticing and evocative, and Aaron Kreader's artwork has the perfect gonzo edge to appeal to the old-school gamer in me. Keep up with all the details here.
See all our coverage of the best solitaire games here.