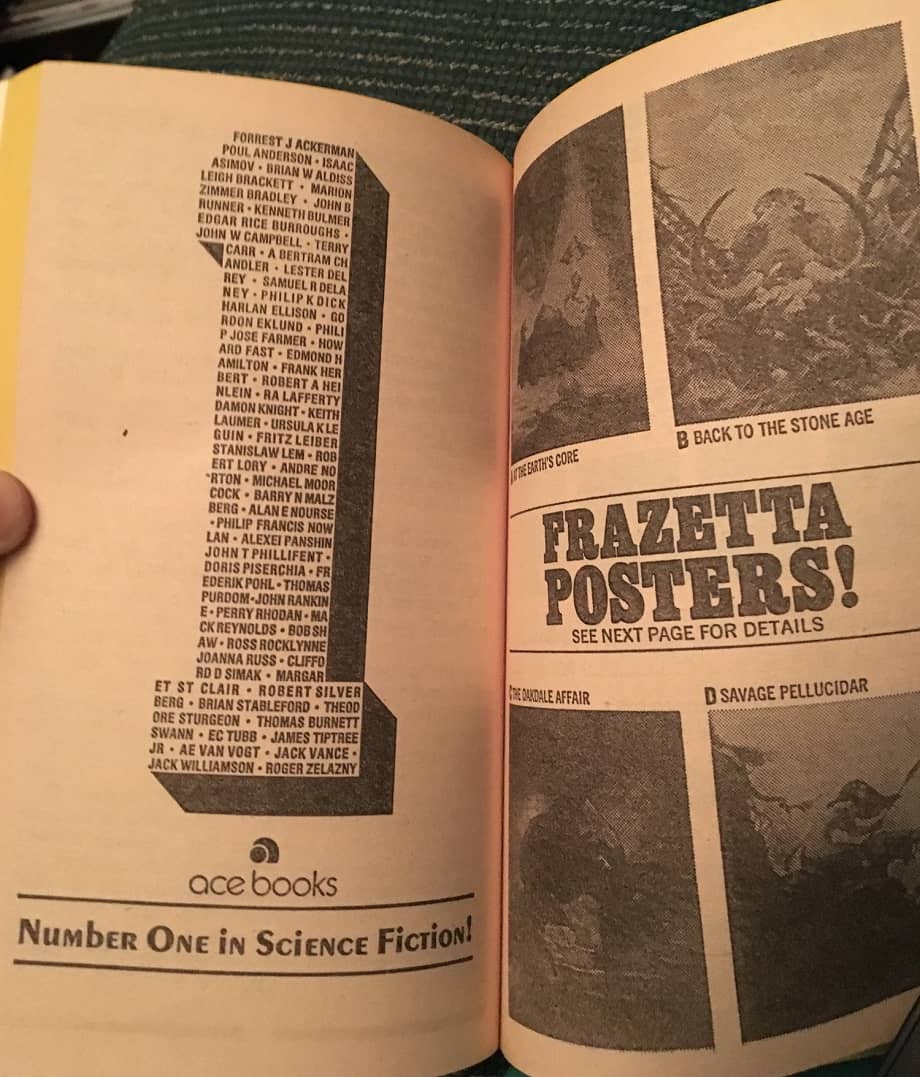 I bought a small collection of Mack Reynolds paperbacks on eBay last week, and they arrived yesterday. I settled in with them last night, and was surprised to find one of them, the 1975 title The Five Way Secret Agent and Mercenary From Tomorrow, which looked like a collection of two novellas from Analog, was actually an Ace Double. It didn't have two covers in back-to-back dos-à-dos format, and the second book wasn't printed upside down, but otherwise it was an Ace Double, with separate pagination for each novel and everything. It had the usual Ace house ads in the middle, which I normally flip past, but the double-page spread above brought me to a complete stop.
I mean, just look at this thing. Never mind the questionable tactic of trying to sell gloriously color Frazetta posters (for 3 bucks each) using muddy black & white images. Check out that house ad on the left: The number 1, formed from the names of the  most prominent authors in the Ace Books publishing family. And what a staggering list!
Poul Anderson, Isaac Asimov, Brian Aldiss, Leigh Brackett, John Brunner, Edgar Rice Burroughs, John W. Campbell, Terry Carr, A. Bertram Chandler, Lester del Rey, Samuel R. Delany, Philip K. Dick, Harlan Ellison, Philip Jose Farmer, Edmond Hamilton, Frank Herbert, Robert A. Heinlein, R.A. Lafferty, Damon Knight, Ursula K. Le Guin, Fritz Leiber, Stanislaw Lem, Andre Norton, Michael Moorcock, Barry Malzberg, Alexei Panshin, Frederik Pohl, Mack Reynolds, Joanna Russ, Bob Shaw, Clifford D. Simak, Robert Silverberg, Brian Stableford, Theodore Sturgeon, James Tiptree, Jr., EC Tubb, A.E. Van Vogt, Jack Vance, Jack Williamson, Roger Zelazny
It's not just the amazing list of authors — which is, let's face it, a nearly unprecedented line up of talent for a single SF publisher. It's that fact that most of those authors are still revered today, and in fact more than a few — Philip Dick, Ursula K. Le Guin, James Tiptree, and others — have achieved even greater fame in the intervening four decades.
---