Flood of AI-Written Fiction Shuts Down Clarkesworld Submissions
Flood of AI-Written Fiction Shuts Down Clarkesworld Submissions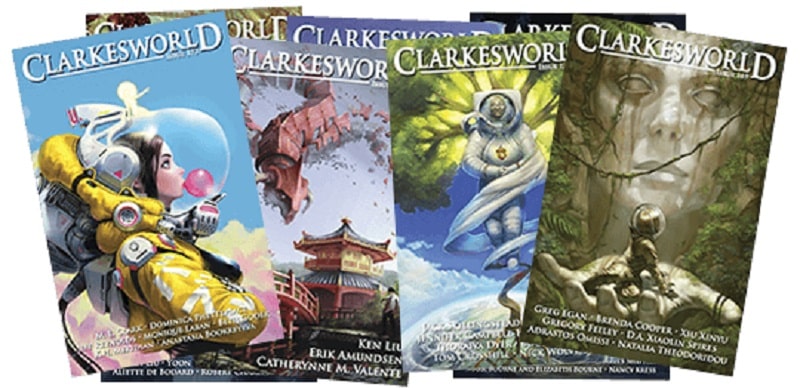 Recent issues of Clarkesworld magazine, edited by Neil Clarke
If you're active on social media, or if you follow the major science fiction magazines, you've probably seen the headlines. It's not every day that Neil Clarke, Sheila Williams, and Sheree Renée Thomas (editors of Clarkesworld, Asimov's Science Fiction, and The Magazine of Fantasy and Science Fiction, respectively) are quoted extensively in The New York Times. But that's exactly what happened on Thursday.
It started with Neil, who reported on Twitter earlier this week that a sudden flood of AI-generated submissions, likely triggered by get-rich-quick schemes "making claims of easy money with ChatGPT," had caused him to temporarily close submissions to Clarkesworld. (ChatGPT is the most popular of the new crop of chatbots capable of rapidly creating long-form text based on short prompts from users.)
As you can imagine, the news that a leading science fiction magazine had to close submissions because it was overwhelmed with AI-generated subs captured enormous attention, and that tweet garnered over 8 million views and, within a matter of days, national attention from press outlets like The Guardian and NYT.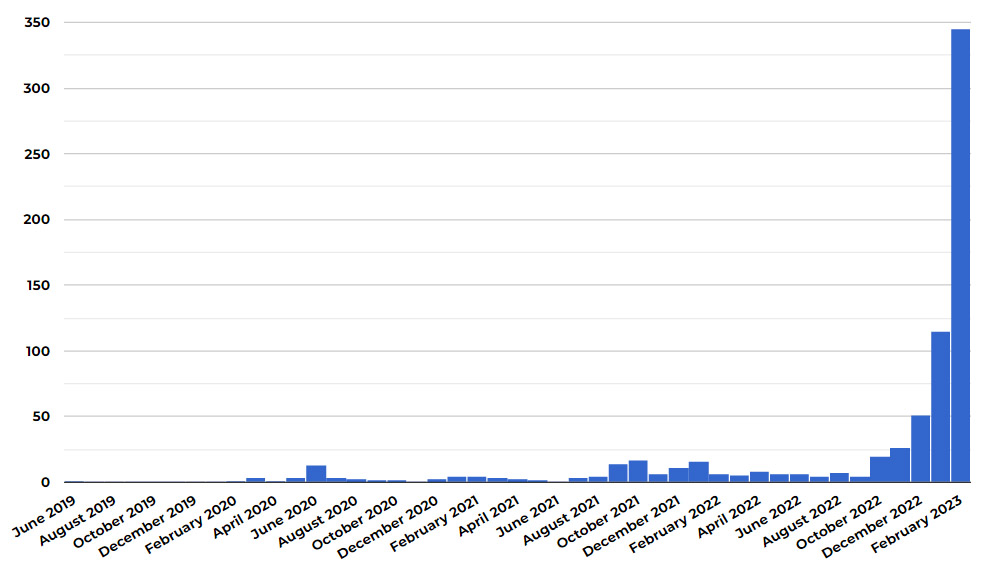 Number of authors Clarkesworld has banned for submitting plagiarized or machine-generated fiction, by month
Writing on Facebook, where he posted the above graph, Neil said,
This is a growing problem and I don't think it will just go away. The graph is a snapshot of the number of people we've had to ban over plagiarism and machine-written spam submissions.
Neil has recently offered more details. Here's an excerpt from the update (titled "Patience") sent out to his Patreon subscribers on Thursday.
I know a number of people are waiting on either responses from me or their login information to pick up their new subscriptions. I'm hoping to catch up with you this weekend and would like to thank you for your patience.

Some of you might be wondering what is going on. In short, we've been hit with a sharp increase in submissions from people using ChatGPT and similar tools to write "stories." We had to close submissions a few days ago because it was growing increasingly out of control. By the end of the month, these submissions would have outnumbered legitimate ones.

Somehow, a simple tweet stating that we were closing submissions went viral. Last I checked, it has over 7 million views and was approaching 8. If you've never been at the center of one of these moments, it's nothing short of overwhelming. I've been fielding calls from reporters for days and talking with all sorts of interesting people. On a positive note, it's introduced a lot of new people to the magazine. On the negative, this is a lot for an introvert to handle. I'll probably sleep for an entire day when it's over.
Neil isn't the only one coping with this problem. Sheila Williams, editor of Asimov's Science Fiction, told me (on Facebook),
It's annoying and extra work, but the stories are immediately obvious.
The news quickly spread beyond the bounds of the science fiction community. Alex Hern, UK technology editor for The Guardian, was one of the first to jump on the story, interviewing Neil for a piece that appeared on Tuesday.
One of the most prestigious publishers of science fiction short stories has closed itself to submissions after a deluge of AI-generated pitches overwhelmed its editorial team.

Clarkesworld, which has published writers including Jeff VanderMeer, Yoon Ha Lee and Catherynne Valente, is one of the few paying publishers to accept open submissions for short stories from new writers.

But that promise brought it to the attention of influencers promoting "get rich quick" schemes using AI, according to founding editor Neil Clarke.

In a typical month, the magazine would normally receive 10 or so such submissions that were deemed to have plagiarised other authors, he wrote in a blogpost. But since the release of ChatGPT last year pushed AI language models into the mainstream, the rate of rejections has rocketed.

In January, Clarke said, the publisher rejected 100 submissions, banning their "authors" from submitting again. In February to date, he has banned more than 500.

"I've reached out to several editors and the situation I'm experiencing is by no means unique," he wrote. "It does appear to be hitting higher-profile 'always open' markets much harder than those with limited submission windows or lower pay rates.

"It's clear that business as usual won't be sustainable and I worry that this path will lead to an increased number of barriers for new and international authors. Short fiction needs these people… It's not just going to go away on its own and I don't have a solution."

Closing submissions is a drastic move. Until a solution is identified, the magazine is not considering stories from authors.

"We will reopen, but have not set a date," Clarke said on social media. "Detectors are unreliable. Pay-to-submit sacrifices too many [legitimate] authors. Print submissions are not viable for us."

The latest issues of Asimov's Science Fiction (March/April 2023), Clarkesworld (March 2023), and
The Magazine of Fantasy & Science Fiction (March-April 2023). Clarkesworld cover by Arthur Haas
The New York Times reported more broadly on the story Thursday, interviewing Neil, Sheila, and Sheree Renée Thomas, editor of F&SF.
In an interview on Wednesday, Mr. Clarke said that Clarkesworld, which published its first issue in 2006 and pays 12 cents a word, typically receives about 1,100 submissions a month.

But in just a few weeks this month, the magazine fielded 700 legitimate submissions and 500 machine-written submissions, he said. He said he had been able to spot the chatbot-generated stories by examining certain "traits" in the documents, the writing and the submission process.

Mr. Clarke declined to be more specific, saying he did not want to give those submitting the stories any advantages. The writing is also "bad in spectacular ways," Mr. Clarke said. "They're just prompting, dumping, pasting and submitting to a magazine."

He wrote on Twitter that the submissions were largely "driven by 'side hustle' experts making claims of easy money with ChatGPT…"

The conundrum facing the editors underscores the challenges unleashed by increasingly sophisticated A.I. chatbots like ChatGTP, which have shown that they can write jokes and college essays and attempt medical diagnoses.

Some writers worry that the technology could one day upend the literary world, dethroning the author as the ultimate source of creativity.

But the stories flooding these magazines appear to be more like spam, easily distinguishable, at least for now, from science fiction crafted by writers working alone.

Sheila Williams, the editor of Asimov's Science Fiction magazine, said that several of the chatbot-generated stories she had received all had the same title: "The Last Hope."

"The people doing this by and large don't have any real concept of how to tell a story, and neither do any kind of A.I.," Ms. Williams said on Wednesday. "You don't have to finish the first sentence to know it's not going to be a readable story."
Read the unlocked version of the full article here.
As others have noted, if there's a silver lining to the story, is that (with luck) the national attention will help a few more readers and buyers discover these magazines.
This is a fast-developing story, and we'll keep you posted.