Nero Wolfe's Brownstone: Play Ball – The Mets in 'Please Pass the Guilt'
Nero Wolfe's Brownstone: Play Ball – The Mets in 'Please Pass the Guilt'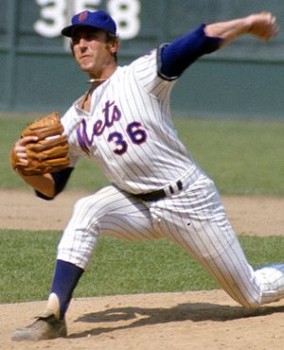 Archie Goodwin was a fan of America's national pastime, and the Wolfe Corpus is full of baseball references. One story is even shades of the 1919 Black Sox scandal! In 2020, you're going to see a lot of Nero Wolfe Wolfe here at Black Gate (assuming I don't get canned before then). Since today is Opening Day, here's a little Archie and baseball. Play ball!
Since the Nero Wolfe tales were all essentially set in the year that Rex Stout wrote them, we can answer the question I'm about to posit simply by looking at the publication date. Except, as I'll show, it couldn't have been 1973. So that approach is out.
Baseball references can be found throughout the Corpus. Archie was a Giants fan – at least he was until Horace Stoneham abandoned Coogan's Bluff for sunny San Francisco — while Saul preferred his games at Ebbets Field in Brooklyn. There's no indication of who Saul rooted for after Dem Bums relocated to Los Angeles, though it's reasonable to assume that he, like Archie, followed the Mets, who played at the Polo Grounds until Shea Stadium was ready.
"This Won't Kill You" took place at game seven of the World Series, with the Giants playing the Red Sox. All players were fictitious, however. In "Please Pass the Guilt" we get the real deal. Archie goes to visit a prospective client as the Mets are hosting the Pirates. Fortunately, she has the game on television, with Hall of Fame slugger Ralph Kiner calling the action.
Over the course of a couple innings, Archie mentions the actions of several Met players. From his comments, we're going to reconstruct the two missing pieces of the lineup that day. Which of course first requires us to identify the year. Which poses a few questions but is no problem for a seasoned baseball investigator.
The following players, with the positions they played regularly and their years with the Mets, are identified by Archie:
SP – Jerry Koosman (1967-1978)

C – Jerry Grote (1966 – 1977)

1B/RF/LF – Ed Kranepool (1962-1979)

SS – Bud Harrelson (1965-1977)

3B – Ed Charles (1967-1969)

RF/CF/LF – Tommie Agee (1968-1972)

LF/CF – Cleon Jones (1963-1975)
Two additional players are mentioned by Archie during the case, though not as having played in the game in question:
SP – Tom Seaver (1967-1977)

RF/LF – Ron Swoboda (1965-1971)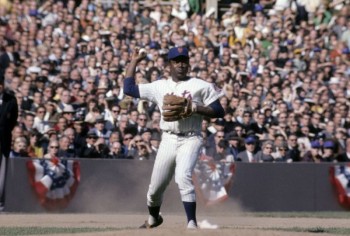 A couple basics that will help us nail down the year. Charles is our foundation point, since he was only in New York for parts of three seasons. He was acquired from the Kansas City (not Oakland) A's on May 10, 1967 and appeared at third base in 89 games, starting in 86 of them. So, he started just over half the season at third. In 1968, he started 90 games at third, appearing there in 16 more there. In 1969, he only started 45 games at third.
Koosman was a rookie in 1967 and only pitched in 9 games, with 3 starts. The lefty was an All Star in each of the next two seasons.
Also, the Mets were three games above .500 on June 5th in 1969. Since their inception in 1962, the team had never been above .500 on this date. In the prior seven seasons, on average, they were eleven games below .500. One might have expected Archie to make some comment about the team's relatively successful start. Maybe a wry comment about it being their first opportunity to experience that baseball malady, the 'June Swoon.' It's not conclusive, but we can view it as suggestive.
Given those factors, 1968 is a reasonable conclusion for the year of the game. Given that year, here is all but one member of the squad that day, with the number of games they played at the position:
C – Jerry Grote (115) – From 1967 to 1976, Grote was primarily the starting catcher for the Mets, having been acquired from the Astros after spending 1966 in the minors.

1B – Ed Kranepool (113) – Kranepool appeared in three games in 1962 and spent his entire career with the. Mets retiring after the 1979 season. Playing both first and the outfield, he was really the team's first star in those awful early years. So much so that he was known as 'Mister Met.'

SS – Bud Harrelson (106) – The ten-year starter batted slightly more than his weight – and he was skinny. Best-known for his brawl with Pete Rose.

3B – Ed Charles (106) – Arguably the best player on the sad Kansas City A's teams of the sixties, the veteran Charles, a poet, batted poorly but helped steady the youthful Amazin' Mets of 1969.

CF – Tommie Agee (116) – A two-time all-star, the graceful Agee had power and speed and played a marvelous center field. He was the key White Sox in the trade that sent Tommy Davis from the Mets to Chicago.

LF – Cleon Jones (117) – The twelve-season Met exploded for a .340 average in 1969.

RF – Ron Swoboda (124) – Rocky hit 19 homers in his rookie season but never produced that kind of power number again.
Each player led the team in games at their respective positions in 1968, further solidifying our choice of year.
That leaves us only one major question mark: second base. Left handed-hitting Ken Boswell and right handed-hitting Phil Linz both started 67 games at second that year. 1968 was Linz' final season in the majors, while Boswell was in his first full season. Linz played 573.1 innings in the field at second, while Boswell logged 623.2. A difference of only about five full games.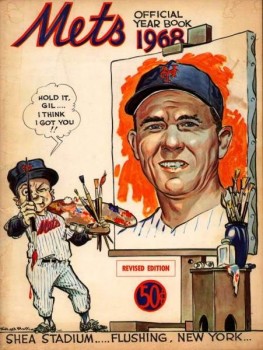 Now, we do have one more clue. The game took place on June 6th. It looks like Linz started 11 games in June, Boswell 14. Linz did start the real game on the 6th, but that was at the Cubs. In 1968, Linz started 6 games against the Pirates, while Boswell started 7.
It may well have simply come down to whether the Pirates started a righty or a lefty. Right handed pitchers made 128 starts for the Pirates in 1968: lefties made 33 (all by Bob Veale). So, the odds clearly favor Boswell if manager Gil Hodges was using a righty/lefty platoon.
We'll go ahead and plug Boswell in as Bud Harrelson's double play partner.
The Mets were trailing 2-4 going into the bottom of the fourth but ended up with a 7-5 win. Koosman completed exactly half of his starts in 1968 and 1969, and he was still in the game after giving up 4 runs, so he may have made it to the finish line. But since he gave up 4 or more runs 8 times and was pulled in every one of them, probably not.
Ron Taylor and Carl Koonce combined to finish more than twice as many games as the rest of the staff together and they recorded 25 of the team's 33 saves, so one or both probably saw the mound in a two-run win.
The Pirates probably used at least one righty out of the bullpen, so the Met's top pinch hitter, the left-handed Art Shamsky, likely got an at bat.
And that's the story of the game that Archie partly watched at Madeline O'Dell's house a few days after Ron Seaver came to the brownstone.
The 1968 Mets were 73-89, avoiding last place by finishing 1 game ahead of the woeful Astros and trailing the NL-winning Cardinals by a mere 24 games. Which made next year's Amazing Mets the most unlikely World Series champions ever. Archie surely attended several games at Shea Stadium that year.
PRIOR NERO WOLFE POSTS
The Public Life of Sherlock Holmes
Meet Nero Wolfe
The R-Rated Nero Wolfe
Radio & Screen Wolfe
A&E's 'A Nero Wolfe Mystery'
A Sidney Greenstreet Nero Wolfe Pastiche – 'Stamped for Murder'
Nero Wolfe's Brownstone
---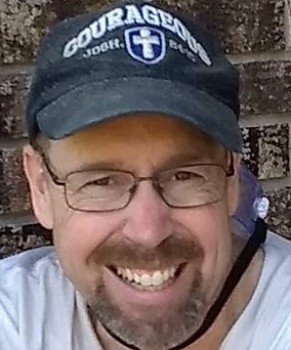 Bob Byrne organized Black Gate's current Monday morning 'Hither Came Conan' series, which features a different Robert E. Howard scholar each week, putting forth the best elements of each original story featuring Conan the Cimmerian.
His 'A (Black) Gat in the Hand' was a regular Monday morning hardboiled pulp column from May through December, 2018.
His 'The Public Life of Sherlock Holmes' column ran every Monday morning at Black Gate  from March, 2014 through March, 2017 (still making an occasional return appearance!).
He also organized Black Gate's award-nominated 'Discovering Robert E. Howard' series.
You can find his free, online Nero Wolfe Newsletter here. Also, his Sherlock Holmes and Solar Pons Newsletters. Also free!
He is a member of the Praed Street Irregulars, founded www.SolarPons.com (the only website dedicated to the 'Sherlock Holmes of Praed Street') and blogs about Holmes and other mystery matters at Almost Holmes.
He has contributed stories to The MX Book of New Sherlock Holmes Stories – Parts III, IV,  V and VI.
And he is in a new anthology of new Solar Pons stories, out now.