The Public Life of Sherlock Holmes: The R-Rated Nero Wolfe
The Public Life of Sherlock Holmes: The R-Rated Nero Wolfe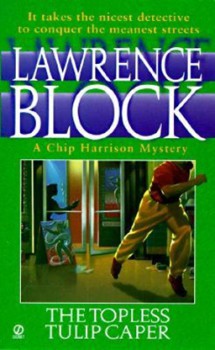 Sure, I'm all about Sherlock Holmes and Solar Pons, which you are certainly aware of if you read The Public Life of Sherlock Holmes every Monday here at Black Gate (blatant self-plug). But of all the mystery (and swords and sorcery, for that matter) series that I read and love, Rex Stout's Nero Wolfe tales hold the top spot for me.
You can a get a primer on Wolfe from this post I wrote in the summer of 2014. And of course, you can buy a book and check him out first hand. I mentioned here that there are definitely Wolfean characteristics in Glen Cook's Garret, PI series. Mystery grand master Lawrence Block (Matthew Scudder, Keller, Bernie Rhodenbarr series' and more) tinkered with an R-rated version of Wolfe in two novels and two short stories featuring Leo Haig (Wolfe) and Chip Harrison (Archie Goodwin).
The stories don't just emulate Wolfe and Goodwin. They specifically talk about them! As Harrison tells us in Make Out With Murder:
'Something I have to explain to you if you are going to understand Leo Haig at all.
He believes Nero Wolfe exists.
"He really believes this. He believes Wolfe exists in the brownstone, with the orchids and Theodore and Fritz and all the rest of it, and Archie Goodwin assists him and writes up the cases and publishes them under the pen name of Rex Stout.

"The most telling piece of evidence, Chip. Consider the nom de plume, if you will. And of course, it's just that; no one was ever born with so contrived a name as Rex Stout. But let us examine it. Rex is the Latin for king, of course. As in Oedipus Rex. And Stout means, well, fat. Then we have what. A fat king and could one ask for a more perfect appellation to hang upon such an extraordinary example of corpulence and majesty as Nero Wolfe?"'
Elsewhere in the two novels and two short stories featuring Haig, Harrison explains that he writes up Haig's cases for publication because Haig doesn't just want to be the world's greatest detective: he wants everyone to know he is. Why? Because, as Harrison relates:
"I know his secret hope. Someday, if he makes enough of a name for himself, if he keeps his standards high, develops just the right sort of eccentricities and idiosyncrasies, possibly someday Nero Wolfe will invite him over to the house on 35th Street for dinner. That's what he really lives for."
This is a fun premise. Wolfe has his orchids. Haig raises fish. Wolfe has his Swiss chef, Fritz. Haig has his Chinese cook, Wong Fat. Harrison narrates the stories, just like Archie Goodwin did.
Harrison has no experience as a detective, and Haig's approach is to basically tell him to do as Archie does. Haig even tries to convince him to move into Haig's residence, which is the top two floors of a four-story building. The bottom two floors are occupied by a Puerto Rican whorehouse and Harrison thinks that might have a negative impression if he ever convinces a female to come back to his place, so he lives in a dumpy apartment nearby.
The first two Chip Harrison books (No Score and Chip Harrison Scores Again) are not mystery books. They're basically soft core, screwball comedies. With Harrison succeeding in the quest to lose his virginity, Block needed to find a new center for the series. So, he made the next two books into pastiche-parodies of Nero Wolfe. The first two books are pretty much irrelevant to the Haig stories.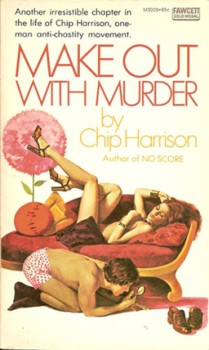 But the two Haig/Harrison books could be called soft-core private eye books. Back when stand up comedians didn't commonly include profanity or crude jokes in their acts, it was known as "working blue" when they did so. Think of these two books as Rex Stout working blue. The Topless Tulip Caper starts out in a strip joint and is definitely R-rated from the go. Make out With Murder is of the same ilk: the picture to the left gives you the idea. The two short stories don't have any of that stuff; presumably because they were written for magazines.
With that out of the way: they're fun. Haig has a world-class collection of mystery books and Block mentions other books and authors in the genre, like John D. MacDonald's The Scarlet Ruse and Bill Pronzini (author of the 'Nameless' series). Just as Sherlock Holmes believes crimes from history can provide similarities to a current one, Haig finds precedents to his current case in mystery books he's read.
And Block both acknowledges and pokes fun at some of the conventions of the mystery genre, as well as the Wolfe books specifically. Haig, who failed miserably at smoking a pipe, frequently takes pipes apart while deducing. Sometimes, he breaks them. Not exactly Holmes. In another scene, Harrison says he won't bother explaining how he got a group of suspects to come and how he arranged the seating: something Archie Goodwin does at least once in every story.
Robert Goldsborough has been authorized by the Stout Estate to continue the Wolfe series and the eleventh book will be out shortly. He is even discussed in the short story, "As Dark as Christmas Gets," which is amusing.
There's not really an Inspector Cramer. Detectives Gregorio and Seidenwall despise Haig and Harrison and are pretty much totally incompetent. And unlikable. If anything, they're a pair of Rowcliffs. They represent New York's not so finest in both novels and they are pretty much useless.
I've asked Block a couple of times if there will be any more Haig stories, and he's indicated that it's unlikely. But he revisited Martin Ehrengraf when I thought that series was long done, so I hold out hope for a new story or two from Chip Harrison's pen. Maybe I'll write one myself where ol' Leo finally gets to dine at the brownstone…
---
You can read Bob Byrne's 'The Public Life of Sherlock Holmes' column here at Black Gate every Monday morning.
He founded www.SolarPons.com, the only website dedicated to the 'Sherlock Holmes of Praed Street' and blogs about Holmes and other mystery matters at Almost Holmes.
His "The Adventure of the Parson's Son" is included in the largest collection of new Sherlock Holmes stories ever published