Goth Chick News: Kicking Off "The Season" at the HAA
Goth Chick News: Kicking Off "The Season" at the HAA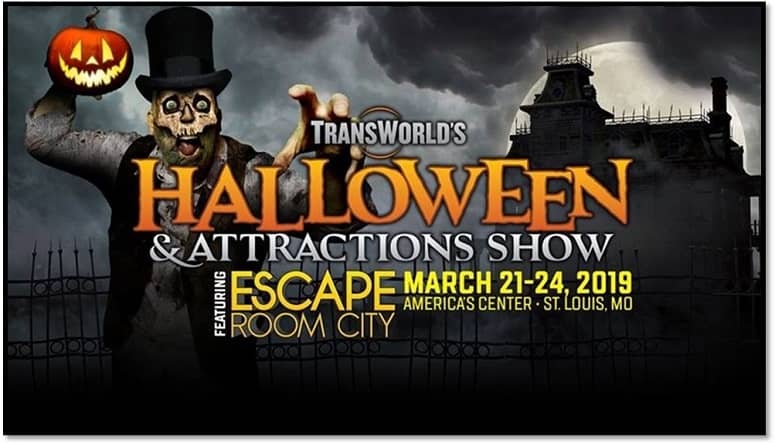 Unless you are a regular visitor to the subterranean offices of Goth Chick News, and let's be honest, no one voluntarily comes down here unless its "The Big Cheese" John O. to yell at us about our expense reports, then you may not know Halloween only takes a short hiatus for Christmas, before ramping right up again. Each year the new "season" kicks off in March with the mother of all industry conventions in St. Louis, MO, TransWorld's HAA Show, resulting in a sometimes hazardous, 5-hour commute from Black Gate's home in the Windy City.
The Haunted Attraction Association (HAA) is the only official association for the haunt industry, boasting a worldwide network of members from professional attraction owners, to Hollywood special effects and makeup artists. For the past 30 years, TransWorld Tradeshows LLC has hosted the HAA show where professional haunt content providers come together to show off their new offerings. Though 2019 actuals aren't yet available, an estimated 9,000 guests from around the world piled into the St. Louis America's Center, which has hosted the HAA for the past 10 years.  The tradeshow floor space itself has tripled since the show moved to St. Louis from Chicago in 2009, which is understandable when you think about Halloween now being a $9 billion industry with most of that money being made in the month of October.
One would think that being at the forefront of such a lucrative niche would earn us the right to expense a couple of Fireball shots… but alas… no.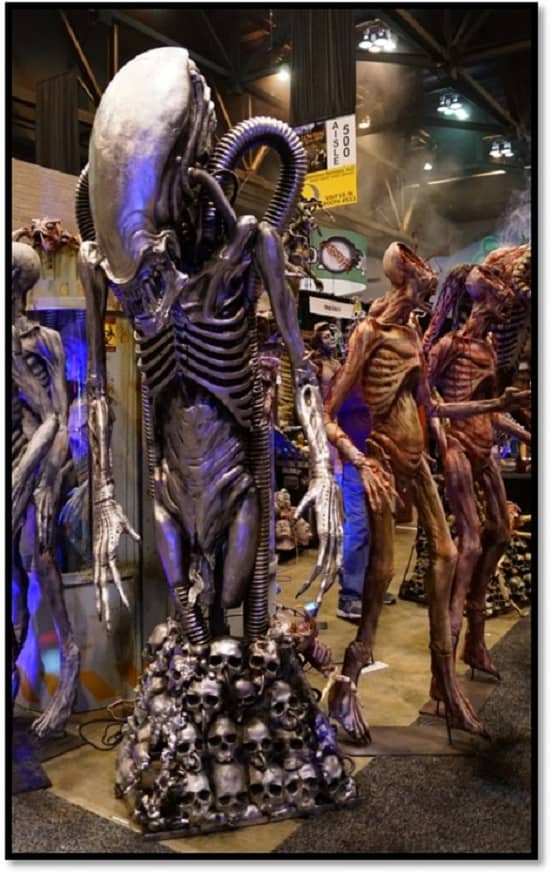 This year's trends saw quite a lot of retro movie references, with multiple animatronic companies featuring "Regan" from The Exorcist, and a more-than-normal number of classic Dracula and Frankenstein pieces. With 2019 being the 40th anniversary of the 1979 movie Alien, xenomorphs were prodigiously represented in everything from head masks to full-sized body suits.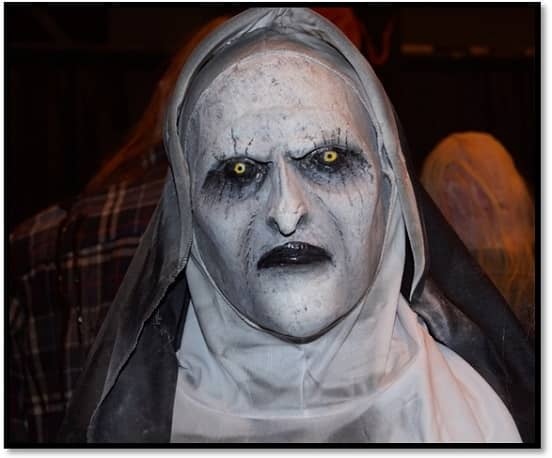 The Nun from Insidious
One of the coolest set pieces we saw featured "Dante's Inferno Room," a façade of the um…"adult entertainment facility" from the movie Beetlejuice, and of course with the second installment of IT due out in September, Pennywise the demon clown was everywhere. Sprinkle in the nun from Insidious, warrior demons from Constantine, Satan from Legends, and those creepy animal masks you see the kids wearing in the new Pet Semetary trailer, and it's clear that that Halloween 2019 is going to have a decidedly Hollywood theme.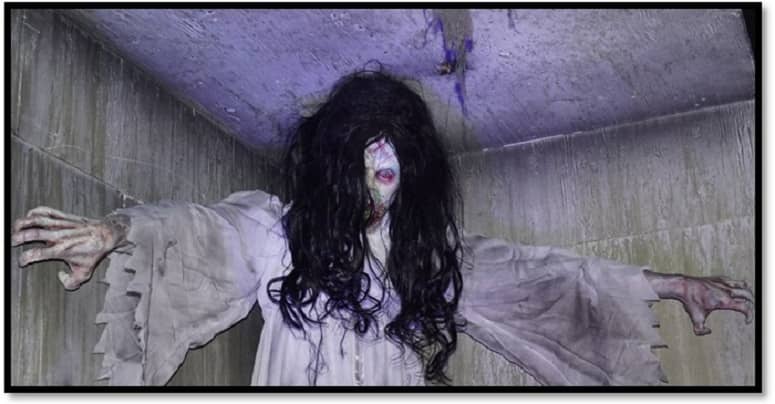 In among the effects, set-pieces, animatronics, costumes and makeup was quite a lot of Halloween-themed merchandise, all of which is for sale to the general public via web sites. Here are just a few of our favorites.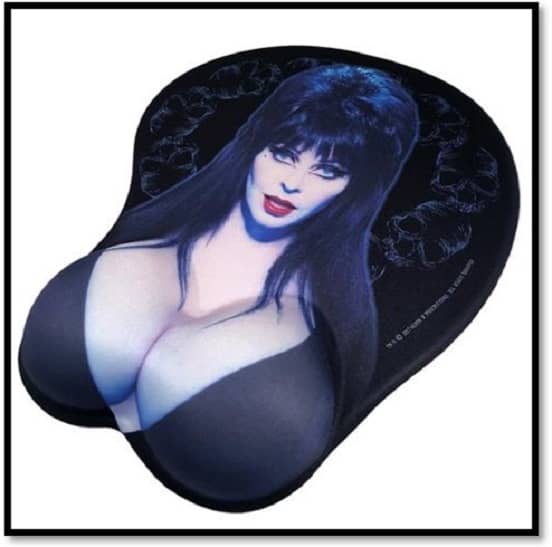 Elvira Mouse Pad
Kreepsville 666 bills itself as the "original scare-wear" store and indeed, it had a ton of fun stuff focused on retro-Hollywood horror. We particularly loved all the Vampira items including a coffin purse and a men's 50's style bowling shirt that captured the rockabilly greaser feel of the drive-in fear flicks. But what was attracting the most attention was the Elvira mouse pad, as you can imagine.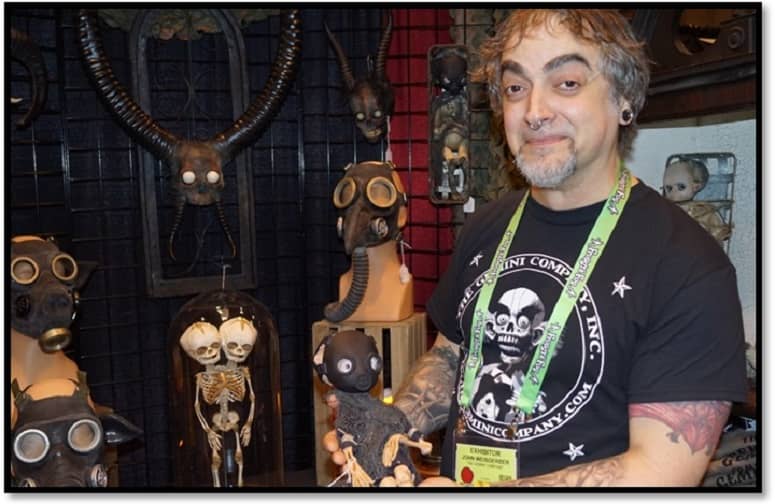 Johnny W and his sideshow oddities
The Gemini Company is a long-time favorite. We first met proprietor John Weisgerber in 2012 and have loved his pieces ever since. John is a master sculptor specializing in the design, molding and casting of museum quality sideshow replicas. His gaff and skeleton replicas are on display in oddity museums, private collections and classrooms around the world, and we are particularly fond of his Feejee mermaid patterned after the one exhibited by P.T. Barnum in Barnum's American Museum in New York in 1842. I am the proud owner of two Weisgerber originals which I display under glass cloches in my library and which never fail to start an interesting conversation.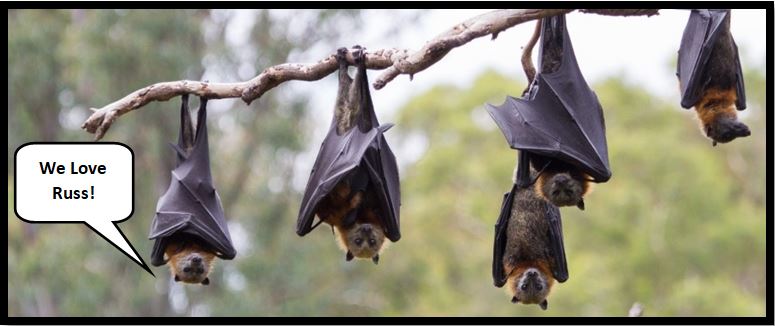 The Prestigious Goth Chick Five Bat Award
Tribal Skulls wins this year's prestigious Five Bat Award for utter coolness. Artist, author and herpetoculturist (reptile lover) Russ Gurley spent many years traveling to the most remote places on Earth, photographing the landscapes, people, and wildlife, cataloguing the artistic creations of indigenous people. He has been especially interested in the trophy and ancestor skulls created by cannibal "headhunting" tribes of Borneo, New Guinea and creates replicas of these skulls in both real and resin for customers around the country. His pieces can be found in the collections of museums and anthropologists, as well as on the sets of movies and television.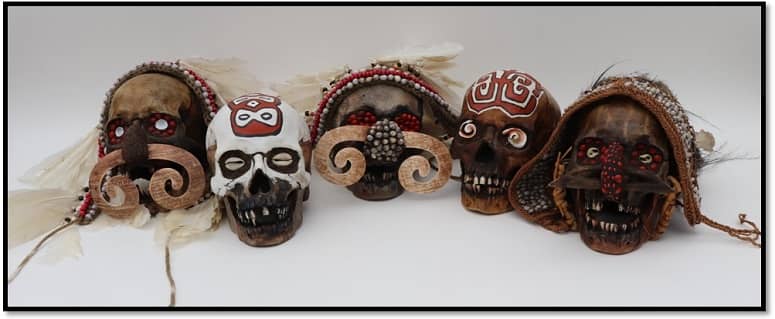 Tribal Skulls from the Asmat Tribe
Russ makes frequent trips to these remote areas to purchase beads and photograph designs, ensuring even the resin skull replicas have the utmost authenticity. The result is absolutely stunning pieces for the collector of unique art pieces, all for sale for between $200 – $300. His website also has details about each of the tribes represented in his art and my favorite pieces showcase the work of the Asmat tribe. Here's what Russ has to say about these intricately decorated skulls:
The Asmat are an ethnic group living in Papua, New Guinea. These areas of New Guinea are remote and dangerous and the Asmat were a relatively unknown group until the mid-1900s. The Asmat are headhunters and cannibals. In 1770, Captain James Cook and his crew encountered a group of Asmat warriors and immediately fled to their boats and safety. In November 1961, explorer Michael C. Rockefeller, son of Nelson A. Rockefeller, disappeared in Asmat territory while on an art collecting expedition. His fate remained a mystery until author Carl Hoffman in his book Savage Harvest presented evidence that Rockefeller was killed and eaten by the Asmat.
Russ' display case had several real skulls acquired on his travels. When I asked him if Michael Rockefeller might be among them, Russ just shrugged and gave me a small smile.
Tribal Skulls for the win.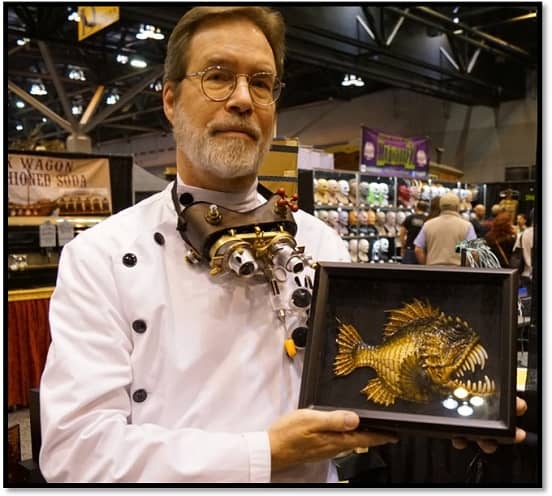 Fred Jeska and his steampunk fish
Fred Jeska is the artist and mastermind behind Kellys Heroes Steampunk, your one-stop-shop for unique, high-quality steampunk art and costuming. Though we pretty much loved everything we saw, I was particularly fond of the framed fish. They looked made-up, but these were real, preserved sea-going monsters behind glass and beautifully framed, making them the perfect addition to any adventurers sitting room. With one of Fred's Piranhas on your coffee table, you could weave thrilling tales of how you were nearly eaten while crossing the Paraná River in Argentina, and found this one still gnawing on your boot when you waded ashore.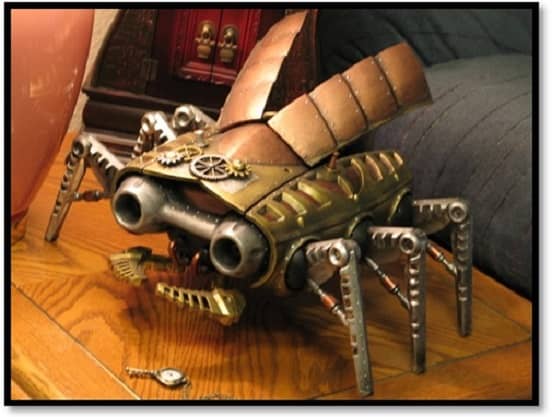 Kelly's Heroes Steampunk Art
At $22,000 the offering from Pumpkin Pulp may see out of reach, but may be just about the best reason we've ever seen to get a second job. The Carnival Caravan is a fully functional gypsy wagon, built on a towable trailer. Though targeted toward the haunt industry for use as fortune teller wagons or concession stands, we learned they are often purchased as playhouses, man caves, and most importantly… she-sheds.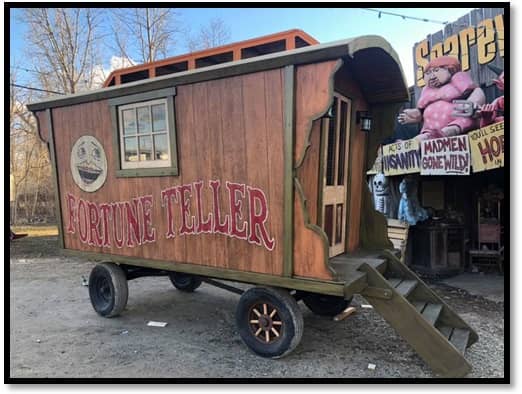 Gypsy Caravan from Pumpkin Pulp
The craftsmanship that goes into each wagon is truly breathtaking and interior designs can be customized to your specs. Conversely, if you want to DIY, a basic, unfinished wagon is $16,000 and I can see myself sequestered in one lined floor to ceiling with books…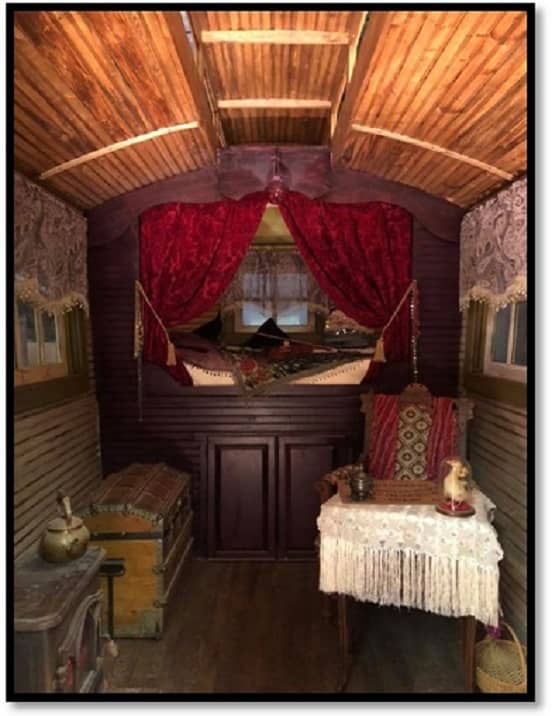 Gypsy Caravan interior
Not many people head to a show like this to find decorating ideas, unless it's me. Necrotic Creations is my go-to place for the gorgeous finishing touches that allowed me to bring in just a touch of "haunted mansion" into my own place, without going overboard. Specializing in props and décor that won't "kill" your budget, Necrotic Creations provides high-quality resin replicas of real Victorian home finishes, as well as unique designs aimed at the haunt industry.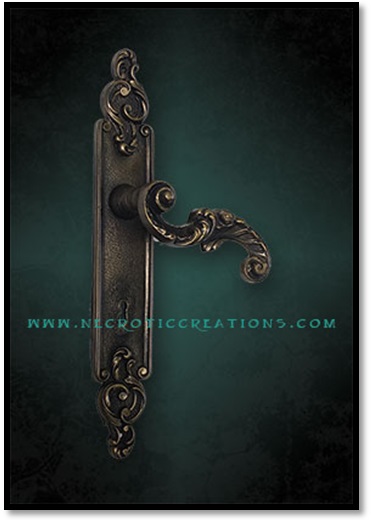 For instance, I have NC door handles on my library, and an elevator floor indicator above my closet door along with a side call button. Finishes start at $10 and go up from there, and I can tell you from personal experience these all look like they are made of brass or bronze but with the weight of resin.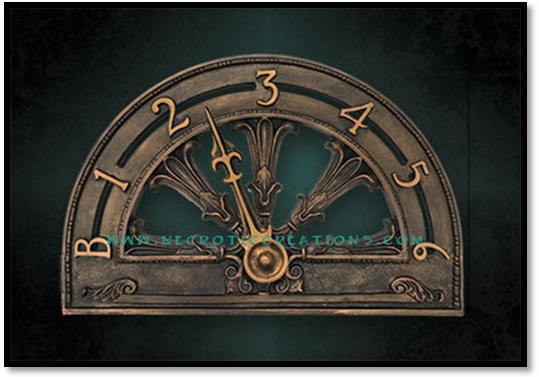 I could go on because there was no end of interesting things to see at the HAA. Though this particular show is "industry only" and not open to the public, TransWorld hosts a similar but smaller show called the Midwest Haunters Convention which this year I'm particularly excited about as it is being hosted in Chicagoland.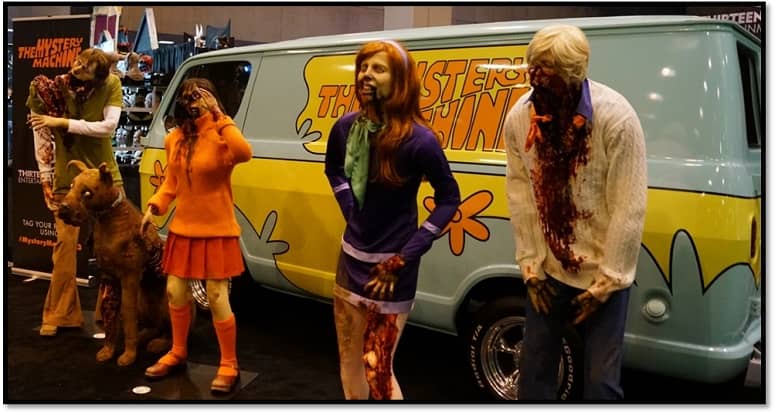 Zombie Scooby Doo and the Gang
From June 7-9 the public is invited this event "dedicated to all haunters; actors, enthusiasts, home/pro haunters and Halloween enthusiasts" which will take place in Schaumburg. Tickets start at $15 and according to the website, forty-two exhibitors are already signed up. Here's a sneak peek from when MHC was hosted in Ohio.
A special thanks to Katy Kat Sopranos (of the northside, Greek Sopranoses, not the southside Italian branch) for riding shotgun with me this year while Black Gate photog Chris Z caught some spring break sun. Have a question or comment? Post it here or drop a line to sue@blackgate.com.