Goth Chick News: Two Shots of Fireball, Some Blankets and a Candle; or Our Road Trip to the 2018 Halloween and Attractions Show
Goth Chick News: Two Shots of Fireball, Some Blankets and a Candle; or Our Road Trip to the 2018 Halloween and Attractions Show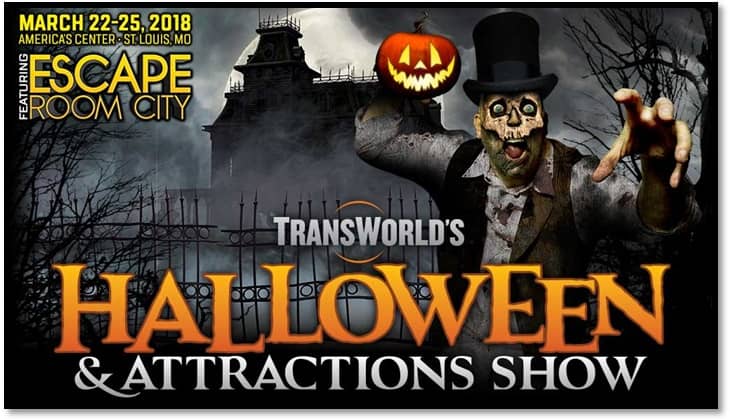 Normally, our annual road trip to cover the first trade show of the year is not only something we look forward to (for the obvious reasons), but also a chance to get our first whiff of spring.
The TransWorld Halloween and Attractions Show has been the premier, international event for the haunt industry for the last 30 years, boasting over 300 vendors catering to the industry's professionals. We discovered it 16 years ago when it used to make its home here in Chicago until it relocated to St. Louis. And though the location makes for a long day, we can usually count on St. Louis to be in the 50's as opposed to Chicago which is usually getting its final blast of winter right around the March showtime.
Except for this year.
Last weekend the weather forecast was calling for an all-day winter storm to cut a 100-mile swath straight across central Illinois and pushing freezing temperatures (and freezing rain) all the way south to our destination – meaning we were facing a thoroughly crappy commute both ways. With Black Gate photog Chris Z at the wheel of his ridiculously huge, military-grade Jeep, my primary worries included a 5-hour one-way trip turning into 7-plus hours or sliding into a ditch in the middle of nowhere and having to wait hours to be rescued (most of central Illinois IS technically the middle of nowhere).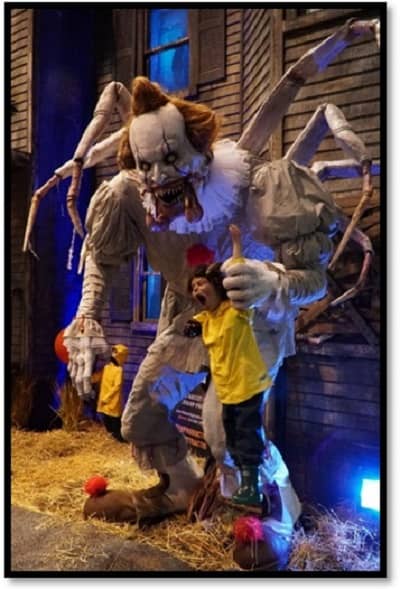 But as always, Chris Z. was thoroughly prepared. When I hauled myself up into the shotgun seat at 5 a.m. that morning, he solemnly pointed out that he had packed a survival kit which included blankets, heavy snow gear and a battery backup for our phones. He also pointed out that he had two airplane-size bottles of Fireball whiskey and a small tealight candle.
"Okay, the Fireball makes some sense," I noted, eyeing him skeptically, "but what is the little candle for?"
"I'll light it if we get in trouble – so you don't lose hope."
Seriously – what the heck were we doing?
To cut to the end of the story, we made in in about 6 hours each way, counting 16 cars and semi's off in the ditches at various stages of being rescued. Was such an icy, dangerous journey worth it?
You betcha.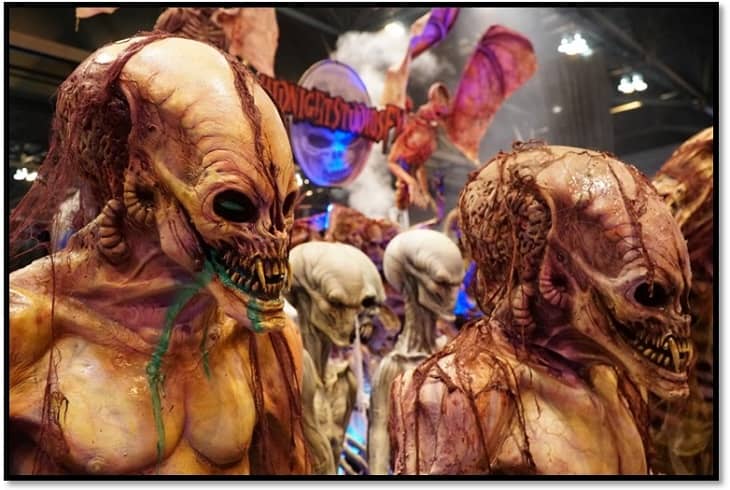 Have you ever wondered where the professional attractions like Universal Studio's Horror Nights or Great America's Fright Fest get their stuff? Or watched the Travel Channel's "Best Haunted Attractions in America" and figure the owners can't be building all that themselves, right?
Right.
The haunt industry is estimated to be worth around $500M, which isn't too shabby when you think that the bulk of that money changes hands in the month of October. The TransWorld event showcases where a lot of these dollars get spent – in animatronic, computer-controlled scares with six-figure price tags, makeup and prosthetics straight from Hollywood and in sets with special effects that will make your jaw hang open. Lighting to latex, software to smoke machines; it's all here at TransWorld.
But how to tell you about everything we saw? I can't. But what I will tell you about are items you can purchase for yourself online, without a tax ID number, and which will not completely relieve you of all your expendable income.
So let's get to it shall we?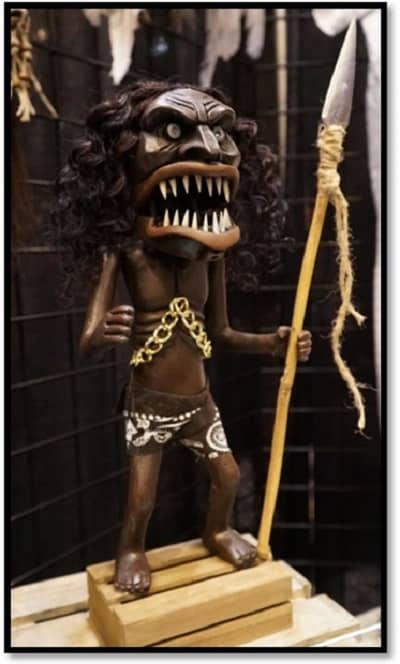 Your nightmare by The Gemini Company
The Gemini Company is a perineal Goth Chick News favorite and every year I can't wait to see what new oddities founder John Weisgerber as cooked up. Gemini is a sculpture studio that specializes in the design, sculpting, molding and casting of museum quality sideshow replicas, as well as study quality bone and skull reproductions. John builds creature and puppet effects for the haunted attraction and entertainment industries, and his work is on display in oddity museums, private collections (such as my own) and classrooms around the world. Gemini pieces have even been seen on TV shows such as American Horror Story and Mysteries at the Museum.
Visit John's online store to see his high-end collectibles and fashionable curiosities, such as, conjoined baby skeletons, Feejee mermaids, shrunken heads, brain in jar candles, brain soap, and other dark novelty items.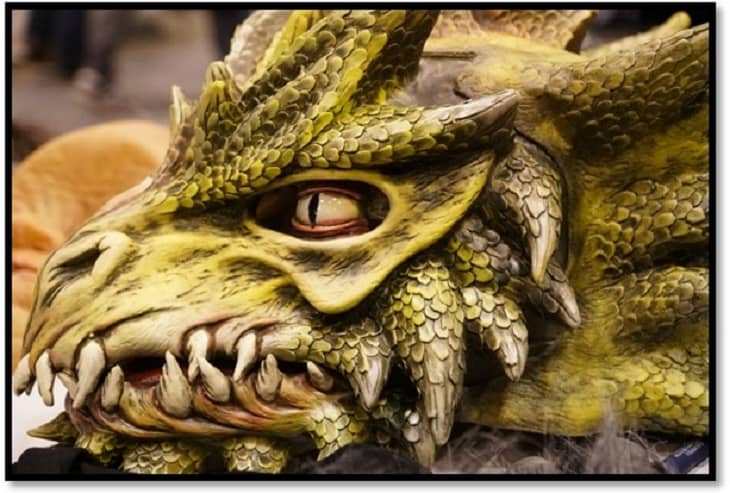 Another awesome Zagone creation
Zagone Studios Masks and Costumes is a Chicago company and we had the pleasure of introducing you to their remarkable masks, made by hand right in our hometown, back in 2015. Though they've been at their craft for over 40 years, we're particularly impressed with some of their 2018 pieces including remarkably realistic dragon heads and a "wooden boy" mask that I swear will give me nightmares for a week. They have also developed a new line of glow-in-the-dark products which have an added creep factor.
The really great thing about a Zagone mask is that it is comfortable and breathable, with articulated jaw pieces which make for incredibly realistic motion, as well an ensuring you can still consume your adult beverage while wearing it. Their full line of products are available at their own website as well as on Amazon. But only we here in Chicago, get to visit them at their studio and production facility, where the magic actually happens.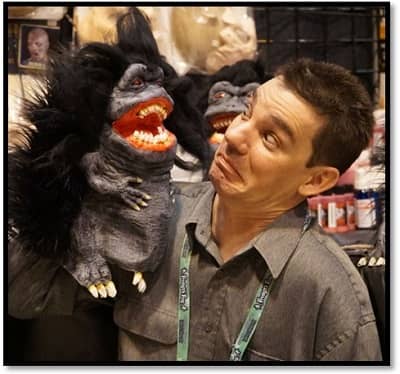 A Chaotic Creation…
Chaotic Creations from Michigan was a new attendee at this year's show. They are purveyors of special effect makeup, teeth and foam prosthetics as well as all the tools you need to turn yourself or a friend into the most gruesome of monsters. But what attracted our attention was their puppets.
I mean, puppets are kind of disturbing anyway, but Chaotic Creations makes professional-grade horror puppets. And they aren't just any standard horror puppets but are made from quality latex and hand-built foam fabrications; sculpted and painted with fine detailing right here in the U.S. We particularly appreciated what Chaotic calls its "Fur Ball of Death" but bares a striking resemblance to something from the movie Critters. All Chaotic Creations merchandise is available at their website.
The Vampire Circus isn't a product but is a production I hope to take in at some point this fall. Billed as "Cirque Du Soleil imagined by Tim Burton", it's a live stage show based on the multidisciplinary skills of an international troop of performers showcasing theater dance and gymnastics; all of which push the physical boundaries the human body. The Vampire Circus is inspired by the magical and captivating allure of the traveling carnival and is the vision of Francisco Santos, creator and Cirque Du Soleil veteran.
The show gets booked for a season at specific venues around the U.S. so check out their website for future event dates and locations. And until then, take a sneak peek.
When Hinges Creak is one booth that always manages to lighten my wallet. They create the "finishings" for professional sets such as… well… hinges for a start. But also, door knobs, laboratory gauges, elevator buttons and floor indicators. In fact, my "steam punk" inspired home office is a virtual showroom of When Hinges Creak products, which can transform an ordinary wall into a laboratory, morgue, mansion or elevator scene – pretty much anything your imagination can think up.
Their products are used in theme parks, haunted attractions, escape rooms, and even your favorite TV shows, but now most recently on my roll-up closet door which has been transformed to look like a freight elevator thanks to Jennifer and Alex Lohmann's extraordinary imaginations. Check out all their pieces and purchase your own at their website.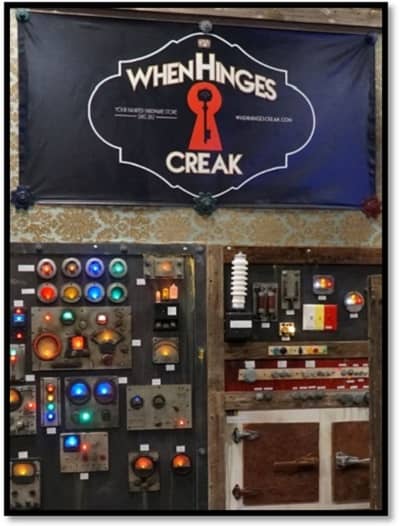 Last but not least is my new bestie, photographer Misty Keasler and her amazing photo-journal / coffee table book entitled Haunt. I don't want to give away too much here because Misty has agreed to do a full-length interview for Black Gate in the coming weeks. What I can tell you is that she toured and photographed professional haunted attractions across American and her work is currently the subject of an entire exhibit at the Modern Museum in Fort Worth, TX.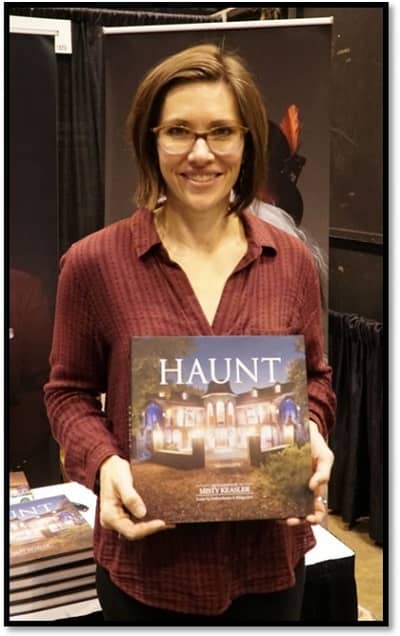 Photographer Misty Keasler and her book Haunt
Haunt includes 104 photographs which are unpopulated, apart from a few gory figurative props such as severed heads, monsters, and dead bodies. Who would put these rooms together this way? Who makes up the market for such places, paying to be scared? And what does this say about American culture? I cannot wait to learn what Misty discovered while working on her creation, especially because of my own line of work. Until then, you can pick up your very own copy from Amazon and check out Misty talking about the creative journey in this short documentary from the museum.
A special thanks to Jen Braverman from TransWorld for always taking such good care of Black Gate and ensuring we get to attend this great event each year, and to the fearless and talented Black Gate Photog Chris Z, voted by the BG staff as "Most likely to be in an Illinois ditch drinking Fireball with Goth Chick."
Next up is the Chicago Comic and Entertainment Expo (C2E2) in two weeks. Have a question or comment? Post it here or drop a line to sue@blackgate.com.