Low Adventure: Clasp-knives and Fortunetelling in Carmen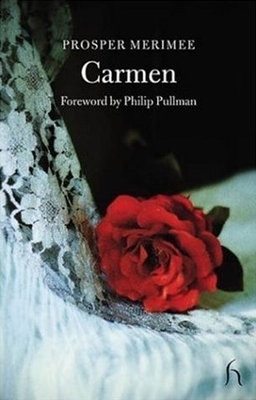 Why does it have to be the days of "high adventure?"
Low adventure can be extraordinarily riveting, as I recently found when I revisited Prosper Mérimée's Carmen, the novella that inspired the Bizet opera. I'd read it once before, after seeing the (definitive, to my taste) Rosi film of the opera in the early 80s. Thanks to that film, I was so enchanted with the light and color of Andalusia that on my first trip to Europe I spent the better part of it there, on the coasts, in the alleys of Gibraltar, and especially in the stony mountains of Spain's Sierra Nevadas. Thanks to a stay at an Andalusian cortijo (estate-farm) I was able to see some of the more remote areas on horseback, dragging a dutiful, saddlesore (need I say "ex"?) girlfriend behind who would have much rather been sunning on the beaches of Marbella or examining the wonders of the Alhambra.
Spain is a country of regions. The differences you might notice between northern Italians and southern are trebled in the expanses of Spain, divided as it is by mountains and joined by indirect routes reaching back into the dust of antiquity. There's something of Robert E. Howard's Zamora in Andalusia. Rome, the Caliphate, Catholicism, and for the history-minded traveller with a good guidebook, traces of the Phoenicians, Carthaginians, and Napoleon can still be found. Each province has its flavor, industrious Bilbao, pretentiously bustling Madrid, historic Toledo, artistic Barcelona, leaving a distinct impression. The Andalusians are famous for just living life. Every meeting is an excuse for a party, every parting as one between old friends. Visiting Spain revised my personal definitions of "courtesy" and "hospitality."
I see I've imitated Mérimée in framing these notes, elaborating the circumstances of my acquaintance with Carmen and Don Jose and the search into their origins. So enough about me.