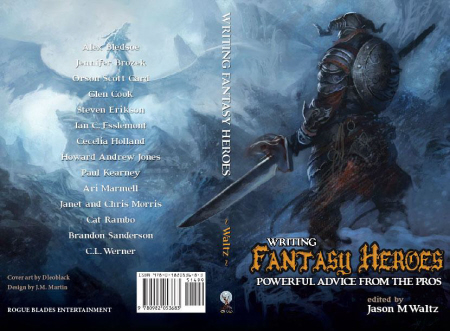 Pop culture is dominated by fantasy heroes like never before, from Zelda to Harry Potter, Gandalf to Tyrion Lannister. The truth is we've always been fascinated by heroes, but in the last few years we've turned to fantasy like never before.
What makes a true hero? And which ones will endure, and which will eventually be forgotten?
These are the kinds of questions that require greater minds than ours. In fact, a riddle like this demands the sharpest, most agile minds on Earth. I'm talking about the readers of Black Gate, naturally.
To help us answer the question, we're inviting Black Gate readers — that's you — to tell us about your ideal hero. It can be a fictional character, or a general description of those qualities that make one ideal. In one paragraph or less, tell us what makes her a hero.
We'll publish the best entries here on the blog, and randomly draw three names from all qualifying entries. Those three winners will each receive a copy of the new book Writing Fantasy Heroes, compliments of Rogue Blades Entertainment. Each of these experts on heroes will also be invited to submit a brief review of the book, to be published here on the Black Gate website.
Please submit entries by e-mail to john@blackgate.com with the title "My Ideal Hero." All entries become the property of New Epoch Press. No purchase necessary. Must be 12 or older. Decisions of the judges (capricious as they may be) are final. Terms and conditions subject to change as our lawyers sober up and get back to us. Not valid where prohibited by law. Or anywhere postage for a hefty trade paperback is more than, like, 10 bucks. Good luck!