Teaching and Fantasy Literature: Writing Fantasy Heroes
Teaching and Fantasy Literature: Writing Fantasy Heroes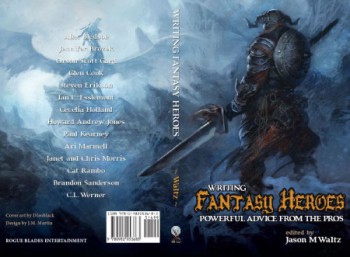 I'm a few essays into Writing Fantasy Heroes: Powerful Advice from the Pros. The editor of Writing Fantasy Heroes, Jason M. Waltz, was being published in the pages of Black Gate back when Black Gate had literal paper pages and I was just a glimmer in the slushpile. The book has been mentioned on this site a time or three by others, and will certainly come up again, so I wanted to get a look at it for myself. It turns out there's enough variation among the essays to keep me busy for more than one post, too.
So far, what's most striking to me is how different the authors' imagined readers are. The imagined readers all want to write heroic fantasy, of course, but how long have they been writing? How plugged in are they to the traditions and cliches of writing workshops and fiction manuals? How much life experience have these imagined readers gathered? One of the things I'm enjoying about Writing Fantasy Heroes is coming unstuck in time, relative to the writerly life cycle. From the essay I would have needed when I was in my teens, I turn the page to find the essay I need right now, which is followed by the essay I could hand my students next week.
Steven Erikson's foreword opens with the advice he always gives beginning writers: "Finish what you start." As he notes, this sounds obvious, but to live it is humbling. A writer who would write well will be humbled, will be uncomfortable, will find fault tomorrow with the best that is possible for her today. For the writer who hasn't yet met the first project that will humble her, or the first of those that she will rise to meet, Erikson's foreword will be just the right medicine.
Janet Morris and Chris Morris have been writing heroic fantasy, and plenty else, since the 1960s. "The Hero in Your Blood" is puzzling, in that it seems at times to address a young writer who has not yet found an inner hero, and at other times a disillusioned writer who has difficulty believing in heroes at all. The piece is more in the tradition of the manifesto, all exuberance and declaration, than of the more reflective essay form. As a manifesto, it rocks. When I tried to read it as an essay, though, all the hifalutin literary theory I had to read in grad school came rushing back to argue with it. The Morrises offer a litmus test for whether a character is a hero. There are things a hero is not, things a hero can be, and things a hero must be. If anyone has the publishing credits in heroic fiction to be prescriptive about this matter, it's the Morrises. Who am I to argue with them? But with almost every paragraph, I found myself wanting to jump in with counterexamples and questions. At times I wondered, if this is what the hero is, what distinguishes a hero from a Mary Sue or a Gary Stu? I drifted out of "The Hero in Your Blood" wondering whether heroic fiction was something I wanted to write after all, an effect I was only able to shake by getting back to work on my current kickass short story. And yet, had I read this manifesto at twenty, it would have cured much of what was wrong with my attempts at writing fiction, heroic or otherwise.
By contrast, Cecilia Holland's "The Heroic Will" gave me exactly the writing advice I've been needing for the past seven years or so. I write battle scenes, and I read other writers' battle scenes obsessively, trying to figure out how they work, but I've never felt that I really got it. As Holland leads the reader through a close reading of a battle at sea from her short story, "The King of Norway," she explains her technique, sometimes sentence by sentence. Most of her discussion focuses on characterization, and on will, just as the essay title promises, but the way to express heroic will on the page is, of course, to get the character doing things. What things? Chosen and presented how?
Writing battle scenes is fun, like being in your own video game. My trick to doing this is to choose one warrior's point of view and cleave to it, which gives you terrific focus and economy as well as maximum excitement. Show only what your man experiences, and that very harshly, and don't bother with the big picture. Instead you go for the immediate and violent, get right into the middle of the action, get him hacking and hewing.
There are many great ways to write a battle scene. Several of them, I can observe in other writers' stories but not pull off, definitely not now and maybe not ever. This is something I can do, and it's the thing my next planned project desperately needs. Holland assumes a reader who knows the who and why of the kinds of stories s/he wants to write, so the essay starts right in at the level of technique, where a total beginner would probably not be able to meet her.
What makes a good piece of writing advice great? Finding exactly the one you happen to need, at a time when you happen to need it.
---
Sarah Avery's short story "The War of the Wheat Berry Year" appeared in the last print issue of Black Gate. A related novella, "The Imlen Bastard," is slated to appear in BG's new online incarnation. Her contemporary fantasy novella collection, Tales from Rugosa Coven, follows the adventures of some very modern Pagans in a supernatural version of New Jersey even weirder than the one you think you know. You can keep up with her at her website, sarahavery.com, and follow her on Twitter.