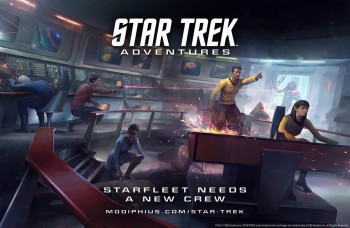 This week marked the -46th anniversary of First Contact Day, the date in 2063 when Zefram Cochrane was the first human to create and engage a warp drive (time travel situations excluded), as depicted in the film Star Trek: First Contact. As such, it seems appropriate to look at the state of affairs with the upcoming Star Trek Adventures roleplaying game, slated for a 2017 release from Modiphius Entertainment.
Modiphius has been playtesting the game since late last year as an open live playtest, using gamers from across the world as guinea pigs to find bugs in their design and crowdsourcing improvement suggestions. In addition to the Alpha set of rules for playtest, the Round 1 included a generic "starter" adventure that all of the playtesters could run through. I discussed my thoughts on this shortly after I playtested it, back in December, playing the group with a mix of Star Trek enthusiasts and their less-enthusiastic spouses, all of whom are relative novices at roleplaying games.
Earlier this year, based on feedback from the first round, Modiphius released a second round of playtest, as well as new adventures focused on the specific ship that you signed up to test for, allowing them to test science/exploration missions vs. combat-oriented missions vs. diplomacy missions, and so on. The new set of rules contained updates to earlier rules, but also a key new gaming system: starships. Once we provided feedback on the Round 2 playtest, playtesters were given access to the character creation system.
So let's take a moment to dive into Star Trek Adventures …
---