What I'm Watching – April 2022
What I'm Watching – April 2022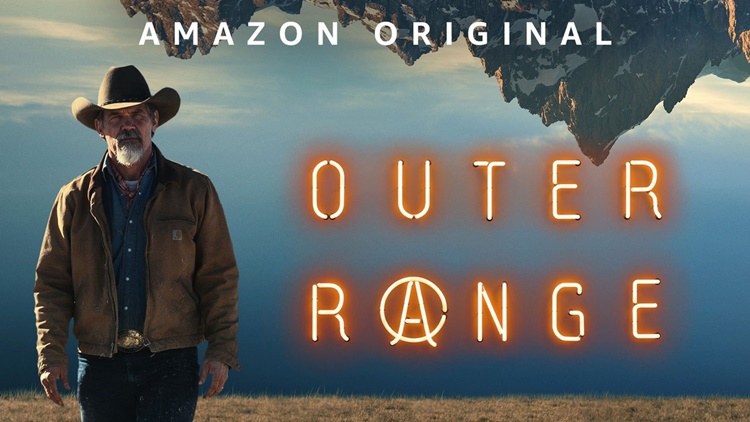 Outer Range
A couple weeks ago, I did a post on the marvelous, no longer with us, Terry Pratchett. That included a British miniseries for The Color of Magic, which freely adapted parts from the first three novels. Starring Sean Astin and Tim Curry, I liked it.
Then last week, I did an in-depth look at three USA Network shows which I liked, from the glory years. Monk, Psych, and Burn Notice. So, while I'm in this kind of mood, figured I'd talk about some of the stuff I'm streaming/watching lately as well. I don't actually watch ANY network television any more. I think Moms was the last show I tuned in to. I did like The Unicorn, with the amazingly talented Wilton Goggins (Justified), but just sort of drifted away from that. I do want to get back on board with Nathan Fillion's The Rookie.
Oh well – between Prime, current streaming shows, and my DVD collection (it's always Bogie time!), don't feel like I'm missing anything.
This is an Amazon Original, dropping episodes weekly. It stars Josh Brolin. I'm a fan of both him and his dad – they do rugged SO well. Being a Robert E. Howard fan, I'm familiar with the Weird Western sub-genre. And this one is also a crime show – sort of. Six of eight episodes have dropped.
This is just weird. Brolin is Royal Abbott, a Montana man trying to keep his Montana ranch afloat. Imogen Potts is a beatnik wanderer who camps on his land. And the under-rated Will Patton (he did a FANTASTIC job narrating James Lee Burke's Dave Robicheaux books) is the rich ranching neighbor, and rival. Royal discovers something on his land that absolutely brings the weird.
The first episode is a slow burn – it' a LONG set-up. But the last ten minutes kick everything into high gear, with a killing, and the show is off. A buddy at work compared this show to a train wreck which he can't look away from. That's apt.
It's…well, weird. I don't really care for it, but I'm curious enough to see where everything is going, to tune in every week. It's a Weird Western Mystery. And that's pretty unusual. Brolin is a good actor, and that helps. I'm not recommending this, but if this is your kind of thing, it's definitely worth checking out.
Moon Knight
The latest Marvel show, streaming on Disney+ this is just WAY TOO WEIRD. I like the humor Oscar Isaac brings. And the Ancient Egypt thing is cool. But I simply don't like this show. I don't need 'Let's make it so weird it's cool' in my superhero stuff. Episode Four was SO bad, I haven't bothered with Five yet. I'll probably watch it, but it's not gonna bother me if I don't.
It's a high profile show, and I won't bother explaining the premise. You can find out on your own. I like it more than WandaVision, but that's a pretty low bar. I could have lived without this one.
Halo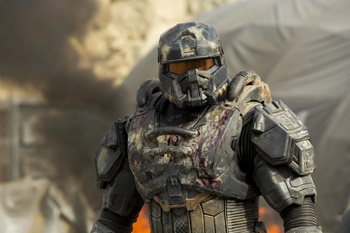 I never played Halo. But my son and I are watching the streaming series on Paramount+. It's no The Expanse (which was great). But it's better than Battlestar Galactica, which was so plodding, I gave up on. Halo was the most popular game in the world for a time. And quite a graphical breakthrough. This series absolutely looks good on the screen.
I don't know the lore and all the history of this. I understand devotees of the game are having conniption fits over the plot of the show. That's their deal. Sometimes the action scenes do look like a video game: I think it's cool. There is some depth to the characters. Even the marines, who have chips that remove all emotions (and memories) – making them super soldiers) can find a way around that, giving them layers.
Halo isn't going to be the greatest scifi series of all time, but it sure as heck isn't Doom, either. I much prefer this to Moon Knight. It's not even close. There are essentially two main plots, and they're interesting enough to keep going. And in the 'second plot' there is the type of governmental bad guy that you just CANNOT wait to get his comeuppance. I'd give it a try if you like scifi with action.
Star Trek: Picard
I'm on Paramount+ a lot lately. Pre-ST: Discovery, The Next Generation was my favorite iteration of Star Trek. Just a great show. So, I was predisposed toward the revival of the great Jean-Luc Picard. And season one was SOOOOOO slow. It took me a couple months to get all the way through it. I kept going off to watch other shows – including the next one discussed.
Picard was just a slog.
SPOILER – I'm about to mention a character from the Trek-verse which they brought in. Just skip on down to Star Trek: Discovery if you don't want to see it.
I forced myself to continue on to episode four. And then, at the end of that one, it was Jeri Ryan!!! Suddenly, I was WAY more interested. She was the best part of ST: Voyager. Seeing her cross-over into Picard was terrific!!
She returned for season two, but it got even better. Brent Spiner was back, in a dual role!! Wait – there's more!!! Q is my favorite character in the ENTIRE Star Trek-verse. John DeLancie was absolutely terrific on the The Next Generation. And he is at the heart of Season Two!! So, after struggling to stick with the first season, I am very much enjoying season two. It was worth riding it out.
More on Jeri Ryan – she was on Bosch , which was a terrific show on Prime. She co-starred with Dana Delaney on Body of Proof, about a crime-solving ME. It's worth a watch. And she had an excellent guest-stint on the wonderful Leverage, when Gina Bellman had to go on maternity leave. You should definitely read my essay on that show. And she had a good episode of Psych. She's a solid actress.
Star Trek: Discovery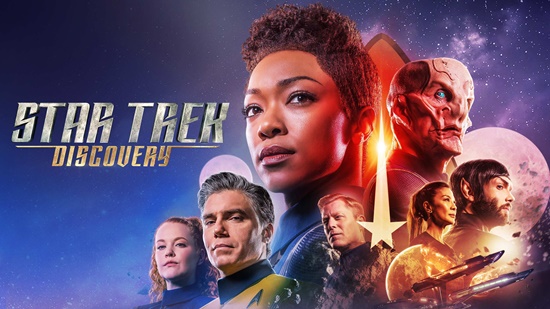 As I was struggling with Picard, I decided to give ST: Discovery a try. I think it had already run three seasons by that point. I had zero expectations. And Season One absolutely FLOORED me! I loved it!! The whole Klingon culture thing was terrific. I liked the cast. I found this a far more interesting show than Picard. I tore through Season One. And it got even better in Season Two!
I have written about Hell on Wheels here at Black Gate. Anson Mount was absolutely awesome as Cullen Bohannon, at the center of a show about the building of The Transcontinental Railroad. Well, he absolutely crushed playing Kirk's predecessor, Christopher Pike, on Season Two of Discovery. It's probably my favorite single season of a Trek show; and rocketed Discovery into my number one Trek spot. That wrapped up his time on the show. But the response was so overwhelmingly positive, that Paramount built a new show around him: Star Trek: Strange New Worlds, which debuts this week. Mount has now had two great performances, in my book.
I thought Season Three was just okay, though still worth watching. Season Four has been better and I'm enjoying it. I do like that Oded Fehr is a Federation Admiral. He's been in a couple things I like – but lingers on in memories as the oh-so-cool 'Protector,' Ardeth Bay, in Brendan Fraser's The Mummy franchise.
ST: Discovery; Recommended.
Shanghai Noon/Rush Hour
I have been introducing my son to some 'classic' comedy and action flicks from back when. Terminator, Die Hard, City Slickers, Bad Boys – fun stuff. He had never seen any Jackie Chan movies. I LOVE both of these, so I introduced him first to Shanghai Noon, a great comedy Western with Chan and Owen Wilson. I think it is absolutely great. The sequel, Shanghai Knights moves the action to London, and is fun, but not as good. We'll get to that one.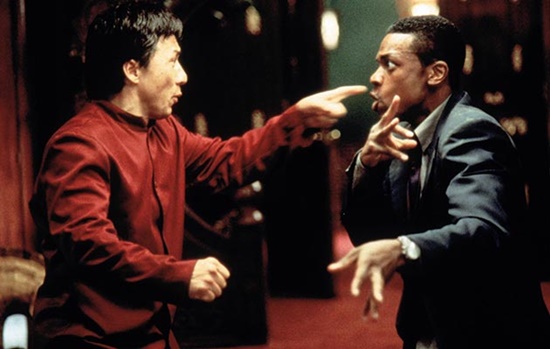 Lucy Liu (sigh) is Chinese Princess who is tricked into going to America, where she becomes a prisoner at a Transcontinental Railroad camp. Chan is Chon Wang (which sounds like John Wayne), an Imperial Guard who sets up to rescue her. He becomes an unlikely partner with Roy O'Bannon, an outlaw hilariously played by Owen Wilson. They are a terrific odd couple. I have watched Noon many times, and it always entertains.
A strong case can be made that Rush Hour is an even funnier 'buddy (cop) movie' with Chan. He is a Chinese cop, who comes over to America to help rescue the daughter of a friend and diplomat. Chris Tucker (who is HILARIOUS!) is a brash, sassy, trouble-making LAPD cop who gets assigned to the FBI and is tasked with babysitting Chan. The pair are great together. There are laugh-out-loud scenes throughout, and some good action scenes.
Rush Hour 2 was a pretty good sequel. I don't remember much about the third one.
But both movies talked about here are fun, and absolutely worth watching. And will probably make you a Jackie Chan fan, if you aren't already one. When you watch his fight scenes, keep in mind that Chan does (or maybe did – he's up there in years now) all of his own stuff. It's truly impressive.
Across the Pacific
And now, for something completely different. Humphrey Bogart is my favorite actor. I often watch one of his films just to sit back and enjoy the man. I've written about him a couple times here at Black Gate. The most recent re-watch was Across the Pacific. This is an interesting film, in that was nearly a reunion of the cast of The Maltese Falcon.
Bogart is Rick Leland, who is drummed out of the US army as a thief. He boards a Japanese freighter, which is headed through the Panama Canal. Sidney Greenstreet is a pro-Japanese traveler, with Mary Astor on board as Rick's love interest. We're just missing Peter Lorre!
There's more to Rick's story than appears, as we quickly learn, and this becomes an espionage movie, with a rousing climax on a Panama plantation. I like watching this movie. But as with Dead Reckoning, I feel like it's a good movie, that could have been a great one. Not sure what it's missing, but it's still a fun WW-II Era Bogart movie. Possibly it suffers from being the movie before Casablanca, though that doesn't make any difference to me.
I'm not a big fan of The Big Shot, and The Wagons Roll at Night is 'meh,' Drop those two, and here are Bogart's releases in 1941 and 1942, in order: High Sierra, The Maltese Falcon, All Through the Night (massively underappreciated flick), Across the Pacific, and Casablanca. That's some pretty impressive work. And maybe Across the Pacific just doesn't shine as brightly in that firmament of stars. I still like to watch it once in awhile.
Why Didn't They Ask Evans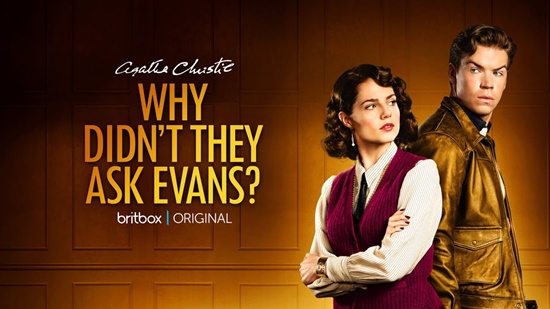 This is a three-episode miniseries, based on Agatha Christie's 1934 novel. I'm in the middle of episode two, so I won't talk much about this one. But it was a labor of love for Hugh Laurie. Whether you're a fan of House, A Bit of Fry and Laurie, or anything in between that range, the man is extremely talented. He wrote and produced, as well as appearing in the final two episodes. Laurie made this happen.
Bobby Jones, the son of a vicar, finds a dying man at the bottom of a cliff. He and local pretty female Frankie Derwent, suspect murder. Frankie is played by Lucy Boynton, fresh off her lead role in The Icpress File. That is based on a novel by one of my favorite spy authors, Len Deighton.
It's typical Christie fare, which is good. Britbox and Prime seem determined to put a more modern twist on Christie story-telling. This feels more like something right out of her style. It's crisp, and I think it's good. Looking forward to seeing how it all works out. I've not seen the 1990 version, which included the great John Gielgud.
And I think I'll save the latest season of Shakespeare and Hathaway for a separate post next week. THAT is a fun show!!
Well, there you go. Check out prior viewing I've discussed.
Some previous entries on things to watch:
When USA Network was Kicking Major Butt (Monk, Psych, Burn Notice)
You Should be Streaming These Shows (Corba Kai, The Expanse, Bosch, and more)
What I'm BritBoxing – December 2021 (Death in Paradise, Shakespeare & Hathaway, The Blake Mysteries, and more)
To Boldly Go – Star Treking – (Various Star Trek incarnations)
What I've Been Watching – August 2021 (Monk, The Tomorrow War, In Plain Sight, and more)
What I'm Watching – June 2021 (Get Shorty, Con Man, Thunder in Paradise, and more)
What I've Been Watching – June 2021 (Relic Hunter, Burn Notice, Space Force, and more)
What I'm Watching: 2020 – Part Two (My Name is Bruce, Sword of Sherwood Forest, Isle of Fury, and more)
What I'm Watching 2020: Part One (The Adventures of Brisco County Jr, Poirot, Burn Notice, and more)
Sherlock Holmes (over two dozen TV shows and movies)
---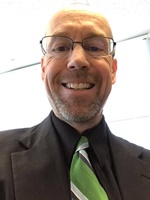 Bob Byrne's 'A (Black) Gat in the Hand' made its Black Gate debut in the summer of 2018 and will be back yet again in 2022.
His 'The Public Life of Sherlock Holmes' column ran every Monday morning at Black Gate from March, 2014 through March, 2017. And he irregularly posts on Rex Stout's gargantuan detective in 'Nero Wolfe's Brownstone.' He is a member of the Praed Street Irregulars, founded www.SolarPons.com (the only website dedicated to the 'Sherlock Holmes of Praed Street') and blogs about Holmes and other mystery matters at Almost Holmes.
He organized Black Gate's award-nominated 'Discovering Robert E. Howard' series, as well as the award-winning 'Hither Came Conan' series.
He has contributed stories to The MX Book of New Sherlock Holmes Stories – Parts III, IV, V, VI and XXI.
He has written introductions for Steeger Books, and appeared in several magazines, including Black Mask, Sherlock Holmes Mystery Magazine, The Strand Magazine, and Sherlock Magazine.